Bill Paxton, the actor known for starring in films such as "Twister" and "Apollo 13," died on Saturday due to complications from surgery, according to a family statement. He was 61.
"It is with heavy hearts we share the news that Bill Paxton has passed away due to complications from surgery," a representative for the family told NBC News. "A loving husband and father, Bill began his career in Hollywood working on films in the art department and went on to have an illustrious career spanning four decades as a beloved and prolific actor and filmmaker."
Paxton first got a start in the 1970s playing minor roles, but he won over audiences in the following two decades. The journeyman actor played notable characters in "The Terminator," "Weird Science" and "Aliens" in the 1980s, and he grew to have a larger profile in the 1990s in films such as "Tombstone," "Apollo 13," "Twister" and "Titanic."
Paxton also had an illustrious career on television. He led the cast of the popular HBO series "Big Love," and was nominated for an Emmy for his starring role on the History Channel miniseries "Hatfields & McCoys."
Most recently, Paxton had taken on the leading role in "Training Day," a CBS crime show that reimagined the 2001 neo-noir film directed by Antoine Fuqua. He was also in a number of high profile films of late, including "Million Dollar Arm," "Nightcrawler" and "Edge of Tomorrow."
His final film "The Circle," slated for release on April 28, is based on the novel by Dave Eggers. It stars Paxton alongside Emma Watson and Tom Hanks.
In a February interview on NBC's "Last Call with Carson Daly," Paxton looked back on his career and called himself a "working actor."
"You see those big stars who work all the time. I've never had that one movie that really put it all together for me and really gave me a run on sugar," Paxton said.
"I always felt like Avis," he added. "They used to have a slogan, Avis Car Rental: 'We try harder.'"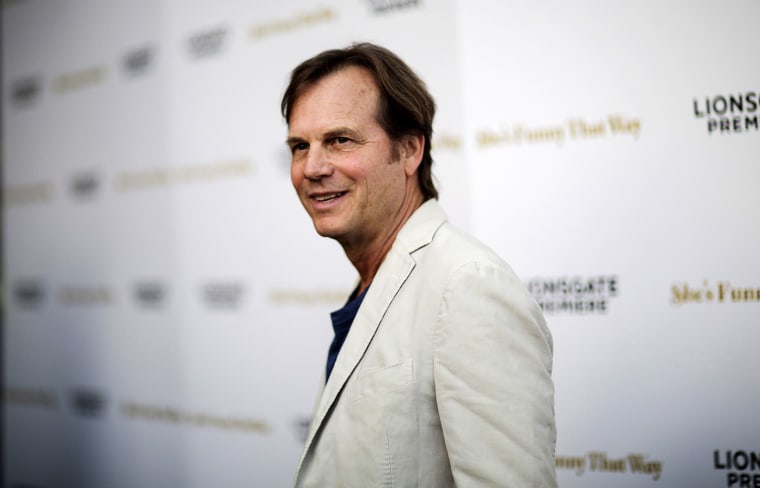 Paxton also made a mark behind the camera as well. His directorial debut came in 2001 with the release of the psychological thriller "Frailty," which he starred in with Matthew McConaughey. The movie explored religious fanaticism and the relationship between a father and son.
The longtime actor followed up "Frailty" with a more lighthearted history sports film that starred Shia LaBeouf — "The Greatest Game Ever Played."
The family requested privacy while they mourn Paxton's death. He is survived by his wife of 30 years, Louise Newbury, and two children.
Several actors who knew Paxton were devastated by the loss and shared their thoughts on social media.