LOS ANGELES — Actor Raquel Welch, whose role in the 1966 film "One Million Years B.C." shot her to stardom and cemented her status as a sex symbol, has died, her management company said.
She was 82.
Welch died Wednesday morning after a brief illness, Media Four said in a statement.
A publicity photo for "One Million Years" showing her wearing a fur bikini thrust her into international fame.
"I just thought it was a goofy dinosaur epic we'd be able to sweep under the carpet one day," she told The Associated Press in 1981. "Wrong. It turned out that I was the Bo Derek of the season, the lady in the loincloth about whom everyone said 'My God, what a bod' and they expected to disappear overnight."
She did not, playing Lust for the comedy team of Peter Cook and Dudley Moore in their film "Bedazzled" in 1967 and playing a secret agent in the sexy spy spoof "Fathom" the same year.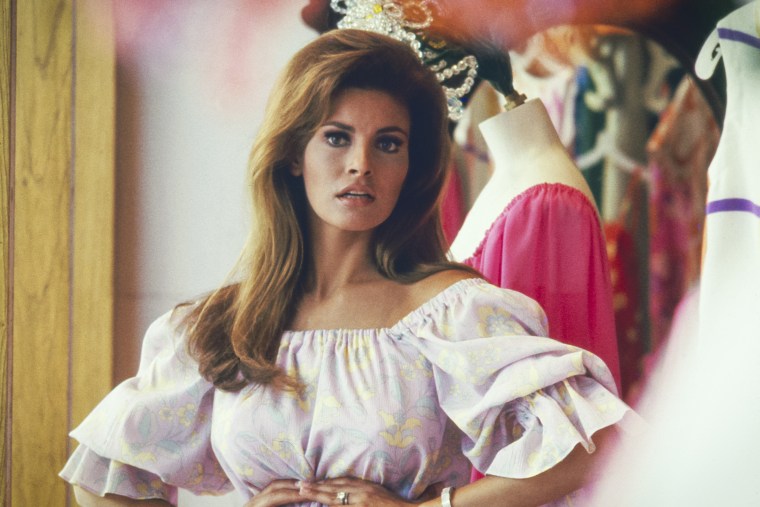 Her curves and beauty captured pop culture attention, with Playboy crowning her the "most desired woman" of the '70s, even though she was never completely naked in the magazine. In 2013, she graced the No. 2 spot on Men's Health's "Hottest Women of All Time" list. In the film "The Shawshank Redemption," a poster of Welch covers an escape tunnel — the last of three that character Andy Dufresne (Tim Robbins) uses after posters of Rita Hayworth and Marilyn Monroe.
Welch won a Golden Globe in 1975 for best actress in a musical/comedy for her role in "The Three Musketeers." She was nominated in 1988 for best actress in a limited series for her role in "Right to Die." 
Over a career of more than 50 years, Welch had more than 30 film and 50 television credits.
Her most recent appearances were on the TV Series "Date My Dad" in 2017 and in the film "How to Be a Latin Lover," which was released the same year, according to her IMDb profile.
Welch, born in Chicago, was involved in a very successful line of wigs.
She is survived by her children, Damon Welch and Tahnee Welch.