Actress and singer Debbie Reynolds was rushed to the hospital from a home in Beverly Hills on Wednesday, just one day after the death of her daughter, "Star Wars" actress Carrie Fisher.
Reynolds was hospitalized after a call that she was having trouble breathing, two law enforcement sources familiar with the incident told NBC News.
Los Angeles Fire Department spokeswoman Margaret Stewart confirmed an adult female was transported to Cedars Sinai Medical Center "in fair to serious condition" from an address associated with Reynolds' family.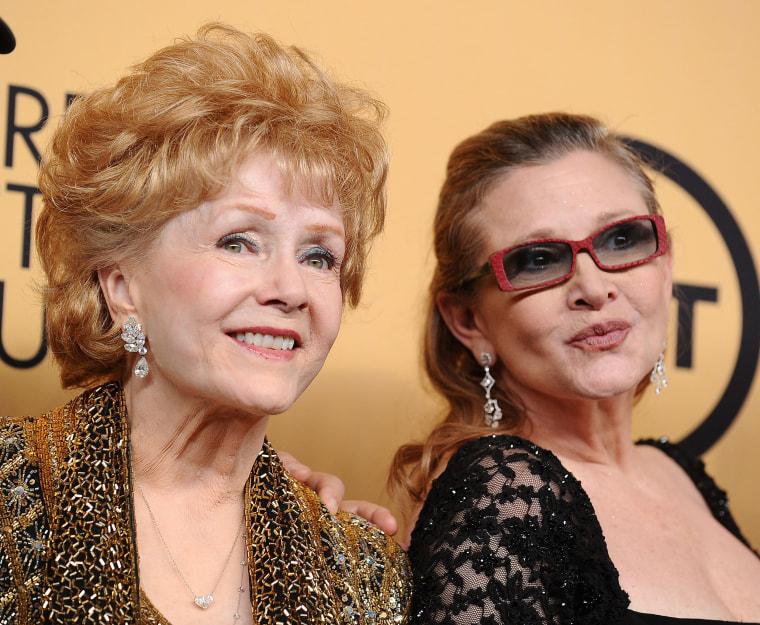 Reynolds, 84, shot to fame after her leading role playing Kathy Selden in "Singin' in the Rain," starring alongside veterans Gene Kelly and Donald O'Connor, in 1952 when she was 19 years old. She made her film debut in 1950 in the musical "The Daughter of Rosie O'Grady."
Related: Carrie Fisher Mourned by Fellow Stars: 'Our Princess Has Passed Away'
Her career spans nearly seven decades, and she has appeared in some of the most iconic films of the 20th century.
She was the first wife pop star Eddie Fisher in 1955, who later divorced her to marry her best friend Elizabeth Taylor. Reynolds and Fisher had two children together, Carrie and Todd.
Carrie Fisher died Tuesday at age 60 after suffering a heart attack on a London to Los Angeles flight on Friday. Fans from around the world have mourned her death, and well-wishers set up a makeshift star for Fisher on the Hollywood Walk of Fame.
Fisher's half-sister, Joely, tweeted "God speed mama" and a photo of herself and Reynolds on Wednesday afternoon. Joely is the daughter of Eddie Fisher and actress actress Connie Stevens.
Reynolds on Tuesday thanked those who "embraced the gifts and talents of my beloved and amazing daughter" in a post on Facebook following Fisher's death, adding, "I am grateful for your thoughts and prayers that are now guiding her to her next stop."