Ruby Dee, an actress whose acclaimed career stretched from Broadway to the silver screen to civil rights rallies, has died at age 91, her spokesman told NBC News on Thursday.
She "died peacefully at home of age-related causes," said Michael Livingston.
There will be a private service but no date has been decided, he said.
Her daughter, Nora Davis Day, told The Associated Press that her mother died at home at New Rochelle, New York, on Wednesday night.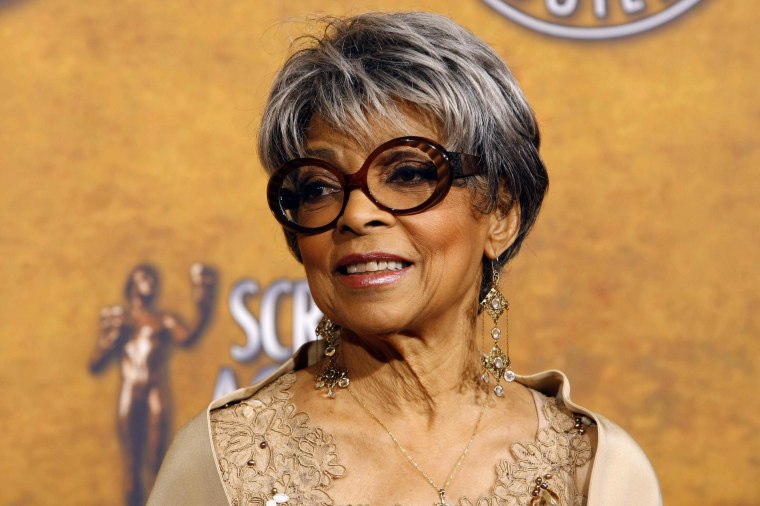 Dee, who frequently acted alongside her husband of 56 years, Ossie Davis, was surrounded by family and friends, she added.
Davis passed away in 2005.
Born Ruby Ann Wallace in Cleveland, Ohio in 1922, her long career brought her an Oscar nomination at age 83 for best supporting actress for her role in the 2007 film "American Gangster."
She also won an Emmy and was nominated for several others.
Director Spike Lee, who cast both Dee and Davis in several of his movies, said on Instagram, "I'm crushed by this bad news and I know Ruby has already been embraced in a warm loving hug from her life partner of 57 years — Mr. Ossie Davis."
Like her husband, Dee was active in civil rights issues and efforts to promote the cause of blacks in the entertainment industry. As young performers, they found themselves caught up the growing debate over social and racial justice in the United States.
And the couple's push for social justice was lifelong: In 1999, the couple was arrested while protesting the shooting death of Amadou Diallo, an unarmed African immigrant, by New York City police.
They were friends with baseball star Jackie Robinson and his wife, Rachel — Dee played her, opposite Robinson himself, in the 1950 movie, "The Jackie Robinson Story" — and with the Rev. Martin Luther King Jr. and Malcom X. Dee and Davis served as masters of ceremonies for the historic 1963 March on Washington and she spoke at both the funerals for King and Malcom X.
Just this past Sunday night, when Broadway Audra McDonald accepted her sixth Tony award she praised Ruby Dee as one of the black actresses who made her career possible.
"I think you mustn't tell your body, you mustn't tell your soul, 'I'm going to retire,'" Dee told The Associated Press in 2001. "You may be changing your life emphasis, but there's still things that you have in mind to do that now seems the right time to do. I really don't believe in retiring as long as you can breathe."
The Broadway League said that theaters along the Great White Way will dim their lights on Friday for one minute at 7:45 p.m. ET to honor Dee.
— with The Associated Press