Last month, baseball celebrated the 70th anniversary of Jackie Robinson's debut in the major leagues.
But seven decades after the first black player joined the majors, the sport is still suffering from bouts of racism — particularly in Boston.
Baltimore Orioles center fielder Adam Jones said he was subjected to racist taunts Monday night at Fenway Park. Since then, Massachusetts Gov. Charlie Baker, Boston Mayor Marty Walsh and Major League Baseball Commissioner Rob Manfred have all called the conduct "unacceptable."
"I heard the N-word," Jones said Tuesday, a day after the Orioles beat the Red Sox, 5-2. "It was not clever. It was stupid and ignorant."
Some say the incident is in keeping with the difficult history of the Red Sox, who were the last baseball team to integrate, 12 years after Robinson joined the Brooklyn Dodgers.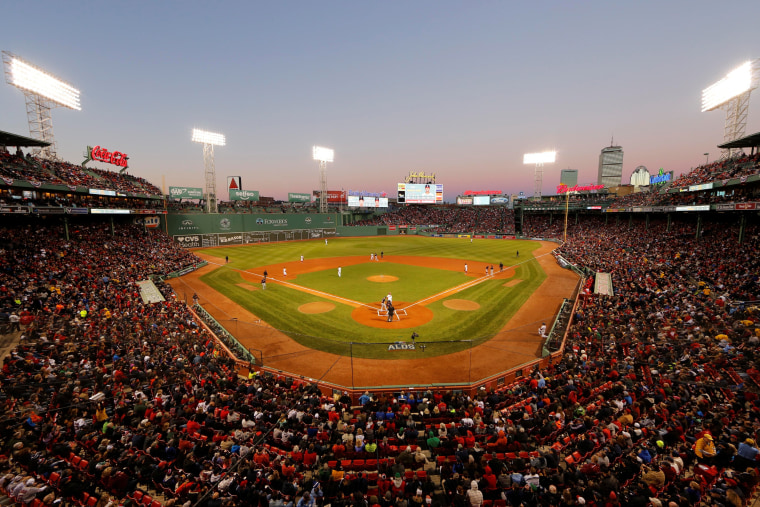 Former owner Tom Yawkey "added his first black player in 1959 — a full 12 years after Jackie Robinson had broken baseball's color line, and 14 years after the Red Sox had chased Robinson off their field after a dog-and-pony show of a tryout," The Springfield Republican wrote in an editorial Tuesday.
"Even in subsequent years, some black players identified Fenway as one of the most uncomfortable places in baseball for African-Americans to play," it wrote.
Richard Johnson, curator of the Sports Museum of Boston and editor of 22 books about Boston teams, said it was only after Pinky Higgins was fired as general manager in 1965 that "the culture of the team changed — it almost turned on a dime. Within two years, the 1967 team was the second most integrated team in the league."
Related: Adam Jones, Orioles Outfielder, Says Boston Fans Used Racial Slurs, Threw Peanuts at Him
Probably not as a coincidence, Johnson said, "the 1967 team became a winning team, and it became a winning team with an integrated roster."
Johnson described Boston as being the first to break barriers for race in many sports. The Celtics were the first National Basketball Association team to draft an African-American player — Chuck Cooper in 1950 — and the Bruins fielded the National Hockey League's first African-American player, Willie O'Ree, in 1958.
Dan Shaughnessy, a Baseball Hall of Fame columnist for The Boston Globe, similarly cautioned against reading too much into Monday's incident, telling NBC News: "All it takes is one or two nitwits. One's too many, but it's never acceptable."
In remarks to reporters Tuesday, Jones noted that even Bill Russell, who won 11 NBA championships with the Celtics during the 1950s and '60s, was a frequent target of Boston fans. But he said it would be a "stupid thing" to say "all Boston fans are like that."
Today, Shaughnessy said, "things are certainly better than they were 50 years ago when Bill Russell came through."
Still, progress has been slow.
Red Sox pitcher David Price said he heard racist remarks at Fenway when he under-performed last season.
"I got it all," Price told The Boston Globe in January. "It's all right. I don't care about that. My mom is white and my dad is black. I've heard that since I've been in school. There's nothing you can say to me that I haven't heard before. Your ignorance is not going to affect what I'm trying to do. But I feel sad it's still out there."
Left fielder Carl Crawford, who played for the Red Sox in 2011 and 2012, also said he heard racially charged taunts at Fenway. Crawford now plays for the Los Angeles Dodgers.
In 2004, Barry Bonds told The San Francisco Chronicle that he had never experienced racism firsthand at Fenway, but he'd heard enough stories to know Boston wasn't for him.
"Boston is too racist for me," Bonds told The Boston Globe at the time.
The Republican reported that as late as the 1980s, the Red Sox had business ties with a whites-only fraternity in Winter Haven, Florida, where the team holds spring training.
When the ties became public, the team severed them, and today, the Red Sox management group has worked to be more inclusive.
"You have to be careful not to take one grain and paint with a broad brush because of one knucklehead in a crowd of 35,000," Shaughnessy said Tuesday.
Johnson said: "Boston has certainly had its moments, both good and bad, but the bad has to be addressed, and last night was a bad night. I'll be interested to see if these culprits were identified. I hope they will be."
Meanwhile, Jones got a standing ovation for his first at bat in Fenway on Tuesday night.