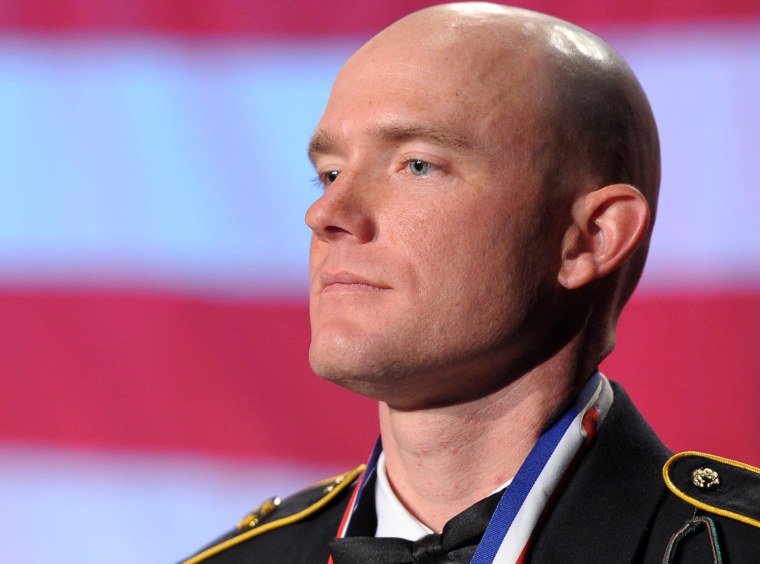 President Obama awarded the Medal of Honor to U.S. Army Staff Sgt. Ty Michael Carter on Monday afternoon, making the cavalry scout only the fifth living service member from the conflicts in Iraq and Afghanistan to receive the nation's highest award for courage.
Carter, 33, appeared reflective and at times smiled bashfully as Obama recognized him for his "conspicuous gallantry" in the dramatic Battle of Kamdesh, a day-long firefight with Taliban militants at a remote Afghan outpost near the Pakistan border.
Early in his remarks in the White House's East Room, Obama turned to Carter's young children and said: "If you want to know what a true American hero looks like, then you don't have to look too far."
The quick-moving staff sergeant braved a blizzard of bullets to take out Taliban fighters and rescue a wounded brother-in-arms during the Oct. 3, 2009, clash, which left eight American soldiers dead and wounded more than 25 others, according to the Army's official account of the event. It was the deadliest day for U.S. forces in the war effort that year.
"Without regard to his own safety, Spc. Ty Michael Carter proved himself time and time again," according to the Army account.
"He resupplied ammunition to fighting positions, provided first aid to a battle buddy, killed enemy troops, and valiantly risked his own life to save a fellow soldier who was injured and pinned down by overwhelming fire" after Taliban militants slammed Combat Outpost Keating with rocket-propelled grenades, machine guns, mortars and rifles, according to the Army.
In his remarks, Obama praised Carter for speaking "openly, with honesty and extraordinary eloquence" about his struggles with post-traumatic stress disorder (PTSD) in recent years, which the president described as another kind of "battlefield."
He commended the soldier for seeking help for the "flashbacks, nightmares, the anxiety and the heartbreak that makes it sometimes impossible to get through the day."
Carter is the second service member to receive the Medal of Honor for actions during the Battle of Kamdesh. Staff Sgt. Clinton Romesha, 31, who has since left the military, was recognized for leading the charge against some 300 well-coordinated enemy combatants, heading up efforts to retake the camp, which many military officials considered indefensible.
The honors mark the first time since the Vietnam conflict that the U.S. has presented Medals of Honor to two survivors from the same battle, Obama said in his remarks.
A total of 12 U.S. service members have been awarded the Medal of Honor for actions in Afghanistan and Iraq — including seven men who received the commendation posthumously.
The Medal of Honor is bestowed on members of the U.S. Armed Forces who display what the Army calls "conspicuous gallantry and intrepidity at the risk of life above and beyond the call of duty."