A record number of African American women graduated from West Point military academy in New York.
Among the more than 200 female cadets in the 2019 graduating class, 34 were black women, the largest number of African American female graduates in the academy's history.
U.S. Military Academy spokesman Francis DeMaro said last year's class had 27 African American female graduates.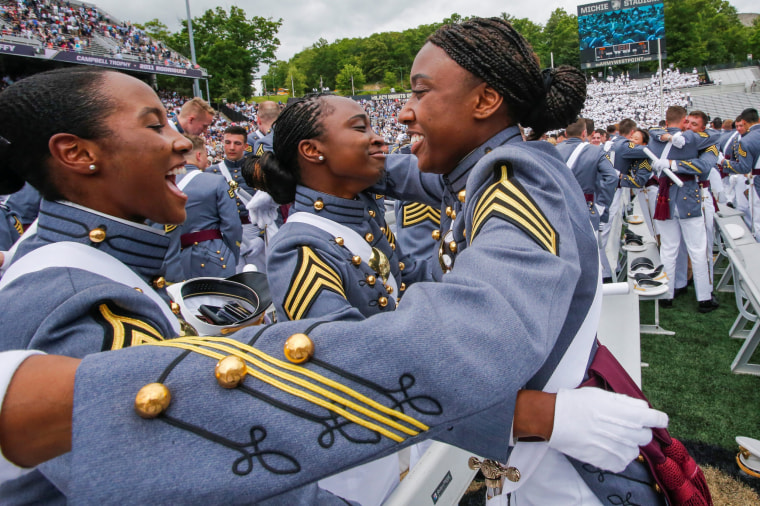 Overall there were 110 African American graduates, double the number from six years ago, in 2013.
Tiffany Welch-Baker told NBC's "Nightly News" this week that in her journey to graduating from the military academy, she sometimes doubted herself.
"There are some moments here where you feel like, 'Oh, am I worthy? Do I deserve to be here?'" she said.
Bria Erron said there were times at the school when she was the only woman of color, or woman of any race, in a class. Even with the increase, black women made up less than 4% of this year's graduating class.
A photo of the women dressed in uniform as they posed on the steps of the U.S. Military Academy went viral on social media last week, sparking a wave of congratulatory messages.
"Almost two years ago, West Point grad Simone Askew became the first Black woman leader of the Corps of Cadets. This month, West Point will graduate the largest class of Black women in their history. Don't let anyone tell you representation doesn't matter," Sen. Cory Booker, D-N.J. tweeted.
"Congratulations on entering the next great chapter of your lives," Sen. Kamala Harris, D-Calif. posted. "I know you are just getting started."
Jabreal Arrington told "Nightly News" it was "overwhelming" to be a part of such a historic moment.
"To see all of our sisters, us just standing there in solidarity," she said of the photo.
Vice President Mike Pence spoke at Saturday's ceremony, calling the more than 980 graduates "the best of the best."
Pence also told the class that as they accept "the mantle of leadership" their commander in chief, President Donald Trump, "will always have your back."
"My hope when young black girls see these photos is that they understand that regardless of what life presents you, you have the ability and fortitude to be a force to be reckoned with," Welch-Baker told the outlet Because of Them We Can earlier this month.
The graduates will become U.S. Army second lieutenants.