Frank Bignami's wife, Autumn, was clinging to life on a hospital bed, a tube in her throat, when he heard that somebody from the FBI wanted to see him.
It was Oct. 2, 2017, the day after a gunman turned a Las Vegas country music festival into a killing field.
Frank was just grazed, but Autumn had been shot three times, in the back, hand and face. She had not woken up. Their three children were back home near Los Angeles.
Frank expected to be interviewed as a witness. But when the FBI's Cheryl Moores approached him outside the hospital room, she explained that an interview was not on her agenda.
"I'm a part of the FBI that helps people through this," she said, as Frank recalls it.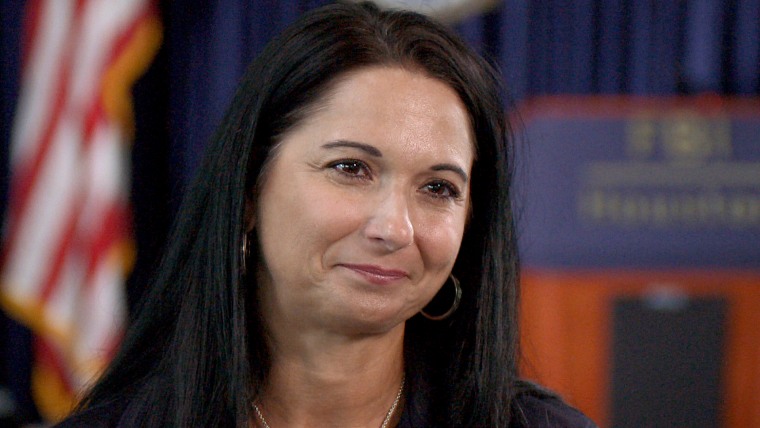 Moores, an FBI victim specialist, is part of a little-known division in the FBI whose members deploy in the wake of mass casualty events like the ones last weekend in El Paso, Texas, and Dayton, Ohio. While FBI agents in their familiar blue vests do the painstaking work of criminal investigation, members of the Victims Services Division, as it's called, fan out to help those immediately affected by the incident — in any and every way they can.
For a week and a half, Moores visited the Bignamis every day at the hospital. She helped Frank arrange a place to stay. She booked and paid for his flight home so he could get emergency dental work and see his children. She even convinced him to talk to a therapist when she saw that the trauma was threatening to overwhelm him.
"To know that all this other stuff was taken care of for you, it just took one extra thing off your mind to allow you to actually function," said Frank, a teacher and coach who, like Autumn, has touched many young lives in his hometown of Cypress, California.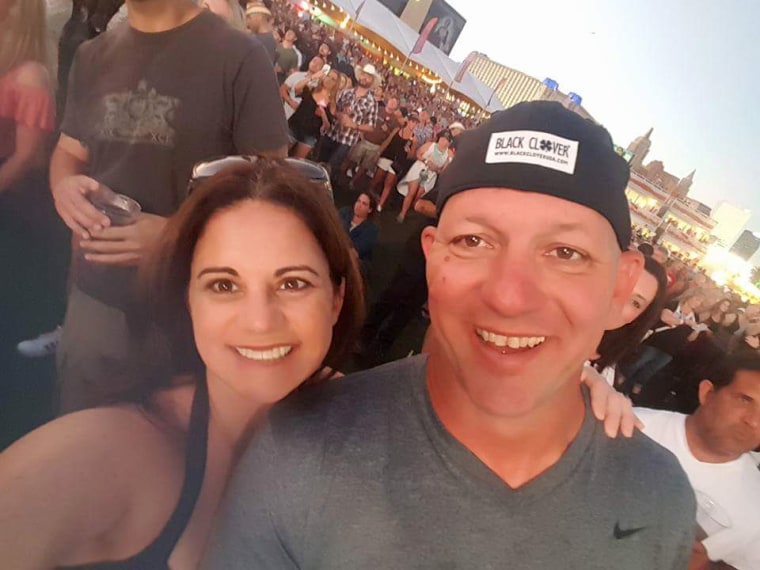 When Moores learned that the Bignamis were dog people, she made sure that FBI therapy dogs were brought into the hospital.
One dog, Dozier, curled up next to Autumn on the bed. Other animals were there to greet the children when they came to see their mom for the first time.
"The dogs would come back and they'd show up. And they'd hang out in Autumn's room for a while. And it was just things like that," Frank said. "It's super simple, but she realized that the dogs made her happy. And in a situation like that, I'm sure the woman had a ton a things to (do), but the dogs always showed up. She made a point to make sure the dogs got there. And for me, just seeing (Autumn) smile in a situation like that was huge."
As Autumn gradually recovered, Moores was there to see it.
"My first real memory of Cheryl…was when she handed me the driver's license back," Autumn said.
Retrieving personal effects from the crime scene is a common task for an FBI victim specialist. It's often an act imbued with tragedy — handling a cell phone to the parents of a gunshot victim who didn't make it, for example.
In Autumn's case, it was a happy occasion—emblematic of the sort of support the FBI was able to give the family.
"One of the things that we do when we go in is we ask, 'Are there things that you left behind?'" Moores said. "That's part of our job with the personal effects, is we're looking for the things that we can return that are not evidence."
Moores added, "It seems insignificant, but it's not."
Autumn said, "I didn't have to deal with going to the DMV."
The FBI's victim services unit, created after the 9-11 attacks, doesn't only help victims of mass casualty incidents. Specialists—who are trained in victim support, and are usually not FBI agents—serve victims of all sorts of federal crimes.There are 171 victim specialists in all 56 FBI field offices, the bureau says.
Most of Moores's caseload in Houston involves children who have been the victims of sex trafficking.
But most specialists also spend time "on call" as part of the Victim Services Response Team, which is sent to mass shootings and other calamities. Since its creation in 2005, the team has sent specialists to 28 mass casualty events, the FBI says. Moores has deployed to eight of them, including the shooting in El Paso.
The Pulse nightclub shooting in Orlando. The church in Sutherland Springs, Texas. The high school in Santa Fe, Texas. school shooting.
Las Vegas was the biggest of them all.
"Vegas was the first time I left a response and cried," said Moores, who has been doing this work for 14 years after a stint with the Defense Department.
Moores bears that pain because she wants to make a difference, she said.
"My heart's attached to this job," she said. "There's this intrinsic value to it that you just can't put a monetary amount on. It's service to those that need support in the midst of utter darkness."
Serving the Bignami family, Moores says, brought her joy amidst the awfulness.
A close bond developed between the victim specialist and the victims.
"Anytime that I went out to meet with them, I looked forward to it," Moores said. "And it wasn't about their gratitude. It was that they were personable. But they were grateful for anything that someone was doing, never this expectations of, `This is what you should be doing for me,' or being critical in any way, but just felt understood, because it was a blessing to them. And they conveyed that."
Autumn said, "Even though I didn't even really know her, it felt like she was a friend or someone that you had known for a while."
Frank said with a laugh, "I call her 'my FBI girl.' I'll always think of her as my FBI girl…I will never be able to thank her or the FBI enough for the things that they did for me and my family."
He added, "In a situation that was completely and utterly chaos and out of control, she made sure that myself and everyone else felt human. And that there was some humanity brought to the situation," he said.
Sitting his California living room, Frank choked up a bit when asked what he would say to Cheryl, who is based in Houston. "I'd give her a hug," he said.
When Moores heard that, she teared up.
"I'd hug him back," she said.
"Makes me feel like mission was accomplished. Because that's what we want to do. We want to come in and, in the most awful times of people's life, and bring hope with us. To be a human on this side, representing an agency that most people never think they're going interface with, and let them know that we actually do care about them."
The Bignamis, like most people, had no idea the FBI has employees who do nothing but work with crime victims.
"This is one of those programs that you don't even know exists and you're kind of grateful that you don't know it exists?" Autumn said. "But then when you need it, you're very grateful that it's there."
As Autumn's condition improved in the hospital, the Bignamis decided to post a picture on social media, to dispel the worst fears of their friends, neighbors and students who had heard that Autumn had been shot in the face. While the damage was significant, Autumn still looked like herself.
So Frank had a picture taken of the couple standing in the hospital room, and sent it to Moores. She immediately asked him, "Do you mind if I send this out to my field agents? Because they don't get so much good news. You know, they're just still dealing with all of the tough stuff."
Moores said she shared the picture because, "It's a reminder that what we do matters."
Moores doesn't normally keep in touch with the people she serves after mass shootings. Or rather, they typically don't keep in touch with her.
"We come in to do our work-- and then we transition out," she said. "You have to be able to build rapport and relationship very quickly, but you have to know that you've got to, like, take your hands off of that-- and move away."
People generally have no interest in reliving the worst moments of their lives, which is what Moore often witnesses.
"We often don't see the end of the story," Moores said. "We're called to be in it for a very specific amount of time, work our tails off, you know, for these families and then we leave."
But the Bignamis were different. They have made a point of keeping Moores informed, by texting her pictures and updates.
When Autumn emerged from one of her 14 successful surgeries to repair her face, the Bignamis texted Moores a photo.
"Hey, thinkin' of you. This wouldn't happen with you guys and FBI."
"She gets updates whether she wants them or not," Autumn said.
Moores wouldn't have it any other way.
"Keep sending me the pictures, because I absolutely love getting them," she said with a chuckle. "It was an honor to work with this family and a privilege."