NASA is celebrating a very big homecoming as American astronaut Scott Kelly returns to earth.
He has spent almost a full year on the International Space Station floating 250 miles above the earth — setting a record for an American astronaut.
After 340 days he has seen 5,400 earth orbits and nearly 11,000 sunsets.
His trek back to earth started Tuesday afternoon and landed in Kazakhstan at at about 11:30 p.m. ET.
All told, after adding up all of Kelly's missions over the years, he will have set the American record of 520 days in space.
Related: Astronaut Scott Kelly's very social #YearInSpace
Kelly says after almost a year in space, he can't wait to jump in his pool back in Houston.
NASA doctors will closely study Kelly to observe the health effects of such an extended mission in space.
He'll get a very thorough medical exam because researchers say that, in the absence of gravity, bones become more brittle, fluids in the body move upward and vision sometimes shifts toward far-sightedness.
It's something Kelly has already said he's experienced.
And they will compare his health with that of his identical twin brother, Mark Kelly who is a former astronaut.
"Probably almost half the time I've been here — between sleeping and working on the computer, I've spent in a box the size of a phone booth," Scott Kelly said in an interview with NBC News while the astronaut was still in space.
Along the way, Kelly has captured and tweeted some breathtaking images of earth passing below the space station.
He's also been the ideal test subject to evaluate the physical and emotional effects on long-duration space flight because back on the ground in Tucson, his twin brother Mark, who is also the husband of former Rep. Gabby Giffords, has served as a near genetic duplicate.
Researchers have been comparing Mark to his brother to evaluate the effects of space and solar and radiation on Scott.
Related: NASA: 'Help Wanted' for Future Mission to Mars
Such information is critical is astronauts are ever going to Mars.
"They had an opportunity that they've never had before," Mark Kelly said. "My brother and I are the only uh individuals, the only siblings that have ever flown in space and the fact that we are twins gave them uh this unique opportunity to do some pretty substantial science."
But there's some things that scientific tests can't measure, such as a sense of humor. After all, it was Mark who sent a gorilla suit into space for his brother to wear and terrorize other astronauts.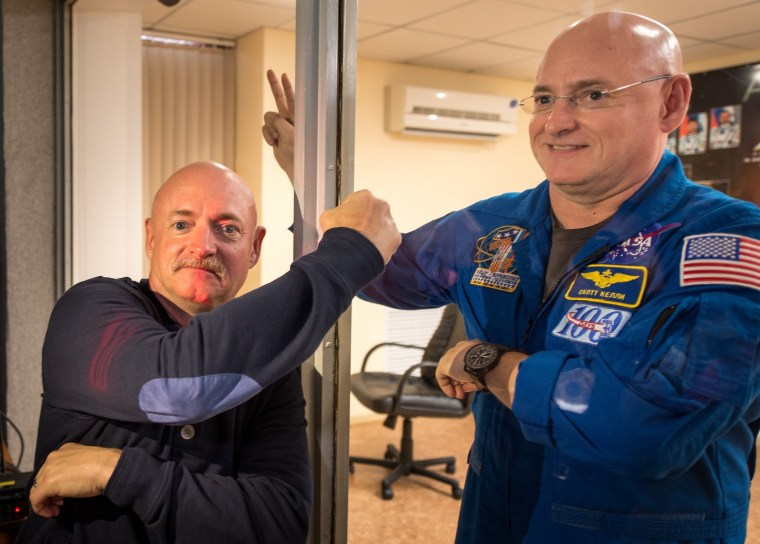 And there are other things that tests can't measure, such as longings for the comfort of loved ones.
"I think what most people miss and what I missed last time are the people that are important in your life. You know, the relationships you have with people on the ground," Scott Kelly told NBC News before leaving for his long mission in space.
Months later, those sentiments still ring true.
"There's certainly a loss of connection with folks on the ground who I care for and love and I want to spend time with," he said.
Related: Coming Home: A Look Back at Scott Kelly's Year in Space
Still, after nearly 144 million miles, Kelly said he wasn't climbing the walls.
"I could go another 100 days, I could go another year if I had to..."
There's no need.
After 11 months in space, Scott Kelly was on terra firma late Tuesday.