The whistleblowing former Ohio State wrestler who accused his coaches of failing to protect him and other athletes from a sexually abusive team doctor went to bat Wednesday for proposed legislation that would eliminate the statute of limitations for rape cases in Ohio.
Joining ex-wrestler Mike DiSabato was rape victim advocate and lawyer Gloria Allred, who is representing several of the former athletes who claim they were molested by Dr. Richard Strauss when he worked at Ohio State from the mid-1970s to the late 1990s.
"Clearly there needs to be a change in state law," Allred said. "Often we think of victims of sexual abuse as women. We should not ignore men who were sexually abused."
State Sen. Joe Schiavone, a Democrat who is leading the push to change Ohio's law, said it is long overdue. His proposed bill, which currently only has Democratic sponsors, would eliminate statute of limitations on criminal prosecutions of rape and attempted rape and "provide that there is no period of limitations for a civil action brought by a victim."
"There is no statute of limitation on murder and there should not be a statute of limitations on rape," he said.
But Schiavone said the bill he is championing would not cover the alleged Strauss victims since it only applies to new cases. He said, however, there have been discussions about possibly opening a one-year window that would allow the former Ohio State athletes, and only them, to file civil lawsuits for damages.
Currently, under Ohio law, an adult victim has two years from the date of the alleged abuse to file a civil suit. Meanwhile, a child victim has 12 years from his or her 18th birthday to file a civil suit for damages. For criminal charges, the statute of limitations is capped at 20 years.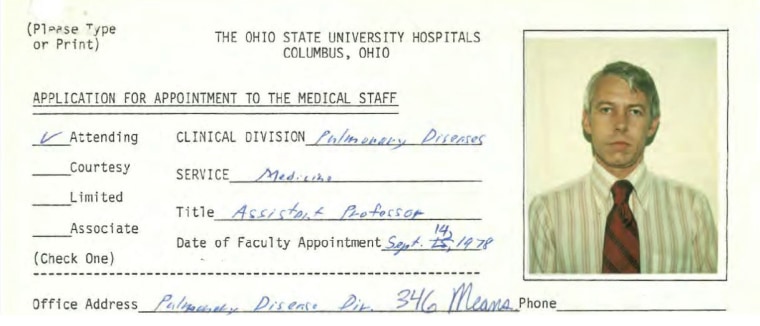 Statute of limitations on rape and sexual abuse cases vary from state to state.
DiSabato, whose allegations prompted the university to open an investigation into Strauss in April, said his alma mater needs to be "held accountable."
DiSabato recounted to journalists Wednesday how he was allegedly molested the first time by Strauss, when he was a 14-year-old athlete at a Catholic high school in Columbus and the doctor was doing a body fat study that was authorized by the university.
"This was not a study, this was a premeditated plot to assault children," DiSabato said of the doctor, choking up.
It was a "running joke" among the students that Strauss was molesting athletes and Ohio State did nothing to stop him, DiSabato said. 'There was systematic abuse within the athletic department," he said.
OSU has said that they will "be focused on uncovering what may have happened during this era."
DiSabato, 50, made headlines in July when he and several other ex-Ohio State wrestlers publicly accused one of their former coaches, Rep. Jim Jordan, R-Ohio, of turning a blind eye to Strauss' alleged abuse.
Their broadside came after Jordan, who was an assistant wrestling coach at Ohio State from 1986 to 1994, insisted in no uncertain terms that he had no idea what Strauss was doing — and had not even heard locker room talk about the doctor.
But six former Ohio State wrestlers interviewed by NBC News said they believed Jordan had to have known about Strauss. One said he told Jordan about it directly and his account was corroborated by another wrestler.
Jordan did not immediately respond to a request for comment on whether he would support a change in Ohio's statute of limitations law for sex abuse victims. Jordan has previously insisted that he had no knowledge of any sexual misconduct by Strauss.
A spokesman for Ohio State said, "We do not have a position on the bill."
Since April, male athletes from 17 different sports at Ohio State have reported sexual misconduct by Strauss, who died by suicide in 2005.
Ohio State hired the Perkins Coie law firm to conduct an independent investigation into the allegations against Strauss. Jordan and some 150 former students have been interviewed, Perkins Coie attorneys Markus Funk and Caryn Trombino told the Ohio State trustees earlier this month.
In August, the U.S. Department of Education announced it too had opened an investigation into whether Ohio State officials responded "promptly and equitably" to the complaints from athletes about Strauss.