After rising for much of last year, the number of undocumented immigrants caught crossing the United States' southern border dropped sharply for the second straight month.
About 24,000 border crossers were caught in February, according to U.S. Customs and Border Patrol. The 38 percent drop from February 2016 figures follows months that saw more crossings than almost any in the last five years.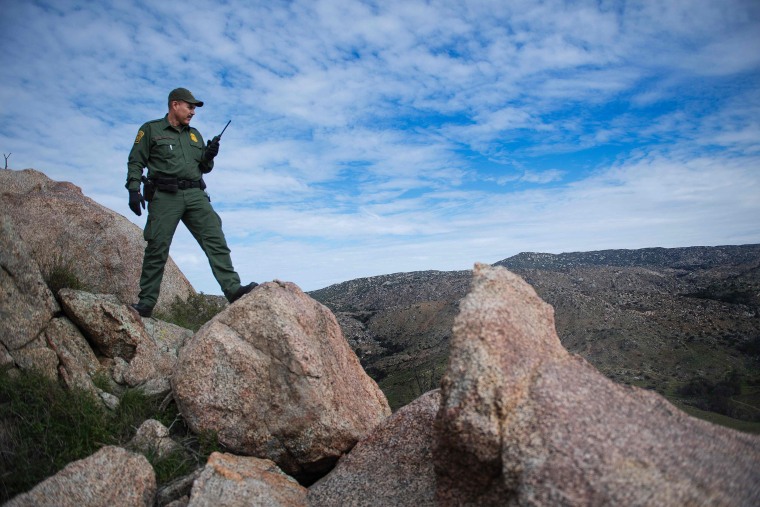 The drop from the previous month was even starker. February saw 45 percent fewer border crossings than in January, when figures had already dropped by more than 24,000 from the October's peak of about 67,000.
The drops are sure to hearten of President Donald Trump's supporters, 79 percent of whom said in a July Pew Research Center poll that immigration was "very important" to their votes.
The Trump administration, which is engaged in battles over health care and a newly issued executive order restricting immigration from six majority Muslim nations, may also reap benefit from what looks like fast action on an issue dear to its base.
"The early results show that enforcement matters, deterrence matters, and that comprehensive immigration enforcement can make an impact," Homeland Security Secretary John Kelly said in a statement. "We will remain vigilant to respond to any changes in these trends, as numbers of illegal crossings typically increase between March and May."
Last year, monthly crossing totals increased by about 9,000 between March and May.
Trump has made his stance on undocumented immigration clear. Since his inauguration Jan. 20, he has signed executive orders to hire 5,000 new Border Patrol agents and 10,000 more Immigration and Customs Enforcement agents — despite having instituted a federal hiring freeze. On Trump's watch, ICE has ratcheted up deportations, continuing a trend that started under President Barack Obama.
Related: Washington State Wants Restraining Order Applied to Trump's New Travel Order
But the numbers may be misleading or even deceptive, said Mary Giovagnoli, a senior fellow at the American Immigration Council.
"It makes me suspicious of the numbers in isolation, and I would really want to look at what was happening at individual points of entry and what the full set of circumstances are on the ground," said Giovagnoli, a former attorney for the Department of Homeland Security. "I think the executive orders haven't even been put into place yet with respect to the various border elements."
Apprehension figures were last this low in 2011. Just more than 24,000 apprehensions were made that December, and the figures doubled over the following months. With this year's figures lagging in February, despite an early spring, such a swift climb seems unlikely.
Still, Giovagnoli said, "it takes a very long time for some people to make it from El Salvador to the southwest border."