Milwaukee was mostly calm after overnight as a 10 p.m. curfew for teenagers went into effect following two violent street protests over the fatal police shooting of a local man.
More than 100 National Guard members were on standby but there was "no major arson or property damage," the city's police chief Ed Flynn told reporters in an update shortly before midnight.
Shots were fired outside the 7th District police station but it remained "open for business," Flynn said. Six arrests were made earlier in the day.
"This community is not interested in doing damage to where they live," Flynn added, hailing the situation as "an improvement."
Related: Mayor Declares Curfew After Second Night of Milwaukee Unrest
Wisconsin Gov. Scott Walker had activated the National Guard "as a precaution" to reduce tension in the city as the curfew approached.
"After 10 o'clock, your teenagers better be home or in a place where they're off the streets," Mayor Tom Barrett warned earlier in the day.
Protests erupted Saturday night after the fatal police shooting of Sylville Smith, a 23-year-old black man, earlier that afternoon.
Police said Smith was armed with a loaded handgun and was fleeing a traffic stop on foot when he was killed by a police officer who so far has only been identified as being 24-year-old and African-American.
The next night, more than 100 people holding candles and paper signs reading "BlackLivesMatter" gathered at Sherman Park and then marched to the site of the shooting.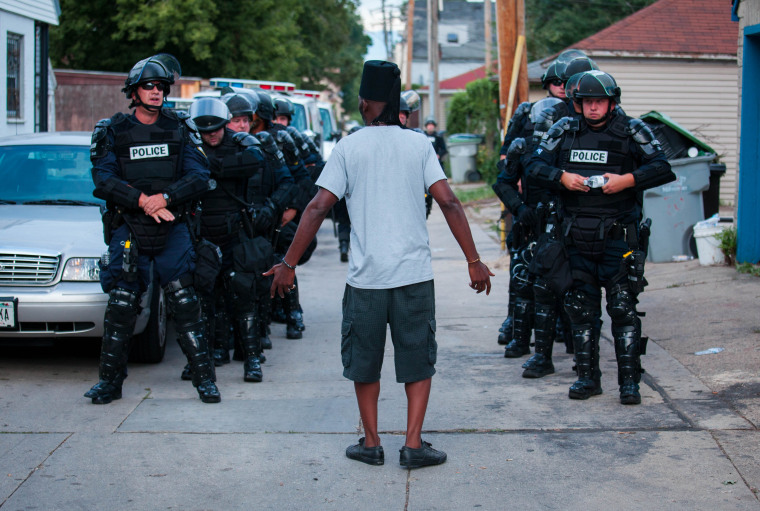 When police moved in and threatened arrests if the crowd didn't disperse, some responded by bombarding the cops with rocks, concrete and debris. An injured officer was taken to a hospital after a rock broke the windshield of his squad car, police said.
Residents of the stricken neighborhood on Monday expressed frustration over the demonstrations, which they said threatened to damage the area.
"That was way over the top, and it threatens the integrity of our neighborhood," Bob Olin, who has lived in the area since the 1980s, told NBC station WTMJ.
"This is a very community-based neighborhood," Olin said. "People know who their neighbors are. They interact with them regularly."
Kristine Surek, another longtime Sherman Park resident, told the station: "I think it's unfair that, nationally, we're getting a bad reputation. I have friends out of the city who are calling me and saying, 'Get out of that neighborhood.'"
At a candlelight vigil Sunday night, Smith's sister, Kimberly Neal, 24, said the family wanted prosecutors to charge the officer who shot him.
"He wasn't a threat, period," Neal told WTMJ. "He wasn't a threat when they took his life. He wasn't a threat."
But Flynn, the police chief, said body camera video that investigators have seen shows that there was a "credible threat" to the officer.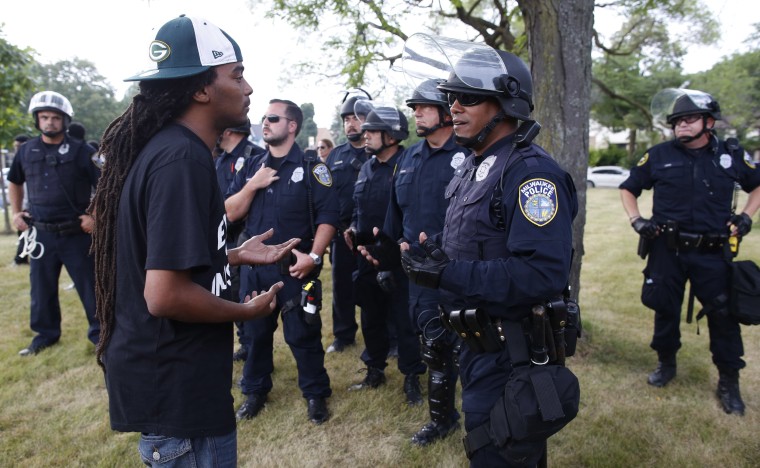 At one point, Smith, who had a "lengthy" arrest record, turned toward the officer with the gun in his hand, Flynn said. Authorities said Smith's gun held 23 rounds.
The video hasn't been released to the public.
Gov. Walker, a Republican who mounted a failed campaign this year for president, reassured residents that he knew "there are larger issues than what happened this weekend to address" in Milwaukee, which is one of the most segregated cities in America, according to a report late last year by the nonprofit Brookings Institution.