In five weeks as attorney general, Jeff Sessions has taken fire for his testimony about past meetings with Russia's ambassador and been criticized for the abrupt removal of dozens of politically appointed U.S. attorneys around the country.
But Sessions is getting a much warmer welcome among the nation's law enforcement community, which has largely embraced his plan to prosecute more drug and gun cases, crack down on immigration offenses and ease up on suing local police departments accused of violating minorities' civil rights.
Sessions will further explain his plans to realign the Justice Department's priorities on Wednesday, when he addresses a gathering of federal, state and local law enforcement officers in Richmond, Virginia. He can expect an enthusiastic response.
"Happily for us, on vast majority of issues, we're on the same page," said James Pasco, a senior adviser at the Fraternal Order of Police.
The Justice Department wouldn't comment on what Sessions will say in Richmond. But a spokesman said his remarks will expand on a number of his recent actions, including a memo ordering a crackdown on violent crime and a speech that warned that a recent uptick in crime was "the beginning of a trend" that requires a "return to the ideas" that cut lawbreaking to historic lows since the 1990s.
Related: AG Sessions Says DOJ to 'Pull Back' on Police Department Civil Rights Suits
In that Feb. 28 speech to state attorneys general, Sessions blamed Mexican drug cartels for a record spike in heroin overdoses and suggested that he would reverse Obama administration policies that sought to reduce the prosecutions of low-level, nonviolent drug offenders on charges that carried mandatory minimum prison sentences.
Sessions said in the speech that from 2010 to 2015, the number of gun and drug prosecutions had dropped. "This trend will end," he said.
"Happily for us, on vast majority of issues, we're on the same page."
Sessions, a Republican former U.S. senator and federal prosecutor from Alabama, also signaled a new approach toward police departments accused of discriminatory policing. He said that rather than "spending scarce federal resources to sue them in court," federal money would be better used going after criminals.
Related: Trump Orders Crackdown on Drug Trafficking and Anti-Cop Violence
Michael Ramos, president of the National District Attorneys Association, said it was refreshing to hear Sessions promise to "get back to tough-on-crime."
The Obama administration, Ramos said, went too far in seeking ways to reduce mandatory minimum sentences and get people out of prison. That lenience, he said, could be driving crime rates.
"We've gotten to a point where the pendulum is starting to swing back," Ramos said.
Lawrence Leiser, vice president for policy at the National Association of Assistant United States Attorneys, said his organization opposed easing up on mandatory minimum sentencing and welcomed a return to earlier approaches.
He said he viewed Sessions' take on law enforcement as "inspiring."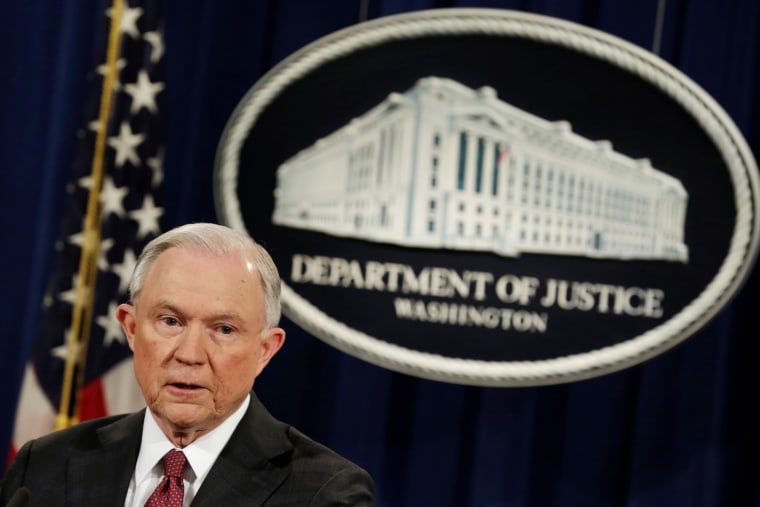 "Assistant U.S. attorneys are encouraged by the attorney general's approach to combating drug trafficking and violent crime by using all of the lawful tools that are currently available to prosecutors," Leiser said.
Related: Trump Administration Tells Remaining U.S. Attorneys to Resign
That said, law enforcement officials cautioned that the Trump administration is only a couple months old, and Sessions had yet to articulate how the new priorities would be put in place.
"I argued for those things back then. But I saw that those massive arrest strategies don't work. There's tremendous collateral damage."
Ronal Serpas, a former police superintendent in New Orleans and chairman of the group Law Enforcement Leaders to Reduce Crime and Incarceration, said he embraced Sessions' focus on violent crime. But his group has also warned the administration against using jail and prison as the tools to attack crime more broadly.
Many nonviolent, first time offenders, particularly those suffering from mental illness or drug addiction, would be better served by alternatives, the group said in a set of recommendations for the new administration.
The group also urged Sessions to rethink his opposition to sentencing reform.
And it warned against rumored cuts to the Justice Department's Office of Community Oriented Policing Services.
"I'd like to see the attorney general focus narrowly on the issue of violent gun and drug crime and not get distracted by the big sweeping arrests we had in the 1990s," Serpas said. "I argued for those things back then. But I saw that those massive arrest strategies don't work. There's tremendous collateral damage."
Thomas Manger, president of the Major Cities Chiefs Association, said he was encouraged by the mere fact that Sessions was speaking directly to local law enforcement agencies so early in his tenure.
That's important to many police officials who saw the Obama administration as being too critical of police during a time of eroding trust between cops and the public, he said. Much of those problems have been driven by increased scrutiny of shootings by police and an uptick in attacks on officers.
"We're just trying to get off on the right foot and help influence things in a direction where the big cities around this country are providing the best service we can," Manger said.