BUFFALO, N.Y. — Marcus Morris said he had to pray before he got out of his vehicle and walked into Tops Friendly Markets, where 10 people, including his uncle, were killed in a racist mass shooting last year.
Another customer, Kevin Samuels, said he could "feel the presence of the situation" when he stepped through the door of the Buffalo grocery store.
Tuesday, the day before the gunman is to be sentenced on murder, hate crime and other state charges, was the first time both men have been to Tops since the May 14 shooting that killed Ruth Whitfield, Pearly Young, Katherine Massey, Roberta Drury, Heyward Patterson, Celestine Chaney, Andre Mackneil, Geraldine Talley, Aaron Salter and Margus Morrison, Morris' uncle.
Three other people were injured.
"Your chest definitely gets a little heavy just pulling in. I sat in the car and said a little prayer before I got out for all the victims, especially my uncle," said Morris, 27, of east Buffalo.
"You can't not think about it when going in there," he added.
Morris said that he knew about the sentencing but that it wasn't a factor in his decision to go to the store.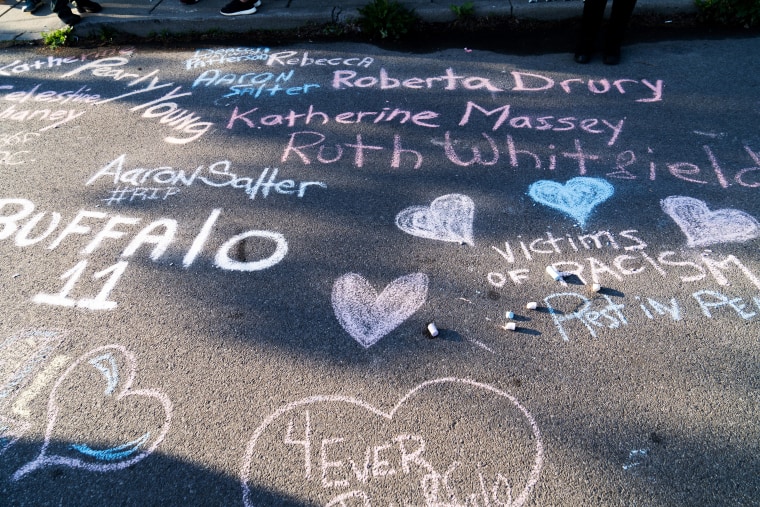 Samuels said he used to shop at Tops, the only accessible supermarket on the east side of Main Street, "quite often" but stopped after the shooting because he needed time to heal. 
Authorities have said the gunman, Payton Gendron, was dressed in tactical gear when he opened fire at Tops, which he streamed on the social media platform Twitch before the stream was taken down.
He fatally shot three people and wounded one in the parking lot before he entered Tops, where Salter, a security guard at the store, confronted him, authorities have said. Officials said that Salter's rounds didn't appear to penetrate Gendron's ballistic gear and that the gunman shot and killed him before he shot others.
A document that Gendron, who is white, posted online claimed he had been radicalized and appeared to adhere to the "false replacement" theory, which white killers have used to justify violence against Muslims, Latinos and Jewish people around the world.
He has pleaded guilty to more than a dozen state charges, including 10 first-degree murder counts. He also faces 27 federal counts, including murder, discharging a firearm and hate crimes. Eleven of the 13 people who were shot were Black; the two others were white.
Samuels, 53, who has lived in Buffalo for about four years, said what happened was "hurtful."
A Buffalo native, who declined to give her name, said the past nine months have been hard to process. Before the massacre, the 61-year-old woman visited Tops several times a month. Tuesday's visit was her fourth time inside the store since it reopened.
"I double-think coming to this Tops," she said. "The thought of all those lives lost is really depressing."
She went back for the first time in November. She said that she was paranoid and her heart was beating fast and that she kept looking over her shoulder.
She is more at ease going to the store now, but she said everyday sounds, like a car squealing in the parking lot, gives her anxiety.
Robert Archie, 66, has been a faithful customer since the grocery opened on Jefferson Avenue in 2003. He has lived minutes from the store for the past 14 years.
Usually, he shops at Tops three or four times a day, picking up last-minute meals or grabbing items for family members. On the day of the shooting, he happened to skip his normal routine. 
"Luckily, I wasn't there that day," he said. "Any minute that day I would have been here."
Archie said what happened to his community was painful, but he refuses to let the shooting keep him away. He was back shopping at Tops two days after it reopened in July. His wife, however, has not been back.
"This is my store. I have no hesitation," he said, adding: "You just hope that something else like that doesn't happen again."