As Charlottesville, Virginia, braces for potentially hundreds of white nationalists and counter-protesters to converge on the city Saturday, the battle over free speech — and ultimately First Amendment rights — is already brewing.
An unlikely front has been opened up on Airbnb, the online housing rental service which quietly moved to cancel accounts and bookings that appear to be connected with the "Unite the Right" rally — a controversial event seeking to unify the far-right wing and "affirm the right of Southerners and white people to organize for their interests," according to its Facebook page.
While rally organizer Jason Kessler called the move "outrageous" and suggested in an email there are "grounds for a lawsuit," some free speech advocates believe Airbnb is well within the limits of the law.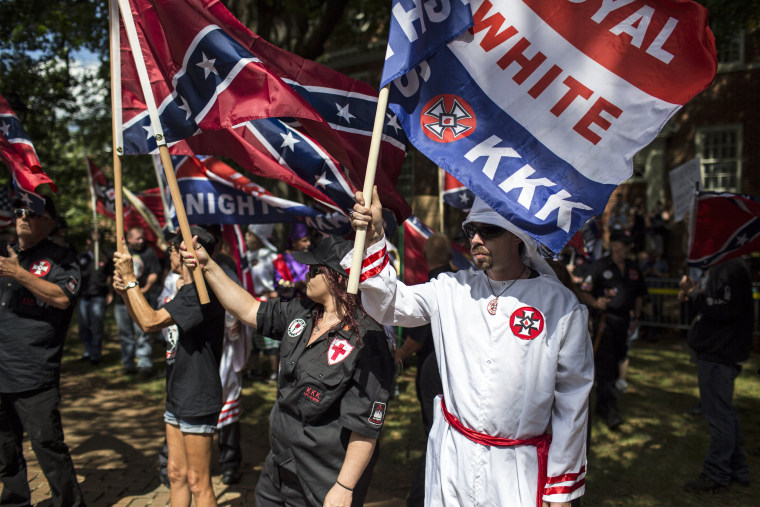 "I would say that while Airbnb's actions wouldn't necessarily comport with general free speech principles, they are a private company and are entitled to enact and enforce their terms of service as they see fit," said Clay Hansen, executive director of the nonpartisan Thomas Jefferson Center for the Protection of Free Expression in Charlottesville. "There's no First Amendment issues with what they're doing."
The vacation lodging giant is targeting users affiliated with the rally who booked Charlottesville-area properties for large gatherings. NBC affiliate WVIR said a neo-Nazi website claimed various far right-wing groups planning to attend the rally used Airbnb to book seven houses for 80 to 90 people.
Concerns from other members of the service prompted Airbnb to revoke the accounts based on its "Community Commitment," which requires users to accept people regardless of race, religion, national origin and other identifiers.
"We asked all members of the Airbnb to affirmatively sign on to this commitment," the company said in its statement. "When through our background check processes or from input of our community we identify and determine that there are those who would be pursuing behavior on the platform that would be antithetical to the Airbnb Community Commitment, we seek to take appropriate action including, as in this case, removing them from the platform."
On its website, Airbnb has a page informing hosts how they can "cultivate unbiased hospitality."
Airbnb did not immediately say how many accounts have been deactivated, but upset users took to social media to complain.
One person posting on the Unite the Right's Facebook page said her account was canceled and she was given a full refund for her Charlottesville booking last week. Although Airbnb didn't detail its decision in an apparent message to the woman — other than saying she violated its terms of service — she wrote that it was "no doubt" related to the rally.
Airbnb in its terms of service says it reserves the right to conduct background checks of members as well, and screen them using "third-party databases" or other sources.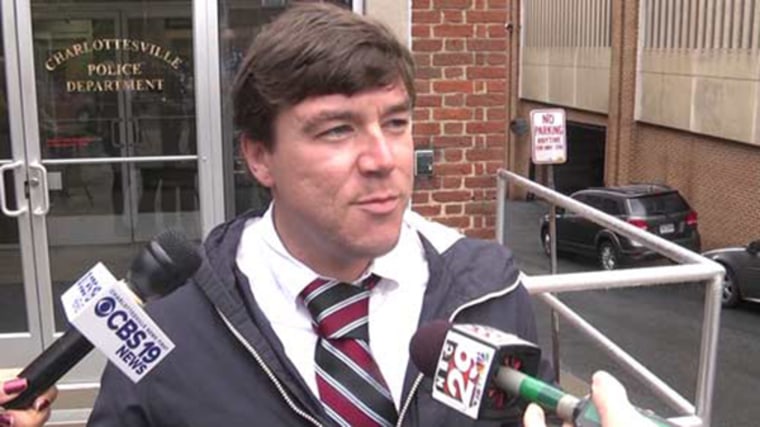 Kessler said Airbnb's anti-discrimination policy goes too far by appearing to stifle anyone who it perceives as having controversial opinions.
"Would Airbnb cancel the service of black nationalists or Black Lives Matter activists for their social media activity?" Kessler asked. "Of course not!"
Attorney Kyle Bristow, executive director of the Foundation for the Marketplace of Ideas, a self-described nonpartisan civil liberties nonprofit that supports Kessler, said it's "alarming" that Airbnb would close certain accounts but "they have a right to do it."
"The problem is there's a growing trend in businesses discriminating against people with a right of center political persuasion," Bristow said.
Local Charlottesville hotels contacted by NBC News said they don't support policies that would turn away guests — no matter their personal beliefs.
"We would welcome them," said Dan Bundy, an owner of the Foxfield Inn, a bed and breakfast.
The city is becoming known for white rallies.
Charlottesville was previously the scene of a white supremacist gathering in May, when torch-carrying protesters ripped the planned removal of Confederate Gen. Robert E. Lee's statue while chanting slogans such as "All White Lives Matter." Prominent white nationalist Richard Spencer was among the leaders at the event, which was condemned by city leaders and the local University of Virginia.
In July, about 50 members of the Ku Klux Klan rallied at another Charlottesville park in protest of removing the Lee statue. Another 1,000 demonstrators were on hand, and the dueling demonstrations intensified when police released canisters of tear gas and made more than 20 arrests.
The Lee statue has yet to be taken down.
Saturday's rally could be the largest in the area in a decade, according to the Anti-Defamation League, which estimates 4,000 people, including counter-protesters, could show up based on the groups that have already expressed interest. Spencer, also regarded as the founder of the alt-right movement, is expected to speak, along with Mike Enoch, a white nationalist commentator who is on the Foundation for the Marketplace of Ideas' Board of Directors.
At least 600 people have signed up for the event as of Tuesday via the Unite the Right's Facebook page.
Kessler indicated in a permit that more than 400 people could attend, which led city leaders to compromise with him that the event be moved from Emancipation Park, which was previously known as Lee Park, to the larger McIntire Park.
Related: White Nationalist Leads Torch-Bearing Protesters Against Statue Removal
"It also avoids a situation whereby overflow crowds spill into the streets, as would likely occur at Emancipation Park," Charlottesville Police Chief Al Thomas said Monday. "Law enforcement also will have the room needed to maneuver and direct crowds toward safety in case of a disturbance."
Kessler, however, said that the group's permit for Emancipation Park was unfairly canceled by the city, and that the rally would still go on at that location.
Two civil liberties groups — the ACLU's Virginia chapter and The Rutherford Institute — said in a joint letter to the Charlottesville City Council on Tuesday that requiring the demonstration to change venues "raises serious First Amendment concerns."
"While the message of the 'Unite the Right' rally may raise strong feelings of opposition among area residents and political leaders, that opposition can be no basis for government action that would suppress the First Amendment rights of demonstrators who have acted according to the law," the groups said.
In an earlier statement, Charlottesville Mayor Mike Signer said city leaders support moving the event to McIntire Park "because of the ballooning size of the event's attendance."
"Just as the 'Unite the Right' participants have the right to air their views, so do those who want to protest against those views," he said. "Democracy can be noisy, and it can be messy."