/ Source: Associated Press
An air traffic controller directed a pilot having trouble with his small plane to a long-closed runway before the aircraft made a fatal crash-landing, according to a preliminary accident report.
Joseph Milo, 59, was killed Aug. 16 when his single-engine aircraft hit railroad tracks on Long Island. His passenger escaped with injuries.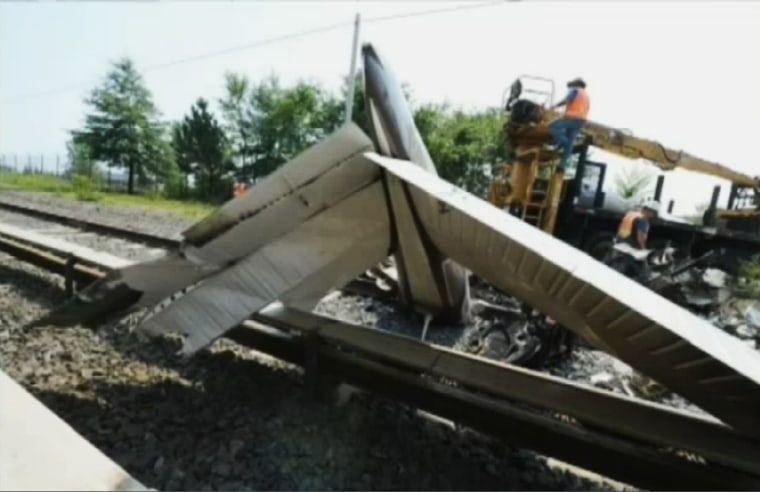 The Federal Aviation Administration said the Hawker Beechcraft BE35 had departed from Westhampton Beach, on eastern Long Island, and was headed to Morristown, New Jersey.
The NTSB report indicates the pilot told an air traffic controller he was "having a little bit of a problem" and would have to "take it down."
The controller gave the pilot information about the location of nearby airports, but the pilot was concerned he might not make it to them.
The report says the controller then provided information about a "Bethpage strip," a former runway associated with defense contractor Northrup Grumman. The controller told the pilot the airport was closed but said there was a runway there.
"The next several transmissions between the controller and pilot revealed that the pilot was unable to see the runway" while the controller continued to provide information about its location.
The plane crashed at a railway crossing a quarter-mile from the site of the former runway, which Northrup Grumman spokeswoman Jacqueline Farrell said was closed in 1990. Industrial buildings now occupy the former airstrip, the investigation found.
A spokeswoman for the FAA, which is responsible for air traffic controllers, declined to comment, citing the ongoing investigation.