Airlines were working to put travel chaos behind them Thursday after a computer outage forced the Federal Aviation Administration to halt all departures nationwide as it raced to resolve the issue.
As of early Thursday, just over 440 flights in, to and out of the U.S. were delayed, according to the flight tracking website FlightAware — a paltry number compared to the thousands of flights that were delayed Wednesday after the system that sends pilots key information they need to fly suffered the outage.
A senior government official said the issue was caused by a corrupted file that affected both the primary and backup systems of the FAA's Notice to Air Mission system, or NOTAM. Officials continue to investigate, they said.
The FAA said in a statement it was "continuing a thorough review to determine the root cause" of the outage. "Our preliminary work has traced the outage to a damaged database file. At this time, there is no evidence of a cyber attack," it said.
In a news release on its website, Delta Air Lines said it was expecting "minimal residual impact, if any, on Thursday." United Airlines and Southwest Airlines were expecting operations to run as normal. American Airlines did not immediately respond to an overnight request for comment.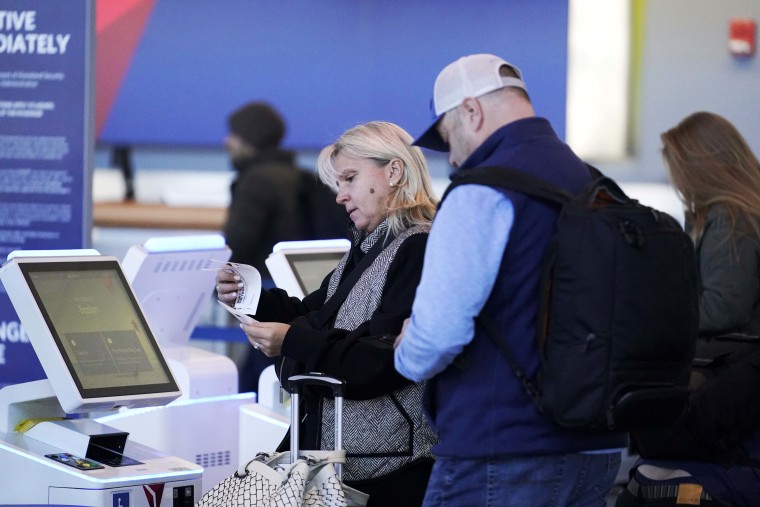 Passengers and carriers alike hoped to see operations return to normal, but Chris Torres, the vice president of the Allied Pilots Association, warned that the chaotic situation could "cause ripple effects."
"This thing was lifted at 9 a.m. Eastern. That doesn't mean the problem stops at 9 a.m. This is going to cause ripple effects," Torres, whose members fly for American Airlines, told Reuters.
Flight delays and cancellations can prove major inconveniences to customers flying within the U.S., as long driving distances and a relatively limited passenger rail network make for grueling alternatives.
Anyone whose flight was canceled is entitled to a full refund, according to Transportation Department guidelines. Meanwhile, major domestic carriers like American, United and Delta said they would waive the fees of travelers who wanted to rebook flights.
Transportation Secretary Pete Buttigieg said Wednesday night that the FAA would work to further pinpoint the source of the issue and identify steps to prevent it from happening again. He echoed the agency in saying there is no evidence of a cyberattack.
"One of the questions we need to look at right now, and one of the things I'm asking from FAA, is what's the state of the art in this form of message traffic?" Buttigieg told NBC News' Andrea Mitchell earlier Wednesday. "And again, how is it possible for there to be this level of disruption?"
President Joe Biden ordered an investigation after he was briefed by Buttigieg.