A mass shooting at a New Orleans park on Sunday night left 17 people injured, including 11 under the age of 21, Mayor Mitch Landrieu said during a news conference Monday afternoon.
Calling it an "unbelievably senseless shooting" that is "akin to domestic terrorism," Landrieu said that one of the victims may be paralyzed for life and another was 10 years old; most had already been released from the hospital.
Landrieu recalled a grandmother telling him afterwards, "''It's a damn shame that young people can't even breathe fresh air at the playground.'"
Officials have not yet identified any suspects, police superintendent Michael Harrison told reporters, although he said it appeared the shooting was between two gangs at Bunny Friend Park in the city's 9th Ward. Between 300 and 500 people had gathered there for an impromptu filming of a music video.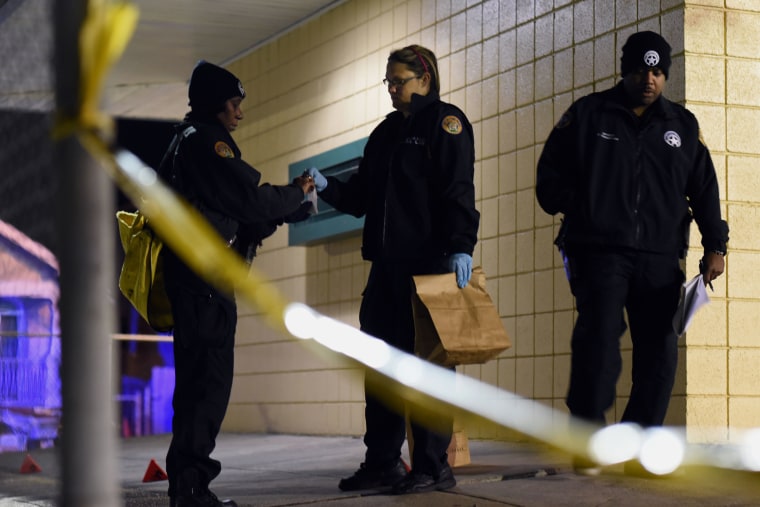 Police officers who had been assisting a nearby parade heard about the event, which authorities described as "unplanned" and "unpermitted," and were one block away when gunfire erupted around 6:15 p.m. local time.
NBC affiliate WDSU described a chaotic scene, with witnesses recalling too many gunshots to count and multiple victims being tended to by paramedics at the park.
"It sounded like Beirut," one neighbor, David Jones, told the station. "It sounds like a war."
Authorities found dozens of shell casings at the scene and believed that automatic weapons were used. They said that little information had been provided yet by the "hundreds of witnesses" who were in the park, as Harrison put, and he pleaded for cell phone video of the event.
"We need you to give us that information today," he said.