AKRON, Ohio — Officials on Monday set a 9 p.m. curfew for downtown Akron, Ohio, and canceled a fireworks show in the wake of protests over the police killing of Black motorist Jayland Walker.
Mayor Dan Horrigan said the action was necessary due to the threat of violence and property damage in the northeast Ohio city's downtown district.
Police on Sunday released officers' body camera footage of the June 27 shooting, and Horrigan praised protesters for their initial "peaceful" demonstration that "did not escalate to violence and destruction."
"However, as night fell and others began to join, the protests became no longer peaceful," he said in a statement. "There was significant property damage done to downtown Akron."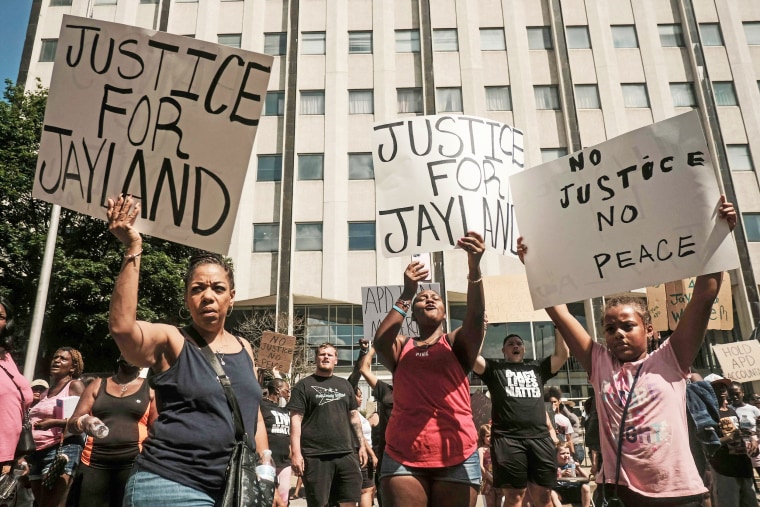 The mayor said small businesses up and down Main Street were damaged and the city "cannot and will not tolerate violence or the destruction of property."
"In light of the damage that has occurred and in order to preserve peace in our community, I have declared a state of emergency, implemented a curfew and canceled the fireworks which were scheduled for tonight," Horrigan added.
Downtown Akron is now subject to a curfew between 9 p.m. Monday and 6 a.m. Tuesday, according to the mayor's executive order.
The curfew area is bordered by state Route 59 (also known as Perkins Street and Martin Luther King Jr. Boulevard) on the north, interstates 76 and 77 on the south, state Route 8 on the east, and Martin Luther King Jr. Boulevard on the west.
Fourth of July fireworks that had been scheduled for downtown Akron, at the Patterson Park Sports Complex, and at the Akron Fulton Airport were canceled.
The Akron RubberDucks, a minor league affiliate of the nearby Cleveland Guardians, called off their Monday night home game against the Altoona Curve, because of the curfew and "out of respect for our players, fans and those who are mourning," the parent club said in a statement.
About a hundred protesters converged Monday afternoon on the mayor's home, where they were met by police in riot gear who stopped them short of the property.
Some protesters threw rolled up papers, with demands written on them, into the mayor's yard. Among the written demands were calls to fire officers involved in Walker's shooting.
"I didn't even mean to be here. But I ended up here and I think God just kind of led me here. And it has motivated me to do more," said protester Crystal McCorvey, 52. "It did not require 90 bullets for that one young man. It did not require that at all."
Eight police officers, now on administrative leave, shot Walker after he jumped out of a moving car, officials said.
The officers reportedly fired dozens of shots, and Walker's loved ones have questioned why such overwhelming deadly force was used. A gun was found in Walker's car but not on his body when officers fired the barrage of fatal shots, police said.
David K. Li reported from New York and Safia Samee Ali reported from Akron.