Alabama lawmakers on Thursday postponed a vote on a near total ban on abortions after a brief but contentious debate on the Senate floor. Tensions flared after exceptions in cases of rape and incest were abruptly stripped from the bill.
The Alabama Senate is due to reconvene on Tuesday to vote on the bill, which would make it a felony for a doctor to perform or attempt an abortion during any stage of pregnancy.
The House approved a version of the bill last week that had an exception for the mother's health, passing 74-3, then a Senate committee added an exception for rape. Republicans in the Senate, however, suddenly tabled the rape and incest exemptions on Thursday.
Shouting erupted as Democratic Sen. Bobby Singleton, other Democrats and at least one Republican objected to the motion being gaveled through without a roll call vote.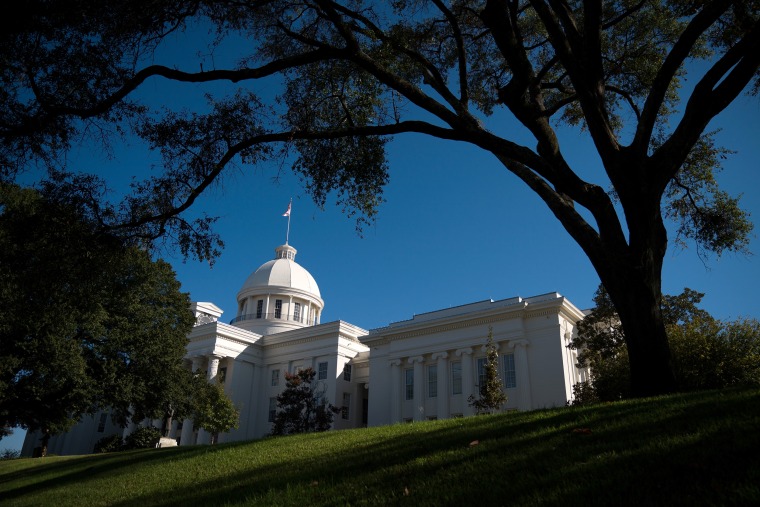 "You've got 27 men over on the other side ready to tell women what they can do with their bodies," Singleton said. "You don't have to procedurally just try to railroad us."
"I know this bill is going to pass. You're going to get your way," Democratic Sen. Vivian Davis Figures said after the yelling had died down. "But at least treat us fairly and do it the right way."
"That's all that I ask, that's all that my Democratic colleagues ask. That's all that women in this state ask — both Democratic and Republican women," she said.
Senate President Pro Tem Del Marsh, a Republican who supports the exemption for rape, suggested that lawmakers take the weekend to cool off and reconvene next week. The session was then adjourned.
Lt. Gov. Will Ainsworth, a Republican who presides over the Senate, said that legislative procedures were followed during Thursday's session, according to The Associated Press.
If the bill becomes law, it would be the strictest abortion legislation in the nation. It would go into effect six months after Gov. Kay Ivey, a Republican, signs it. She has not indicated whether or not she plans to.
With the new conservative majority on the Supreme Court, lawmakers across the country are pushing for tougher abortion laws to challenge the high court's 1973 Roe v. Wade ruling.
On Tuesday, Georgia Gov. Brian Kemp, a Republican, signed legislation banning abortions once a fetal heartbeat can be detected.
"Heartbeat abortion" bans have also been signed into law in Mississippi, Kentucky and Ohio this year. Lawmakers in Tennessee, Missouri, South Carolina, Florida, Texas, Louisiana and West Virginia are considering similar proposals.