Dr. Heather Skanes' team at the Oasis Family Birthing Center in Birmingham, Alabama, started turning away patients this spring as state officials cracked down on alternative childbirth options.
The center had offered patients with low-risk pregnancies a place to deliver their babies outside of a hospital, where cesarean sections weren't performed, epidurals weren't administered and midwives took the lead. Some women labored in an inflatable aqua birthing pool, in what Skanes saw as a more supportive environment in which Black women in particular would feel more comfortable and heard. 
But in March, officials with the Alabama Department of Public Health told Skanes that they considered the previously unregulated facility to be a hospital that didn't have proper permission to be open, according to her attorneys. 
Only patients who were in their third trimesters when the clampdown occurred could still have their babies at Oasis.
Everyone else would have to go elsewhere.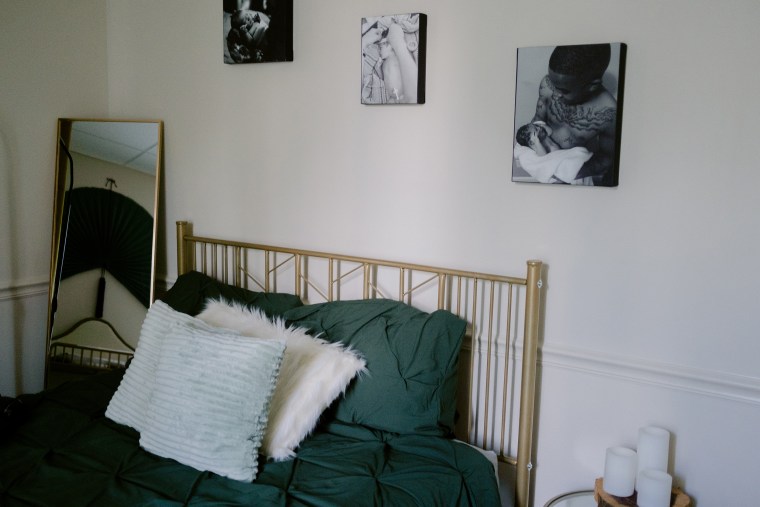 "Many of them felt that their voice in their choice had been taken from them," Skanes said.
The American Civil Liberties Union is suing the state Public Health Department on behalf of Skanes over what it has called a "de facto ban" on freestanding birth centers. The court battle is unfolding as the agency is weeks away from implementing licensing regulations for the facilities.
Alabama has an alarming record on keeping expectant and new mothers alive, with a higher share of residents dying in pregnancy and during or shortly after childbirth than almost any other state. More than a third of counties in Alabama lack hospitals with labor and delivery units or practicing obstetric providers, according to a report last year from the March of Dimes.
The new rules could drastically change how some birth centers, including Oasis, are staffed and whether they can operate at all. Midwives, who are trained to assist in out-of-hospital births, wouldn't be able to take the lead unless they also met certain nursing qualifications. 
The rules would also require birthing centers to secure agreements with local hospitals to transfer patients if needed. And the centers would be allowed to open only within a 30-minute drive of hospitals with obstetricians on staff — a significant hurdle in a state where many communities lack nearby options.  
Along with Skanes, the ACLU is representing Stephanie Mitchell, a midwife in Gainesville, and Dr. Yashica Robinson, an OB-GYN in Huntsville, who both planned to launch their own birth centers in the coming months but now are unsure whether to go ahead.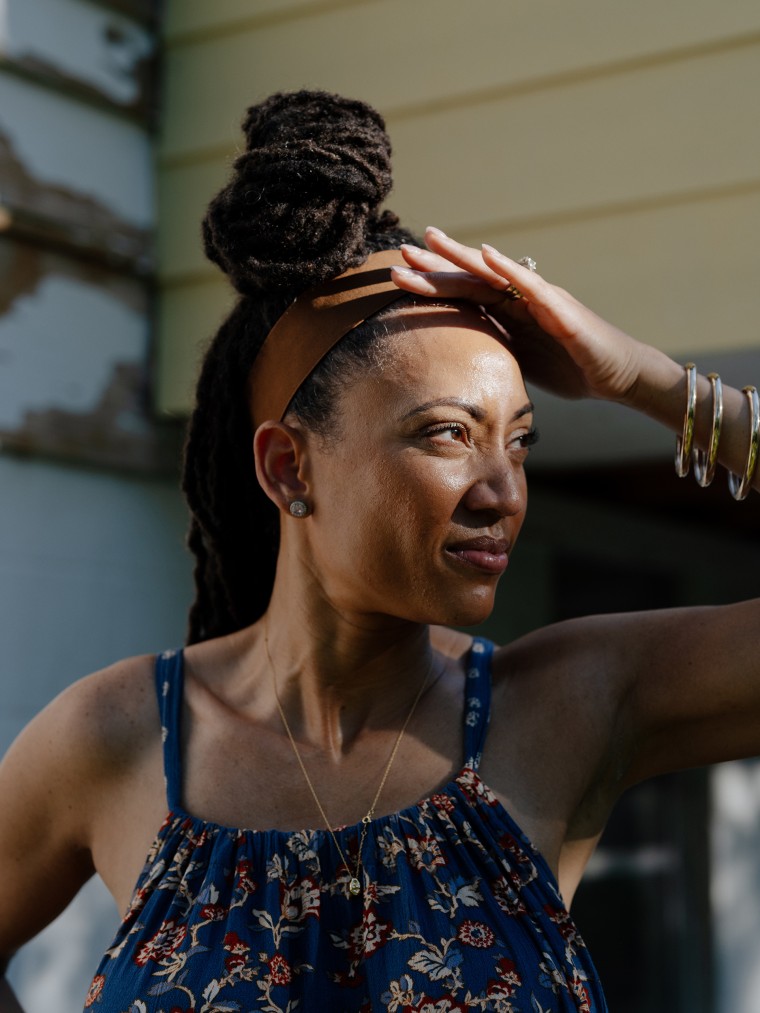 The state Department of Public Health declined to comment, citing the litigation, and instead referred to its previous defense of the new requirements as important safety measures. 
After several groups, including the American Association of Birth Centers, objected to the regulations, state officials wrote in August that "the inclusion of each requirement is considered necessary to ensure the health and safety of families seeking the services of a birthing center in this state." 
The agency also defended its requirement for transfer agreements to hospitals, writing that at least 13 states have such requirements. 
Not all of the state's new policies, though, are as widespread.
Alabama's rules are stricter than those in other states by limiting midwives "to an assistive role" in birth centers, according to Kate Bauer, executive director of the American Association of Birth Centers.  
"Birth centers have the ability to empower people in their health care," she said, "and they come from birth, feeling empowered, with a 'yes, I can do this' feeling."
A spokesperson for the Medical Association of the State of Alabama said the physicians group did not take a position on the rules.
Although there is limited research about birth centers, a multiyear study by the Urban Institute found that Medicaid patients who used birth centers for prenatal care had lower rates of preterm births and cesarean sections compared with patients who did not.
Alabama is not the only state where people interested in opening birth centers have faced difficulties. In Georgia, a proposed facility in Augusta was blocked from opening when none of the city's three hospitals would grant a transfer agreement. In New York, new rules may help grant midwives the ability to be in charge of their own birth centers, after previous restrictions made that a challenge. 
Critics of Alabama's new rules have argued that they could cut off a potential avenue to addressing maternity health care deserts. 
"What the Department of Public Health has been doing over the past year has been taking steps to make it more difficult for pregnant folks to access out-of-hospital pregnancy care," said Whitney White, an ACLU attorney on the case. "They are closing off access and preventing skilled providers from offering this care to their communities during a time that it is so critically needed." 
Advocates say the need for such care goes beyond making sure those who are expecting have access to doctors and transportation to appointments; it's also about making sure that patients who are particularly vulnerable, like Black women, have access to spaces where they feel respected.
Black women of all economic backgrounds, including people as high-profile as Serena Williams, have shared experiences of having to fight to be listened to by medical staff members, sometimes under life-threatening conditions. Nationally, the maternal mortality rate for Black women is almost three times the rate for white women, according to the Centers for Disease Control and Prevention. And Alabama's Maternal Mortality Review Committee found that more than half of deaths that the group assessed that occurred in 2016 and 2017 were preventable.
Skanes saw her birthing center, which opened in September 2022, as a place where patients, especially women of color, would feel "they're not just servicing me; they're servicing me with joy" and see "not only could I have a Black midwife; I have a Black OB who's going to back me up if anything happens."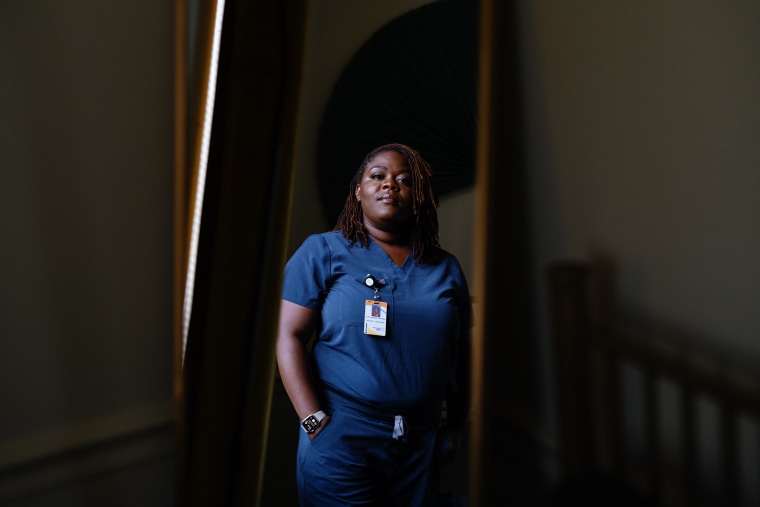 But the midwifery team she has at Oasis doesn't meet the state's new staffing requirements, according to the ACLU; the birth center would have to bring on certified nurse midwives and registered nurses. Skanes would also be likely to face "costly renovations" to meet some of the new facility requirements, her attorneys wrote in a court filing.
One reason Mitchell, the Gainesville midwife, wanted to open a birth center is the desperate need for maternal health care she sees in Alabama's Black Belt — it's 37 miles from her town to the nearest hospital with a labor and delivery unit. 
The need is particularly urgent in a post-Roe era, when some Alabama residents may find themselves with little choice but to continue their pregnancies in a state that has banned nearly all abortions. 
"It's very narrow-sighted to just go ahead and enforce pregnancy upon individuals but then offer nothing in terms of how to optimize someone's long-term health and outcomes after that," Mitchell said.
But now Gainesville's distance from the nearest hospital that meets the state's rules is exactly what could prevent Mitchell from completing her birth center, which she'd planned to open in January.
"There are some things that are insurmountable that we can't change," she said. 
Under the new rules, an ambulance would need to be able to reach a hospital with an obstetrician and a pediatrician on staff within 30 minutes. The closest provider to Mitchell is an estimated 44 minutes away.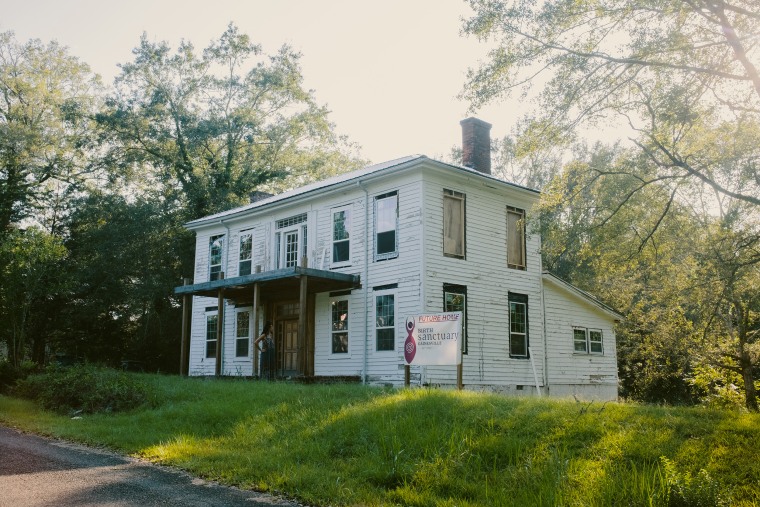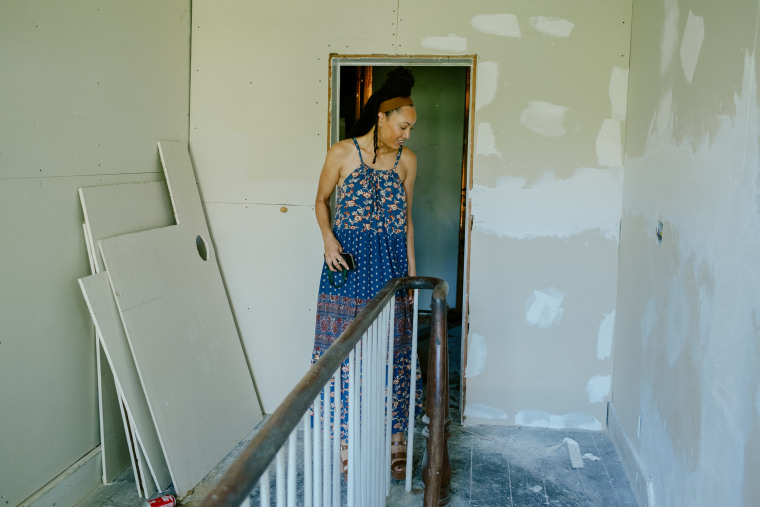 The new regulations are expected to go into effect on Oct. 15, unless a group of state legislators raise objections as part of a final review. At a court hearing Sept. 28, the ACLU will ask a judge to stop the health department from blocking birth centers from operating. 
Montgomery, where the case will be heard, has its own chapter in the state's long, troubled history on reproductive rights, particularly for Black women. In 1973, two Black sisters — 12 and 14 years old — were sterilized without their consent. A lawsuit on the children's behalf resulted in a ban on using federal funds for forced sterilizations. 
Just half a mile from the circuit courthouse is "Mothers of Gynecology," a monument honoring three of the enslaved Black women who were operated on by Dr. James Marion Sims. Sims, a white physician sometimes referred to as the "father of gynecology," didn't provide anesthesia during the operations and was only required to obtain consent from the women's owners.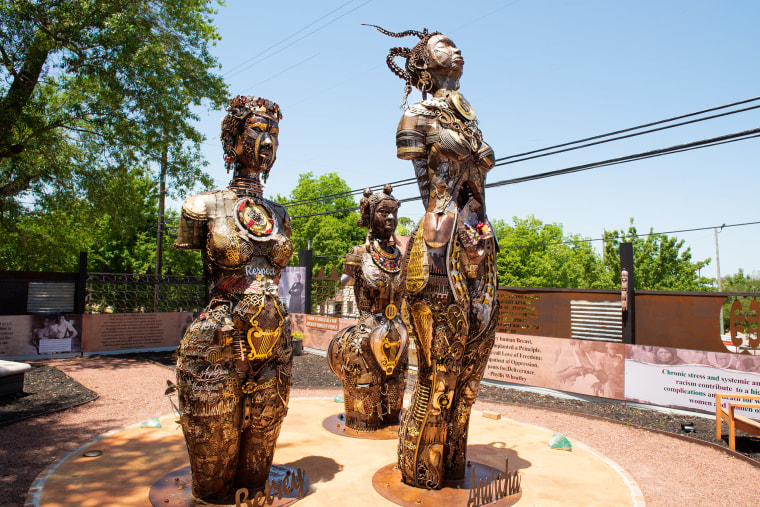 Michelle Browder, who gives civil rights tours in the city, is the sculptor behind the installation.
As a self-described "artivist," she also founded a group that sends doulas and certified professional midwives into communities that lack robust access to maternal health care.
The group, the Mothers of Gynecology, doesn't deliver babies, but it provides basic services like weighing newborns and educating pregnant women about staying healthy.
On some of the outings, Browder has met girls and women who are afraid of giving birth in hospitals because of poor interactions with staff members, she said. During a home visit, a young woman with a newborn shared that she'd wound up giving birth unassisted at home because she was afraid to go to a hospital after a previous negative experience there.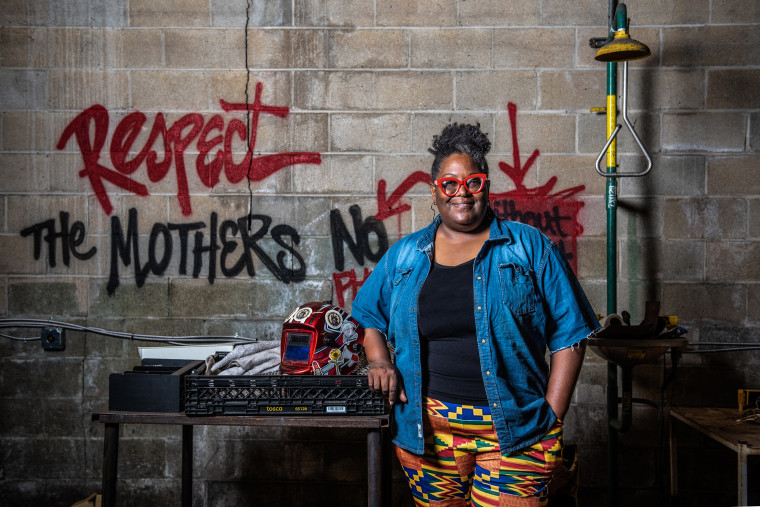 Browder is interested in opening a birth center to offer a space for women wanting options other than hospitals or home births, but she doesn't see a way to do that now.
"I would love to have a birthing center one day — not until all of this is cleared up," she said.