The chief justice of Alabama's supreme court ordered state officials Wednesday to stop issuing marriage licenses to same-sex couples.
But legal experts say the effect of his order is likely to be minimal and short-lived.
Roy Moore, acting in his capacity as the administrative head of the state court system, said he was acting because "confusion and uncertainty" exists among the Alabama officials, known as probate judges, who issue marriage licenses in the state.
Moore said they don't know whether to abide by a ruling from the Alabama Supreme Court last March, which upheld the state's ban on same-sex marriage, or the U.S. Supreme Court's ruling in June declaring such bans unconstitutional.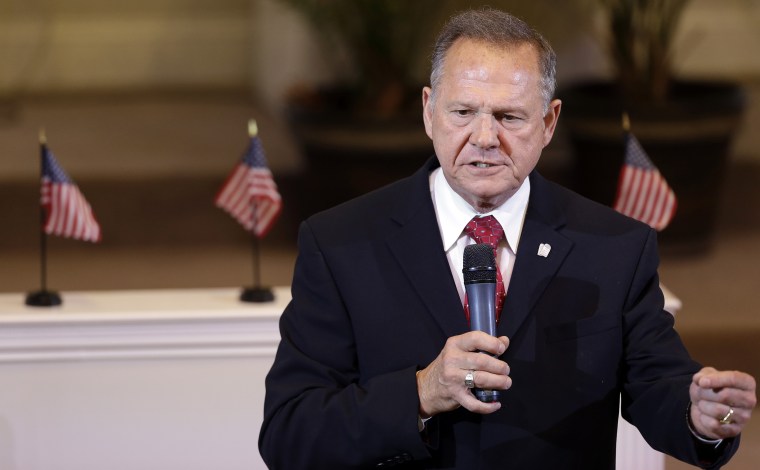 Only the Alabama Supreme Court can resolve that issue, Moore said.
The confusion persists, he said, because the June ruling applied immediately only to the four states whose bans were directly challenged — Michigan, Ohio, Kentucky, and Tennessee.
But Moore's order ignores what's been happening in the federal courts. A federal judge in Alabama issued a ruling in May, declaring the state's ban on same-sex marriage invalid and forbidding probate judges to deny marriage licenses to gay couples.
And in October, the Eleventh Circuit Court of Appeals said that the U.S. Supreme Court's ruling on gay marriage nullified the earlier decision of Alabama's Supreme Court.
"I'd be very surprised if any of the probate judges now refuse to issue licenses to same-sex couples," said Randall Marshall of the ACLU of Alabama.
Any probate judges who did so would risk being found in contempt of court for disobeying the federal judge's order, he said.
That assessment also came from a group that has vowed to take legal action against any probate judge who refuses to issue the licenses agreed.
"I have a news flash for Roy Moore: the U.S. Supreme Court upheld marriage equality in June and the decision extends nationwide," said The Rev. Barry Lynn, of Americans United. "All Alabama probate judges remain bound by a federal court order to issue marriage licenses to same-sex couples."