For the second time in 13 years, Alabama's controversial state Supreme Court chief justice could be removed from the bench for defying a federal court ruling — this time, in an effort to block same-sex couples from marrying.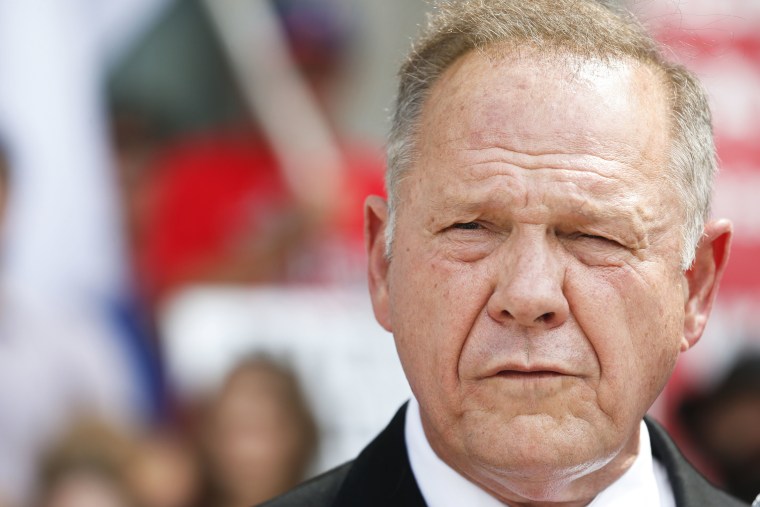 Suspended Chief Justice Roy Moore, a Republican, will be tried before the Alabama Court of the Judiciary Wednesday on six charges of alleged ethics violations.
The charges, brought by the Alabama Judicial Inquiry Commission, stem from a January order Moore issued to probate judges directing them to abide by a state Supreme Court decision in favor of Alabama's same-sex marriage ban, rather than a more recent U.S. Supreme Court ruling finding such bans unconstitutional.
"Until further decision by the Alabama Supreme Court," wrote Moore in January, six months after the U.S. Supreme Court's landmark Obergefell decision, which made marriage equality the law of the land, "the existing orders of the Alabama Supreme Court that Alabama probate judges have a ministerial duty not to issue any marriage license contrary to the Alabama Sanctity of Marriage Amendment or the Alabama Marriage Protection Act [which banned same-sex marriage] remain in full force and effect."
Related: Alabama Chief Justice Roy Moore Faces Ouster After Gay Marriage Fight
Moore has since been suspended with pay pending the outcome of the case.
Wednesday's trial — in which the Court of the Judiciary is likely to decide whether to censure or remove Moore from the bench — marks the end of nearly two years' worth of repeated clashes between the state and federal judiciary over whether same-sex couples have a right to wed in Alabama. In January 2015, a federal judge ruled that they did; but two months later the state Supreme Court decided they didn't.
All the while, Moore had been instructing probate judges not to issue marriage licenses to same-sex couples.
Shortly after the federal ruling that struck down the state's same-sex marriage ban in 2015, Moore ordered probate judges to ignore it. Because no probate judge was listed as a defendant in the lawsuit that led to Alabama's ban being overturned, he argued, the federal ruling was not binding on any of those judges who issued marriage licenses.
Nearly a year later, Moore again fought back against the reach of the federal courts, arguing in his order from January 2016 that the U.S. Supreme Court's decision in Obergefell only applied to the four states whose same-sex marriage bans were directly challenged in that case — Kentucky, Michigan, Ohio and Tennessee — not to every state in the country.
RELATED: Alabama Chief Justice Orders Halt to Gay Marriage
But with that interpretation, the Alabama Judicial Inquiry Commission alleged in its complaint that Moore had "flagrantly disregarded a fundamental constitutional right guaranteed in all states as declared by the United States Court in Obergefell."
Moore's attorney, Mat Staver of the law firm Liberty Counsel, did not respond to NBC News' request for comment.
It's not the first time Moore has found himself in this position. In 2003, Moore was removed from the exact same job when he refused to comply with a federal court order that he take down a monument of the Ten Commandments he had installed at the judicial building. Voters re-elected him as chief justice in 2012.