Five days a week for the past 20 years, bread deliveryman Jeff Brasher would wake up before the sun rises to start his daily route through the tight-knit community of Fayette County, Alabama.
But his route was cut short at 4 a.m. Saturday, when Brasher, 50, collided head-on with a pickup truck being driven by his son, Austin Brasher, 22, who was on his way home. Jeff Brasher was pronounced dead at the scene only miles from their home in Bankston, and Austin Brasher was rushed to a nearby hospital where he died five hours later.
Authorities saidthat neither was wearing a seat belt and that alcohol may have been a factor.
"Other than that, we don't know any other circumstances. We just know that at 4 a.m. on February 18, our lives changed forever," Pam Dennis, Jeff Brasher's sister, told NBC News.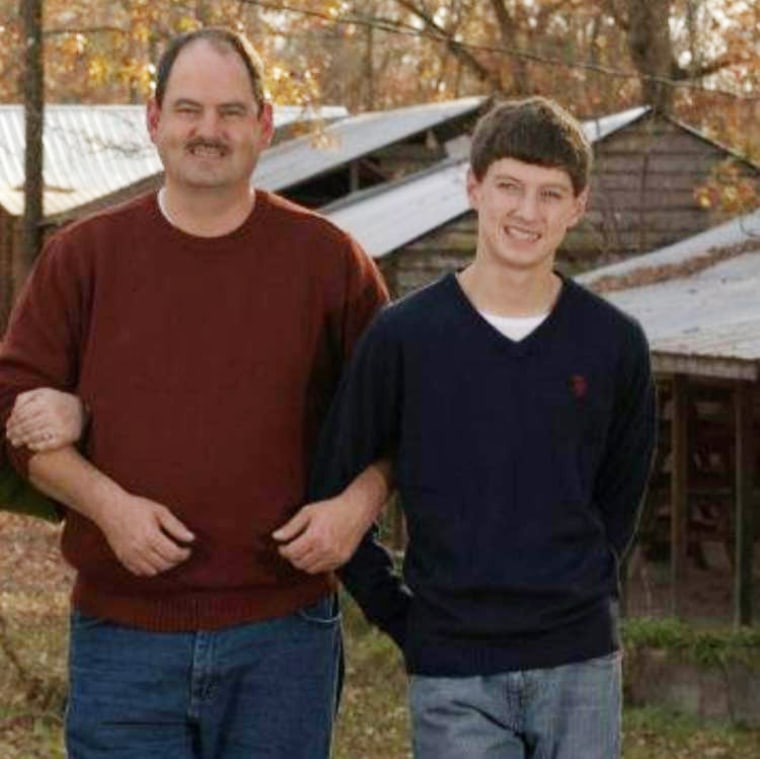 Dennis, the principal of Oak Grove High School in Jefferson County, is hoping to turn the tragic accident into a lesson for her students. Although the school is more than 100 miles from Fayette County, students have been expressing their support for Dennis through messages.
"My students are learning the importance of loving each other. We've got to take this and make good from it," Dennis told NBC News. "We want everyone to love their family, love their community, make a difference in people's lives and have a personal relationship with God."
The small community has responded to the accident with open arms toward the family. At Walmart stores throughout the area, Dennis said, donation tables were set up to help the family. Fast-food chains have put up signs saying "Prayers for the Brasher Family."
Jeff Brasher and his wife of 25 years, Pam, had two children: Austin and Jennifer Brasher. The family, including parents Doris and John Brasher, were all from Fayette County — and Dennis said her brother and nephew's death hit the entire community.
Throughout Fayette Middle School's football season, Jeff Brasher volunteered as a game announcer, making play-by-plays on the loudspeaker. Anytime someone's child scored a touchdown, Dennis said her brother's voice was marking the moment.
Off the football field, people knew Jeff Brasher as the man who delivered bread for Flowers Baking Co.
"My brother delivered bread to 15 or 20 businesses every day. He always had a kind word to say to somebody, a joke to say. He and my nephew were always the first to help," she said. "They had that giving heart, and we want everyone else to realize how quickly life can change."
Austin Brasher graduated in 2013 from high school, where he played on the golf team. After earning his degree from Lincoln College of Technology the following year, he began working in the Fayette County area as a machinist at G & S Machine.
Both men were avid golfers who spent most sunny days on the golf course together, Dennis said.
"This is a tragic accident that no one can make sense of," she said. "To make sense of it, we're putting out a positive message.
"We want everyone to realize life is uncertain and it can be changed in a moment. Some people have misunderstandings going on in their family," she said. "Whatever that is, it doesn't mean anything. Hug your family and tell them you love them."