Embattled Gov. Robert Bentley on Friday maintained he has done nothing wrong, just a day after Alabama lawmakers revived an impeachment effort against him.
At a press conference in his office, Bentley initially tried to side step impeachment questions but relented when pressed, imploring Alabamians to trust him.
"I've done nothing — absolutely nothing — that is illegal or unethical," Bentley said.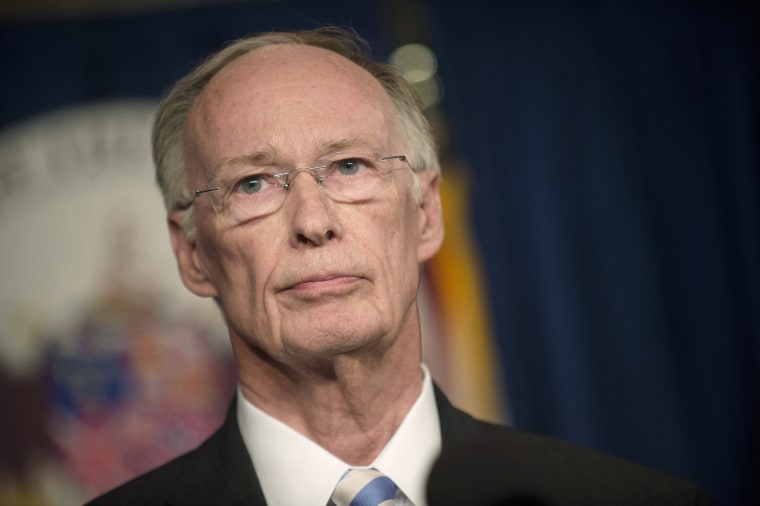 Bentley faces accusations of corruption and willful neglect of duty a month after he acknowledged making inappropriate remarks to a female political adviser, but the governor says Alabamians shouldn't worry about the possibility of impeachment.
"Distractions that come around us all the time, that is not going to keep me from carrying out the purpose that I believe God put me here to do," Bentley said. "That's to do this job well and to do it in a way that glorifies Him but also to do it in a way that it helps the people of this state."
Related: Lawmakers Move Forward With Plan to Impeach Bentley
The governor said the past year has been difficult, but he hasn't "neglected" his duty as governor.
"I don't want difficult times to come my way, but I have to rise above those difficult times," Bentley said. "How can they make me stronger? Because I'm not going to give up."
A push for an investigation faltered Tuesday in the House of Representatives, but the effort was reignited Thursday when 23 lawmakers signed off on new articles of impeachment. The articles will trigger a House Judiciary Committee to probe whether there are grounds for impeachment, though it's unclear how quickly that inquiry will proceed.
"Governor Bentley has overstepped his bounds and needs to be removed from office," said Rep. Ed Henry on Thursday.
The push by some for impeachment comes after former Alabama Law Enforcement Secretary Spencer Collier accused the governor of an affair and of interfering with law enforcement investigations. Collier made the allegation a day after being fired by Bentley. Collier last week sued Bentley, Mason and the current ALEA for defamation and wrongful termination.
Related: Other Governors Who Have Been Given the Heave-Ho
Bentley acknowledged making inappropriate remarks to Mason but denies an affair or misuse of office. Recordings obtained by The Associated Press purportedly show the governor — before his 2015 divorce — professing love to someone and telling her how much he enjoyed kissing her and touching her breasts, and referencing a need to start locking his office door.
The former First Lady, Dianne Bentley, filed for divorce in August 2015 after 50 years of marriage.