Casey White, the Alabama inmate who was captured Monday in Indiana after a multiday manhunt, told authorities that he had planned to engage in a shootout with law enforcement, an official said Tuesday.
Casey White and Vicky White, the former corrections officer accused of helping him escape, had a cache of weapons, according to Vanderburgh County, Indiana, Sheriff Dave Wedding. The pair had four handguns, and several semiautomatic weapons, including an AR-15, that were recovered from their car, he said. He added the pair had about $29,000 left in the car.
"He said that he was probably going to have a shootout at the stake of both of them losing their lives," Wedding told reporters.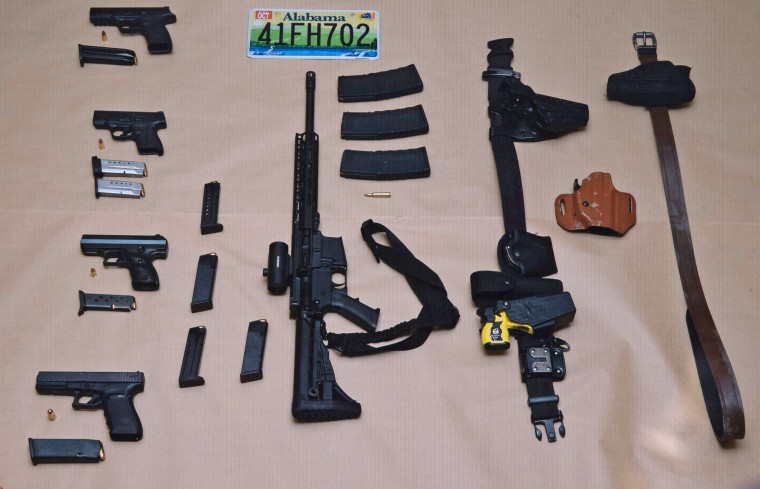 But the fugitive's plans were hampered when U.S. marshals used their vehicles to push Casey and Vicky White's Cadillac into a ditch.
"That action may have saved many of my deputies and members of law enforcement," Wedding said.
Casey White surrendered to authorities following the wreck.
Vicky White, 56, was pronounced dead hours after the crash, Vanderburgh County Coroner Steve Lockyear said.
The U.S. Marshals Service said when Casey White came out of the car, he exclaimed: "Please help my wife. She just shot herself in the head, and I didn't do it."
Vicky and Casey White were not related, Wedding said during an appearance Tuesday on NBC's "TODAY" show. 
While the initial information indicates Vicky White shot herself, the sheriff said "we won't rule anything out until we have a thorough investigation by the coroner."
An autopsy is scheduled for Tuesday, according to Lockyear.
Casey White, 38, waived extradition during his first court hearing Tuesday, meaning he can now be transported back to Alabama. He signed the waiver with his shackled left hand.
"I'm waiving my rights. I'm going back to Alabama," Casey White, wearing a bright yellow prison shirt and pants, told the judge.
Officials have said Casey White had a "special relationship" with Vicky White, the former assistant director of corrections at the Lauderdale County Jail. They had a relationship for at least two years and communicated over the phone, according to authorities.
Vicky White is believed to have helped Casey White escape on her final day at work before retirement, and a warrant for her arrest was issued this month.
The two were on the run for more than a week when a car wash owner in Evansville noticed a Ford pickup truck had been abandoned at his business.
"I said, 'This was probably that guy from Alabama' as soon I seen it," the owner, James Stinson, said. "I Googled on my phone and I mapped Florence, Alabama, to Evansville — straight shot as the crow flies."
Stinson also Googled photos of Casey White, taking note of his unique tattoos — some of which were affiliated with the Alabama-based white supremacist prison gang Southern Brotherhood — to compare with surveillance video.
"I held the pictures up to my camera, the tattoos match. That's when I knew for sure it was him," he said.
He then contacted local authorities, but said he had a bit of a hard time getting them to believe him.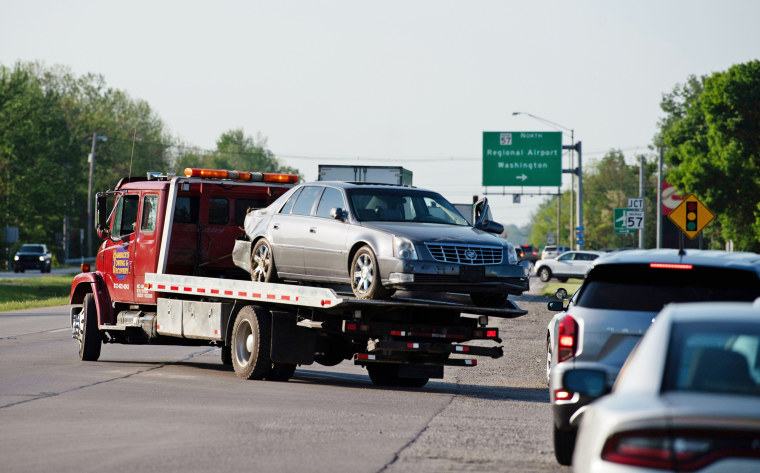 Casey White was charged with two counts of capital murder in September 2020 in the stabbing of Connie Ridgeway, 58, and he was already in jail in connection with a 2015 home invasion, carjacking and police chase, according to the Marshals Service.
Casey White confessed to stabbing Ridgeway and was awaiting trial at the Lauderdale County Jail when he disappeared, according to the agency.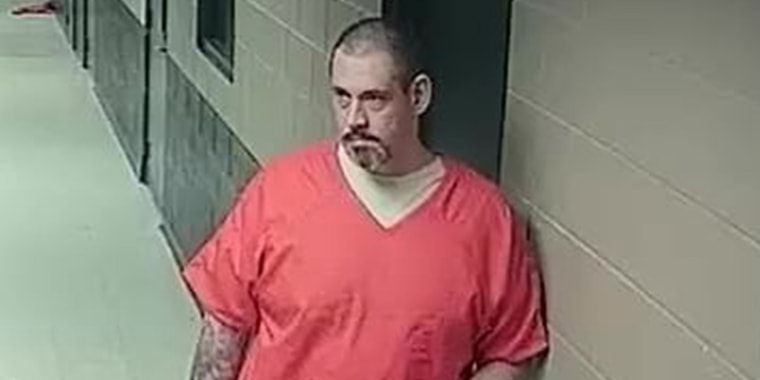 Officers realized he and Vicky White were missing around 3:30 p.m. April 29, when her phone went straight to voicemail after repeated attempts to contact her, Lauderdale County Sheriff Rick Singleton said.
Vicky and Casey White left the detention center, purportedly for a mental health evaluation in court. Investigators later confirmed that such an evaluation was never scheduled, Singleton said.
At the time of her departure, Vicky White told the booking officer she planned to go to a medical appointment after she dropped off Casey White because she was not feeling well. But she had no appointment scheduled, Singleton has said.
She transported the suspect by herself — a violation of the policy requiring two sworn deputies to transport people under those charges, the sheriff said.
The two were able to evade authorities for more than a week, despite a multistate manhunt, by using wigs and traveling in at least three different vehicles, Wedding said Tuesday.
But they were only able to stay on the run for so long.
"Their plan was pretty faulty," Wedding said. "And it failed, thank God."