An eleventh-hour push to halt the execution of a black inmate in Alabama remains ongoing with activists calling on Gov. Kay Ivey to intervene.
Nathaniel Woods, 44, is set to die at 6 p.m. Thursday by lethal injection — the first person scheduled to be executed in Alabama this year and the 67th in the state since capital punishment was reinstated in 1976.
But family members, supporters and a co-defendant who was also convicted of murder in the same case are adamant that he was not the one who fired the weapon that killed three Birmingham police officers at a drug house in 2004 and he had already given up before the shooting began.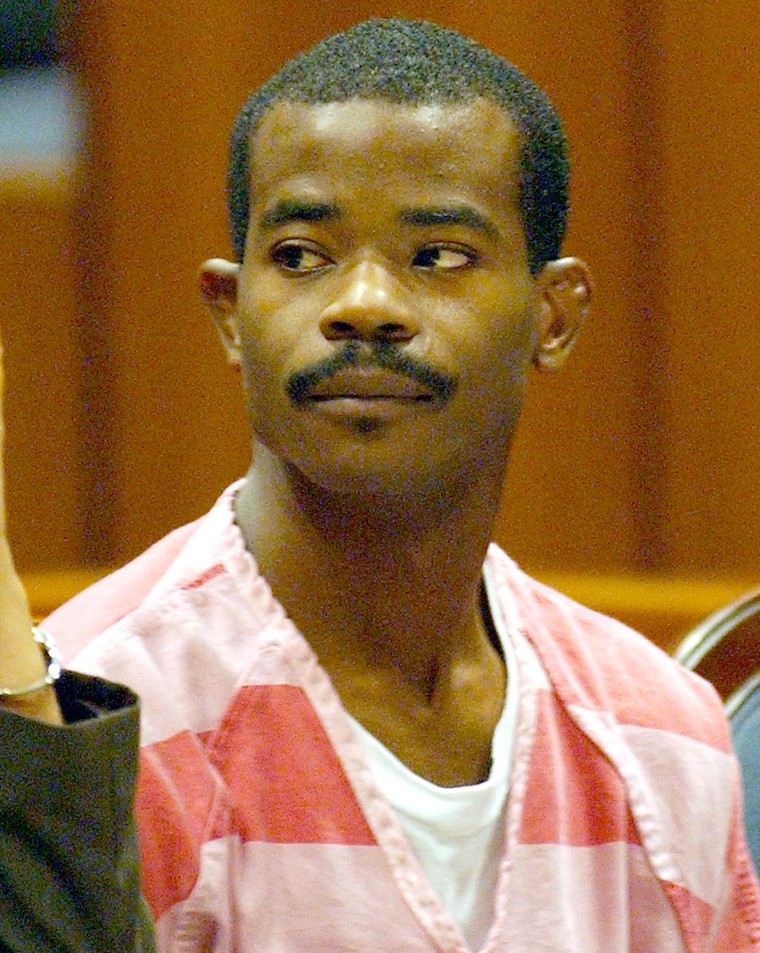 "Nathaniel Woods is 100% innocent," Kerry Spencer, the confessed gunman also on death row, wrote in an open letter ahead of Woods' planned execution, adding, "I pray that my words don't fall on blind eyes or deaf ears. Don't allow another innocent man [to] be executed."
Woods' younger sister, Pamela, told NBC News after she visited him in prison Tuesday that Woods remains hopeful because of the attention being given.
"All he's ever wanted is for people to look back and look at what happened in the courtroom and at the facts of the case," Pamela Woods said.
Martin Luther King III, the son of Martin Luther King Jr., added that Woods' execution would only show that "Alabama has not learned from the past and that they have not learned from the civil rights movement of the 1960s that focused on justice and a respect for human rights."
"Gov. Ivey only has one day to join the right side of history," said King, who had sent a letter to Ivey saying that a review of the case suggests it was mishandled and that Woods never received a fair trial.
"I urge you to grant him a reprieve," King wrote. "We must allow the time to accurately review the new evidence."
Kim Kardashian West, who has championed the cases of several prisoners, including that of Texas death row inmate Rodney Reed, joined the chorus of people asking Ivey to intercede.
Ivey's office did not immediately respond to a request for comment Wednesday.
Alabama Attorney General Steve Marshall said in a statement that the concerted effort is a "last-minute movement ... to 'save' cop-killer Nathaniel Woods from his just punishment."
He added that Woods was "correctly found guilty and sentenced to death by a jury of his peers," and that his actions "directly caused the deaths of three policemen and injury to another."
The nonprofit Death Penalty Information Center said Woods' case deserves scrutiny before he can be executed because of "alleged police misconduct, incompetent representation, and Alabama law allowing death verdicts based on non-unanimous jury votes."
Prosecutors at Woods' 2005 trial said he and Spencer were involved in the sale of crack cocaine from their Birmingham home.
Three officers — Carlos Owen, Harley Chisholm III and Charles Bennett — arrived to serve a misdemeanor warrant, but prosecutors said Woods, who was 27 at the time, set up an ambush that allowed Spencer to shoot them multiple times. A fourth officer at the scene, who also was shot, survived.
The incident was the deadliest day in the Birmingham Police Department's history.
Spencer admitted to shooting the officers, but said it was in self-defense because the officers were assaulting Woods, an assertion that the judge did not allow at trial.
But court documents indicate the case was more complex, and that two of the officers, Owen and Chisholm, "had a reputation for corruption and violence" and collected money from drug dealers in the neighborhood in exchange for protecting their operations, The Appeal reported last month.
Woods and Spencer testified that the officers had come to the home three times on the day of the shooting and at one point, were looking for another man who dealt drugs from there, Tyran Cooper, who said in a 2012 affidavit that he paid Owen and Chisholm weekly for their protection. But his payments had fallen off when the officers raised their price for protection, he added, and he began avoiding the home.
Cooper told The Appeal that if he was at the home on the day of the shooting, perhaps it wouldn't have escalated into violence.
"I feel like if I was there, it would've never happened," said Cooper, who did not testify at Woods' and Spencer's trials.
Prosecutors made a case that Woods was anti-police and while he wasn't the triggerman, he threatened Owen to "take off that badge and I will f--- you up," according to court appeals records. In Alabama, being an accomplice in a murder, even if a person didn't fire a weapon, can also result in a death sentence.
In closing arguments at trial, prosecutor Mara Sirles said the men wanted the officers in close range. "Nathaniel Woods was the bait," she said. "Kerry Spencer was the hook."
Defense attorney Cynthia Umstead stressed that Spencer never implicated Woods in the shooting itself: "Nobody, nobody, nobody says Nathaniel Woods did one ... thing to kill those police officers."
A jury convicted Woods of multiple counts of capital murder and attempted murder, and voted 10-2 in favor of the death penalty.
Attempts to appeal his case have failed as his defense attorneys have posited that Woods and Spencer never planned to ambush the officers and that the underlying corruption involving the officers played a role in the deadly chain of events. In addition, the surviving officer had said in 2005 that Woods yelled, "I give up. I give up. Just don't spray me with that mace," before the shooting initiated, and that "I knew it wasn't Nathaniel" who had fired on the officers.
A Birmingham police spokesman said Wednesday the department has no response about Woods' case and past accusations against the officers.
Pamela Woods maintains that no evidence has been presented showing her brother plotted to kill the officers, or that he had a weapon on him and was complicit in Spencer's decision to open fire. She also said he had incompetent counsel who failed to conduct an adequate investigation and missed key deadlines for appeals.
She remains disheartened, she said, over how Alabama remains the only state in the nation in which a jury doesn't have to be unanimous to impose the death penalty and can still enact it with a vote of at least 10-2.
Spencer was also sentenced to death, but no execution date has been set.
A federal judge Monday dismissed Woods' request for a stay of execution.
The decision to put Woods to death remains a harsh sentence that his sister says she still can't stomach — but she's not giving up.
"He didn't shoot anybody," she said. "He wants the truth out there."