An Alabama woman who said she shot and killed a man after he beat and raped her filed a motion to have murder charges against her dismissed under the state's Stand Your Ground law. But a judge denied the request citing inconsistencies in her version of what happened.
Brittany Smith, 32, is charged with murder in connection to the January 2018 death of Todd Smith, an acquaintance she had reconnected with shortly before he was killed. She is accused of shooting him three times in the kitchen of her home in Stevenson, near the Tennessee border, following a confrontation that involved her, her brother and Todd Smith.
She has said that she shot Todd Smith because she feared he was going to kill her and her brother.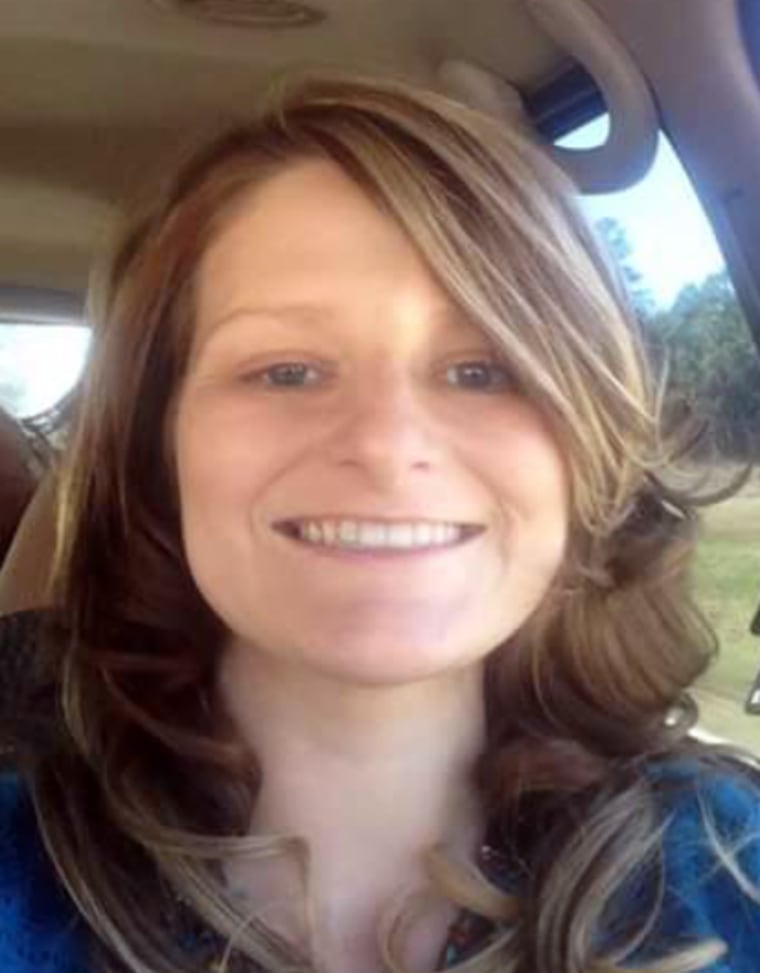 Her attorney, Ron Smith, told NBC News that there is no relation between his client, himself and Todd Smith.
On the night of the shooting, Todd Smith and Brittany Smith were having a conversation when Todd "got really mad" and began choking her. Brittany's lawyer said she was choked unconscious and then dragged to a bedroom where Todd choked her again. He then raped her, her attorney said.
The attack left Brittany Smith with more than 30 bruises, many of which were able to be covered with clothing, her attorney said. Court documents state that Todd Smith threatened to kill Brittany Smith if she went to the police or told anyone what happened.
After the assault, Todd asked Brittany for cigarettes, so she called her brother to take them to the store, according to the attorney. While inside the store, Brittany wrote Todd Smith's name on a piece of paper and slipped it to the cashier, telling her that he had beaten and raped her, her attorney told NBC News. She asked the cashier not to call the police out of fear of what would happen if Todd Smith found out.
Brittany then left the store, got in the car with her brother and Todd Smith and went back to her home. Her lawyer told NBC that after being dropped off at the home, Brittany Smith told her brother to talk to the cashier at the store about what happened, which he did.
After the cashier told the brother about the alleged rape, the brother went back to his sister's house armed with a gun to confront Todd Smith, and the two men got into a wrestling match, Brittany's attorney said. Brittany tried to break up the fight before grabbing her brother's gun from the counter and firing three shots at Todd Smith.
He was pronounced dead at the hospital.
In a 19-page order issued in January, Judge Jenifer Holt of state Circuit Court in Jackson county, outlined what she said were numerous inconsistencies in Brittany Smith's account. According to Holt, Brittany told a 911 operator immediately after the shooting that Todd Smith did not rape her and said that her brother was the one who had shot him.
Brittany Smith confessed to killing Todd Smith a day after the shooting, according to court documents.
The judge's order stated that Brittany Smith told a detective on the case that while her brother and Todd Smith were fighting she heard several gunshots and then heard Todd Smith hit the floor. The order said that Brittany Smith's brother did not have any signs of being injured in a fight.
While speaking with another investigator, Brittany Smith said she had shot Todd Smith while he was on the ground, the order said, also noting that she had instructed her brother to wipe the gun down after the shooting.
The document also detailed how a forensic evaluation was consistent with Brittany Smith's being physically assaulted but physical evidence was inconsistent with her statements of being raped.
A nurse who treated Brittany Smith testified that she had bruises, bite marks and signs of strangulation but could not determine if a rape had occurred, according to AL.com. The nurse said in her testimony that most sexual assault cases lack physical proof, like trauma or DNA evidence.
The judge in her order stated that "the court finds that the defendant has given inconsistent accounts of the events surrounding Todd's death" and "has attempted to alter or destroy evidence."
"The defendant did not credibly demonstrate that she reasonably believed it was necessary for her to use deadly force in this situation," the order stated. "The court finds that the defendant has failed to prove by a preponderance of the evidence that she was justified in using deadly physical force."
Brittany's trial was scheduled to begin Feb. 10 but was put on hold as her attorney appeals the order.