Sian Gonzales found out he would no longer be receiving the almost $5,000 he has been awarded annually from the Alaska Performance Scholarship (APS) on July 9 — a month and a half shy of the first day of classes for his junior year at the University of Alaska Anchorage.
Gonzales, 21, didn't lose the scholarship money because his grades slipped or because he violated any school rules; instead, Gonzales and 2,500 other students in Alaska lost the scholarship because the state is no longer funding it.
"I'm scared," Gonzales, a nursing student, told NBC News. Raised in Juneau, Gonzales decided to stay in Alaska for college in large part because of the APS, and even worked toward earning the scholarship during high school.
"Alaska is in dire need of nurses. After I graduate, I want to use my skills to help my people here in Alaska. I want to stay in Alaska" Gonzales said. And that's exactly what the APS was created to do.
The APS began awarding students money in 2012 to encourage bright high school seniors to stay in their home state for higher education and prevent a brain drain. The program has specific qualifications for students to be eligible, and some students, like Gonzales, spend their high school years taking certain classes, maintaining a high GPA, and studying to get good SAT or ACT scores in order to qualify. Gonzales is in Level 1, which means he gets $4,755 per year from the APS. The state also offered two other levels of the scholarship worth either $3,566 and $2,378 per year.
Now, that's gone, and he's left wondering how to fill the significant financial gap in such a short amount of time.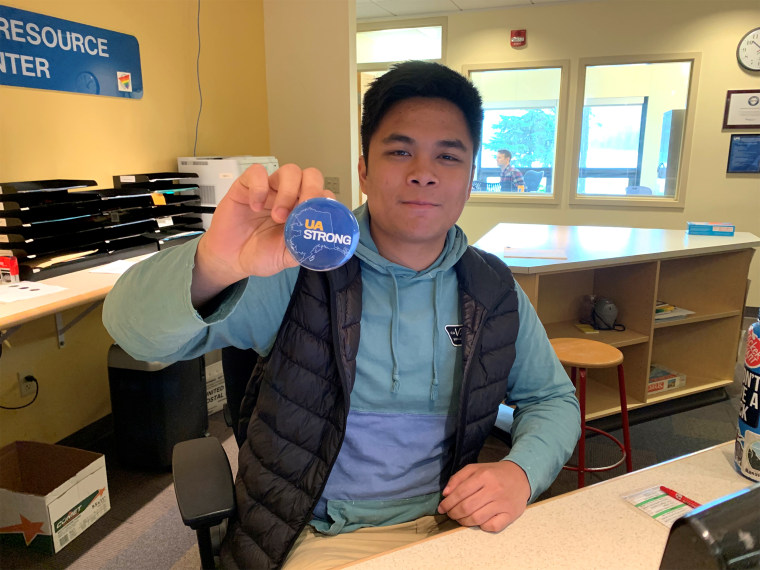 Gonzales is in an even tougher situation because he has additional scholarships helping to fund his education that he will lose if he takes time off from school to save the money he's losing from the APS scholarship. Stuck in a bind, Gonzales says the only way out seems to be by taking on student debt.
"I worked really hard in high school," Gonzales said. "I held up my end of the bargain, all the students on APS scholarships did. We earned that money."
The legislature has tried and failed to restore the APS, which was defunded because of something called "the sweep."
At the end of Alaska's fiscal year in late June, the state "sweeps" a number of accounts that fund various state programs into its Constitutional Budget Reserve. Usually, when the new fiscal year begins in July, the state quickly reverses the sweep, and the funds return to the programs' accounts. It's a convoluted process that's required after Alaska voters approved a constitutional amendment in the 1990s mandating it.
The APS is funded through the Alaska Higher Education Investment Fund, which this year, Gov. Mike Dunleavy added into the sweep for the first time. But this year, a few Republican legislators blocked the three-fourths majority needed to refund the programs and the legislature failed to reverse the sweep, leaving the APS without funding. The Alaska Education Grant (AEG), which provides state-aid to low-income students was also caught up in the sweep.
A spokesperson for Dunleavy said the governor added the Alaska Higher Education Investment Fund to the sweep because it's required by the state constitution, even though previous administrations did not include it. The blame for the APS's defunding, the governor's office says, lies with the legislature.
But lawmakers on both sides of the aisle want to see the reverse sweep happen and the APS restored.
State Sen. Natasha von Imhof, a Republican, told NBC News she's worried about what a delay in funding or the total disappearance of the scholarship would do to the state. "We risk students either not going to college or going out of state," she said. "We could stop this. We could initiate the reverse sweep. We just need three-fourths of the vote, it's a high threshold."
State Rep. Sara Hannan, a freshman Democrat and retired high school teacher, told NBC News she doesn't believe Dunleavy needed to include the APS in the sweep. The governor, Hannan said, took advantage of the divided Alaska legislature to further gut higher education opportunities in Alaska, knowing that getting a three-fourths majority to approve the reverse sweep would be difficult.
As the University of Alaska faces the governor's unprecedented 41 percent cut in state funding, Hannan said taking away the APS has created a "perfect storm of bad politics and policy" that is ultimately falling hard on Alaska's students.
As a teacher, when a family or student would come to Hannan with concerns about affording college, she would immediately point to the APS as their best path to higher education. "It's near and dear to my heart," she said. Now, Hannan is getting calls from constituents, worried about how to find affordable education in Alaska.
Stephanie Butler, executive director of the Alaska Commission on Postsecondary Education, said she has also been flooded with messages from concerned students and parents. Her office is the one that sent out the email that Gonzales and around 12,000 other students received, notifying them that grants and scholarships are not currently available.
"People are facing a payment deadline, and they don't know if they're going to be able to pay for their classes," Butler said. Alaskans who received aid from colleges in other states are choosing to leave the state, where they think their grants will be more secure.
Teresa Wrobel, a rising senior at the University of Alaska Anchorage, is losing her APS funding for her last year of college. So is her brother, who just finished his freshman year at the University of Alaska Fairbanks. Her family is now figuring out how to pay for college, and will probably dip into savings intended for other purposes to keep Wrobel and her brother in school.
Wrobel, 21, a political science major, says she knows students who don't plan to return to school in the August because of the lost funding.
"I'm lucky. I'm going to graduate," Wrobel told NBC News. "But I said to my dad recently, 'Maybe we should have my brother transfer.'"