The last of a group of Louisiana prisoners known as the 'Angola' 3 was released Friday — on his 69th birthday.
The release of Albert Woodfox, who spent four decades of his life in solitary confinement, was confirmed by the West Feliciana Criminal Clerk's Office and by his lawyers.
Woodfox walked out of the Louisiana State Penitentiary in Angola a free man at 3 p.m. alongside his brother Michael Mable, officials said.
In a statement, Woodfox thanked his lawyers "and my brother Michael for sticking with me all these years."
Woodfox, who was sent to the hole for the 1972 killing of prison guard Brent Miller, also thanked the two other members of the Angola 3, Robert King and Herman Wallace. They too spent long stretches in solitary in Angola and other prisons.
"I could not have survived without their courageous support," he said in the statement.
Woodfox was supposed to be sprung last June. He had been convicted twice of the Miller's murder and both times the verdict was overturned.
But at the last minute, a federal appeals court blocked a judge's earlier order that he be let go.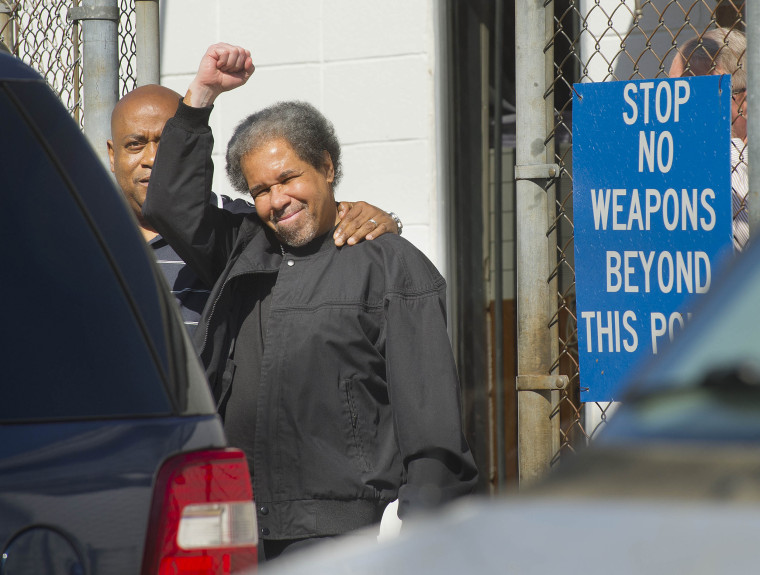 "After four decades of isolation, Albert Woodfox's release is long overdue and undeniably just," Amnesty International, which had gone to bat for the Angola 3, said in a statement. "Nothing will truly repair the cruel, inhuman and degrading solitary confinement that the state of Louisiana inflicted upon him."
Woodfox also credited the International Coalition to Free the Angola 3 and the Roddick Foundation for his release.
King was released in 2001 after a court reversed his conviction for the killing of a fellow inmate in 1973.
Wallace was released in 2013 when a judge granted him a new trial, then died days later.