An attorney for conspiracy theorist and radio host Alex Jones argued in court Wednesday that a defamation suit brought against him and his website by the parents of a child killed in the Sandy Hook school mass shooting should be dismissed.
Judge Scott Jenkins in Austin, Texas, did not rule on the motion, and court recessed until further notice. He has 30 days to rule on the motion.
Jones has used his InfoWars website as a platform to peddle various conspiracy theories, including that the 2012 mass shooting in Connecticut where 26 people were killed was a "staged" hoax and the families are paid actors.
The families of victims Noah Pozner and Jesse Lewis filed defamation suits in April in Texas, where InfoWars is based, saying Jones' claims have led to them being tormented, harassed and subjected to death threats by his online community of followers who believe him. The suits are seeking more than $1 million in damages.
The hearing Wednesday concerned the claims of Veronique De La Rosa and Leonard Pozner, the parents of Noah Pozner, who was 6 years old when he was killed by gunman Adam Lanza at the Connecticut elementary school on Dec. 14, 2012. Lanza killed 20 children and six adults, and he killed himself as police arrived.
"Maybe it's fringe speech. Maybe it's dangerous speech, but it is not defamation," Jones attorney Mark Enoch told the judge Wednesday, according to Reuters.
Jones is looking to have the suit dismissed under the Texas Citizens Participation Act, which protects a citizen's right to free speech.
The next hearing for the claim brought against Jones by Neil Heslin, the father of Jesse Lewis, who was also 6 years old when he was killed, is scheduled for Aug. 30.
Jones was not at Wednesday's hearing. Enoch, his attorney, said in court that "This is not about Sandy Hook" and that "he is sorry for their loss," according to NBC affiliate KXAN of Austin.
During Wednesday's hearing, attorneys for Jones played about 40 minutes of video of Jones.
"These statements have been accepted by a shocking number of people," said Mark Bankston, the attorney for the boys' parents, referring to Jones' comments about the shooting.
Jones' lawyers wrote in arguments in July that he was acting as a journalist when he questioned the narrative of the shooting given by the police and other officials and compared him to the Washington Post reporters who uncovered the Watergate scandal.
"Bob Woodward and Carl Bernstein relied on allegations from `Deep Throat' to link the Nixon Administration to the Watergate break-in," his lawyers wrote in filing for a dismissal, according to The Associated Press. "Such journalism, questioning official narratives, would be chilled if reporters were subject to liability if they turned out to be wrong,"
He acknowledged that he had called the shooting a hoax in the past, but said he now believes it actually happened, according to the AP. Jones said in a video posted in April that "I believe Sandy Hook happened."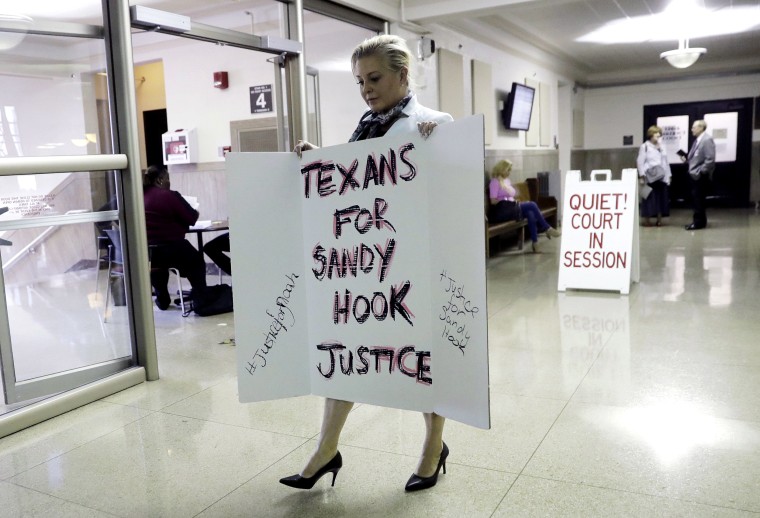 Jones is also facing lawsuits in Connecticut brought by several additional families of victims, as well as a separate suit by a man who was falsely identified on the InfoWars website as the shooter who killed 17 people at a high school in Parkland, Florida, on Valentine's Day, according to The Associated Press.
The court hearing comes on the heels of Facebook issuing a 30-day suspension to Jones' profile last week after removing four videos on pages he runs on the social network. The social media company said the videos violated community standards.
Also on Wednesday, Spotify said it deleted several episodes of Jones' podcast. The streaming service cited Jones' violations of its policy banning hate speech, Reuters reported.
Jones' ex-wife, Kelly Jones, who is in a legal battle with Jones over the custody of their children, attended Wednesday's hearing on behalf of the Pozner family. Kelly Jones said that she was involved in the creation of InfoWars, "and I'm trying to make that right."
"These people not only lost their children in the most horrible way that you can imagine – I mean, unspeakable – but they've been harassed by his audience," Kelly Jones said outside the courtroom earlier Wednesday. "They've had to move houses. They had people come up to them and say that their children didn't even exist."
"And nobody should go through that hell," she said. "And Alex needs to be held accountable for that."