Three parents whose children were killed in the Sandy Hook school shooting have filed defamation lawsuits against Alex Jones, the controversial conspiracy theorist and Infowars host who has falsely claimed the 2012 massacre was faked.
The two lawsuits were filed on Monday afternoon by Leonard Pozner and Veronique De La Rosa, the parents of 6-year-old Noah Pozner, and by Neil Heslin, the father of 6-year-old Jesse Heslin.
"The statements were a continuation and elaboration of a years-long campaign to falsely attack the honesty of the Sandy Hook parents, casting them as participants in a ghastly conspiracy and cover-up," the plaintiffs said in their suits.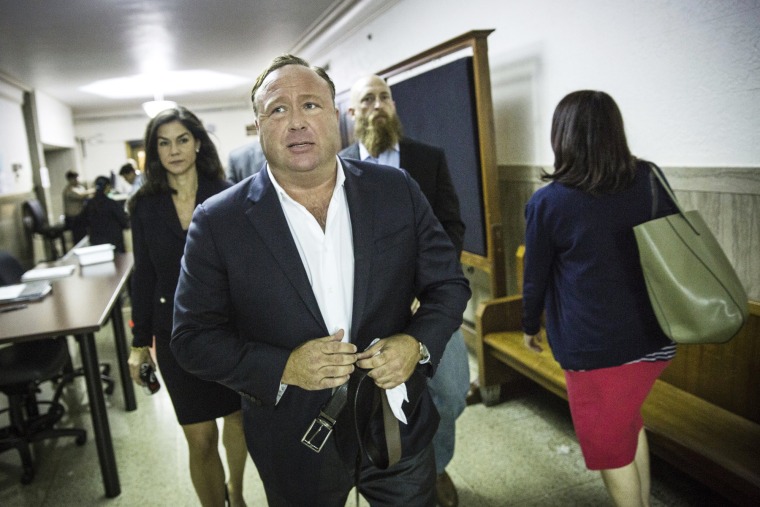 Jones has repeatedly questioned whether 20 children and six adults were gunned down in Newtown, Connecticut, on Dec. 14, 2012, deriding the shooting as a "hoax" concocted to chip away at Second Amendment rights. The gunman, Adam Lanza, killed himself as police arrived at the school, but a clear motive for the rampage has never been identified.
In a broadcast last year called "Sandy Hook Vampires Exposed," Jones suggested a CNN interview with De La Rosa was faked — a claim that her lawsuit blasts as a "sick lie."
Jones, 44, did not immediately return a request for comment submitted through his website on Tuesday morning.
The lawsuits were filed in Travis County District Court in Texas, where Jones lives and operates Infowars. The parents are seeking at least $1 million in damages.
Jones has pushed similar views about the Feb. 14 shooting at Marjory Stoneman Douglas High School in Parkland, Florida, in which 17 people were killed, referring to the attack as a "false flag," or staged, operation.
Last year, a Florida woman who made death threats against Leonard Pozner because she believed Sandy Hook was a hoax was sentenced to five months in prison.