The Texas jury tasked this week with deciding how much Alex Jones should pay in damages to the parents of a 6-year-old killed in the Sandy Hook Elementary School shooting was asked to come up with two separate award amounts.
On Thursday, the jury ordered Jones to pay $4.1 million in compensatory damages to Scarlett Lewis and Neil Heslin, whose son Jesse died in the shooting alongside 19 of his classmates and six educators, for the emotional distress and reputational damage caused by Jones' false claim that the 2012 massacre was a hoax. On Friday, the jury awarded the couple an additional $45.2 million in punitive damages.
While both decisions require Jones to make a payment to the parents, their intended purpose is different.
Compensatory damages are designed to compensate a plaintiff for their economic and noneconomic losses, such as mental anguish or pain and suffering, said NBC News legal analyst Danny Cevallos. Meanwhile, punitive damages are intended to punish a wrongdoer, or the defendant, for their improper conduct.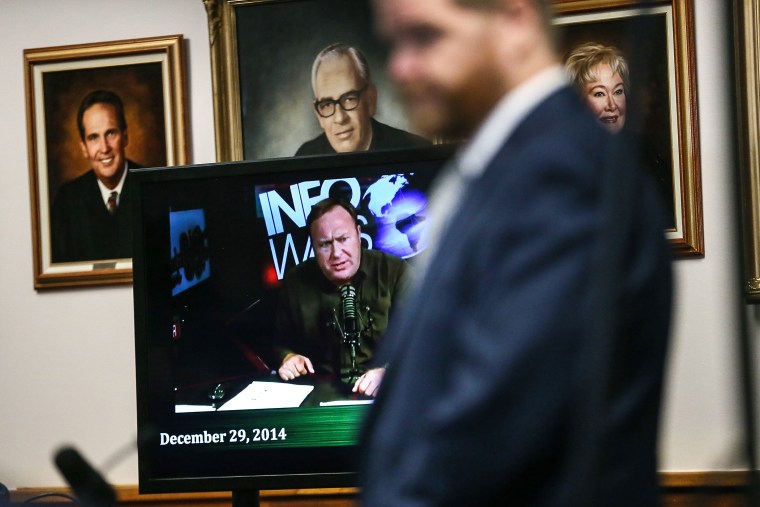 "It's a mechanism to punish someone for doing something bad, because oftentimes the value of punishing someone arguably far exceeds the actual harm to the plaintiff," Cevallos said, adding the jury decides that "in addition to the harm you caused this plaintiff, we're punishing you for the harm you caused society."
Courts in Texas and Connecticut have already found Jones liable for defamation for his portrayal of the Sandy Hook massacre as a hoax involving actors. Jones had claimed the purported hoax was aimed at increasing gun control.
On Friday ahead of deliberations on punitive damages, Wesley Todd Ball, a lawyer for the parents, asked jurors to send Jones a message.
"We ask that you send a very, very simple message, and that is: stop Alex Jones. Stop the monetization of misinformation and lies," Ball said.
The lawyers had asked jurors to award an additional $145.9 million, which would have brought the total damages to the $150 million sought by the plaintiffs.
Earlier Friday, an economist for the plaintiffs testified that Jones and Infowars are worth between $135 million and $270 million combined.
Jones' attorney, Andino Reynal, said the Infowars host has learned his lesson and asked the punishment be less than  $300,000.
Following the verdict, Reynal objected to the jury's decision, arguing that the verdict did not comply with Texas law, which caps the actual award at $750,000 per plaintiff.