In contentious cross-examination, Infowars host Alex Jones' claim that he was sucked into lying about the Sandy Hook shooting was undercut Wednesday, and he conceded that the massacre was "100% real."
Jones, who has repeatedly suggested that the Sandy Hook shooting was a hoax, said Wednesday that he was "baited" several times into speaking about the incident and tried to correct himself and apologize to the victims but that his words were twisted by what he called "corporate media." He said he now believes the attack happened.
"Especially since I've met the parents," he said Wednesday. "It's 100% real."
Jones, the conspiracy theorist whose trial is being held in Austin, Texas, where his media company is based, said he has been "caught in this situation where I've been basically typecast as someone that runs around talking about Sandy Hook, who made money off Sandy Hook, who was obsessed with Sandy Hook when it was less than one-tenth of 1%, over those six years, of what we covered."
"It was frustrating then," Jones said of the years after the Sandy Hook shooting. "It's infinitely now."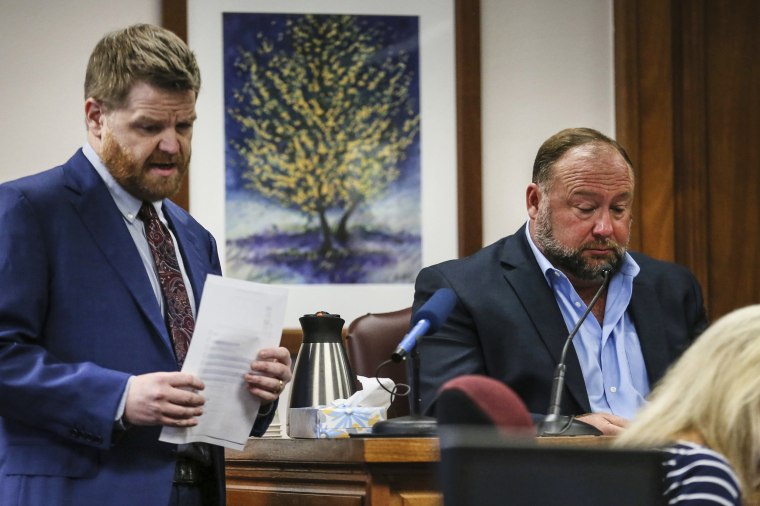 Jones is being sued by Scarlett Lewis and Neil Heslin, whose son Jesse was among the 20 children killed at Sandy Hook Elementary School in Newtown, Connecticut, in 2012. Lewis and Heslin, both of whom testified Tuesday, have asked that Jones pay $150 million for defamation and intentional infliction of emotional distress. They are among several Sandy Hook families that have sued Jones arguing that his statements that the attack was a hoax have led to years of abuse from his followers.
Jones has portrayed the lawsuit as an attack on his First Amendment rights.
The case was handed over to the jury to begin deliberations Wednesday evening. It will decide whether Jones, who has already been found liable by a judge because he did not hand over critical evidence before the trial began, must also pay the parents for the emotional distress and reputational damage caused by his false claims.
In his closing argument, Kyle Farrar, an attorney for Heslin and Lewis, argued that Jones knowingly spread falsities because he profited from them and that his reach was far and wide.
"Alex Jones planted a seed of misinformation that lasted a decade," Farrar said. "He watered that seed over and over until it finally bore fruit of cruelty and money."
Heslin and Lewis testified Tuesday that Jones' lies have left them in fear for their lives and compounded their grief.
Farrar said Heslin and Lewis should receive a dollar for every person who was duped by the Sandy Hook hoax.
"Each time they're confronted, that just resets the healing and they have to relive that worst day," he told jurors. "They have called them liars for a decade to make money, and now they sit here and call them liars to save money."
Jones' attorney, Andino Reynal, said Lewis and Heslin failed to show tangible proof of harm, and he blamed "mainstream media" for continuing to connect Jones to the hoax claims.
"He made a terrible mistake," he told jurors, referring to Jones. "That mistake was weaponized by the same political forces that had descended upon Sandy Hook when it happened."
Reynal, who has asked jurors to award Heslin and Lewis only $1, also tried to minimize Jones' reach, saying his platform was not big enough to have produced wide-reaching effects. He asked the jury not to let prejudice, sympathy or their personal opinions of Jones dictate their decision.
The crux of the trial is a 2017 episode of NBC's "Sunday Night With Megyn Kelly," on which Heslin appeared and challenged Jones' denial of the shooting. Heslin says in the episode: "I held my son with a bullet hole through his head."
Jones and another Infowars host, Owen Shroyer, later implied that Heslin had lied. 
In his second day on the stand Wednesday, Jones sought to portray himself as someone who was sucked into lying about the shooting by others and then blocked by the mainstream media and politicians from publicly reversing his position, claims that were undercut during cross-examination, when attorneys pointed out inconsistencies in Jones' testimony and introduced damaging evidence that had not been turned over during the trial's discovery phase. 
"I had seen so many other things in history that had been staged, so it made me question it," Jones told the a jury when he was asked why he believed Sandy Hook was a conspiracy. "When you're a hammer everything looks like a nail."
During cross-examination, an attorney for Heslin and Lewis quickly worked to establish a pattern of Jones' calling other mass shootings "false flags," including the shootings at a high school in Parkland, Florida, in 2018 and at a concert in Las Vegas the year before.
The attorney, Mark Bankston, also poked holes in previous testimony from Jones about a number of things, including his assertions that he complied with discovery, that he did not have text messages about Sandy Hook on his phone, that he had not mentioned the shooting on the show for more than a year after July 2015, that he does not use e-mail and that his media company is in financial trouble.
"Do you know what perjury is?" Bankston asked during one exchange.
Bankston also pointed out for the jurors discrepancies between what Jones had said in court and on his show, where he said the presiding judge and jurors were "rigged."
"You are trying to tell the world what happens in this court is scripted," he said.