LOS ANGELES — The helicopter that crashed with Kobe Bryant, his daughter Gianna and seven other people aboard wasn't equipped with a safety system that the Federal Aviation Administration refused to make mandatory over the objections of the National Transportation Safety Board, a board member said Tuesday.
The bodies of Bryant, 41, a five-time NBA champion with the Los Angeles Lakers who is the league's fourth all-time leading scorer, Gianna, 13, and all others aboard have been recovered and are being examined, authorities said Tuesday.
They said the recovery effort took time because debris was spread up to 600 feet over rugged hillside terrain after the Sikorsky S-76B helicopter crashed Sunday in Calabasas, near Malibu, while on its way to Camarillo Airport in Ventura County, near Bryant's Mamba Sports Academy.
Jennifer Homendy, a member of the National Transportation Safety Board, or NTSB, told reporters Tuesday that the helicopter didn't have a terrain awareness and warning system, or TAWS, which warns pilots when aircraft get too close to terrain.
Download the NBC News app for breaking news
The NTSB has previously recommended that the Federal Aviation Administration require helicopters like the one that crashed Sunday to incorporate the technology, but the agency declined, she said. Aviation safety experts have said TAWS systems have saved countless lives.
"Certainly, TAWS could have helped," Homendy said, but she said she couldn't conclude that its use could have prevented the crash.
NTSB records show that the board called on the FAA in March 2006 to require that all U.S.-registered turbine-powered helicopters certified to carry at least six people be equipped with TAWS.
The request was made in response to the fatal crash of a very similar helicopter, a Sikorsky S-76A++ with 10 people aboard, in the Gulf of Mexico in March 2004.
According to the regulatory records, the FAA instituted the requirement for air ambulances and other medical helicopters — but not for all such helicopters. After years of discussion, the NTSB objected in July 2012 to what it called the FAA's "unacceptable response."
The record was closed in September 2014 with a notation from the NTSB that "unfortunately, the final rule does not require operators to install TAWS on all existing and new US-registered turbine-powered rotorcraft certificated for six or more passenger seats, as recommended." It called that an "unacceptable action."
Bryant's helicopter also didn't have a so-called black box recording system, which isn't required on such aircraft.
Homendy called the incident a "high-energy impact crash." She said the helicopter lost communications with air traffic controllers at an altitude of 2,300 feet and dived at a rate of more than 2,000 feet a minute.
Investigators said Zobayan, the pilot, had been given special clearance to operate under special visual flight rules in the difficult weather Sunday morning, when fog was so thick that the Los Angeles police ground their helicopters until the afternoon.
Island Express Helicopters of Long Beach, which operated the helicopter, said Zobayan, its chief pilot, had been with the company for more than 10 years and had logged more than 8,000 flight hours.
Homendy said Tuesday that he had flown more than 1,250 hours on the S-76B and had flown the same flight path in clear weather Saturday.
She said the NTSB will release a preliminary report, outlining facts of the crash but not any findings or safety recommendations, within 10 days. A final report isn't expected for as long as a year and a half.
In addition to Bryant and Gianna, 13, others who died in the crash were Ara Zobayan, 49, the pilot; Christina Mauser, 38, an assistant basketball coach at Bryant's academy; John Altobelli, 56, the head baseball coach at Orange Coast College in Costa Mesa; his wife, Keri Altobelli, 46; their daughter Alyssa Altobelli, 13; Payton Chester, 13, who played on Bryant's basketball teams; and her mother, Sarah Chester, 45.
Bryant's death triggered a wave of mourning and remembrances.
Mykayla Alewine, of Waller, Texas, near Houston, said her 13-year-old daughter's travel team played Gianna's team Saturday at the Mamba Sports Academy. Bryant was there, she said — "that was a big deal for them to go see Kobe, play with Gigi, and be in the tournament."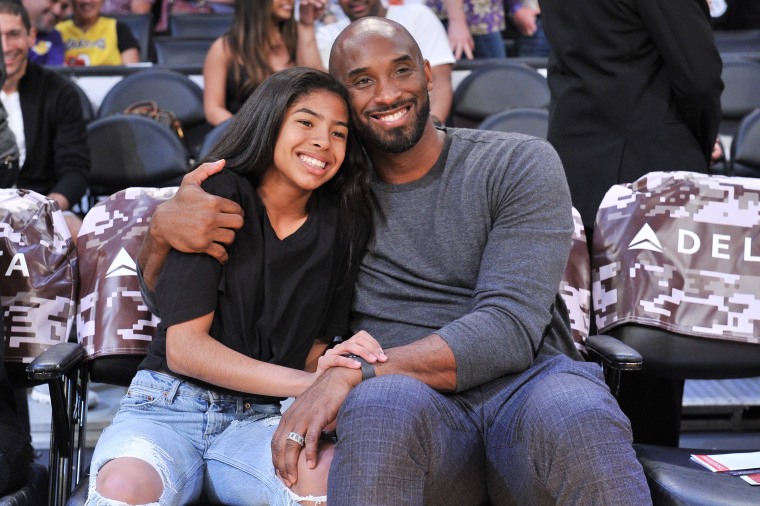 Alewine said in a telephone interview that her daughter and her teammates were at the academy to play another game Sunday afternoon when they learned of Bryant's death.
"My daughter just described it as a total shock," she said, adding: "Everyone hit their knees, and they did a prayer."
"It was one of the best experiences of her life, and overnight it went to the worst," Alewine said.
Lower Merion High School in Ardmore, Pennsylvania, near Philadelphia, which Bryant attended and where he played basketball before he went straight to the NBA in 1996, planned to observe 33 seconds of silence before its girls and boys teams' games against Upper Darby High School on Tuesday night.
Bryant wore the number 33 at Lower Merion, which he helped lead to a state championship.
The school said in a statement that it chose to go ahead with the games because that's what Bryant would have wanted.
Wearing Bryant's No. 33 warmup jacket, Gregg Downer, who was Bryant's coach at Lower Merion, said Tuesday that "Kobe would tell us to bounce the ball, squeak the sneakers and compete."
Downer, who is still the team's coach, said at a news conference that while "it may seem odd for a grown man to admit it," he had lost his hero.
"Never have I witnessed such passion, work ethic and intensity — such a unique and purposeful drive for greatness," he said. "No excuses. No shortcuts. No days off. Kobe set the standard. He was our superman."