The news for tens of thousands of people forced to evacuate two Outer Banks islands of North Carolina got worse Sunday: Authorities said all that three power lines to the remote islands had been damaged and that electricity could be out of commission for as long as two weeks.
The Outer Banks — a string of barrier islands spanning most of the North Carolina coast — are served by three underground power cables from the mainland. On Thursday, a construction company building a new bridge over Oregon Inlet to one of the islands accidentally drove a steel casing into a power cable, the Cape Hatteras Electric Cooperative said in a statement Sunday.
One of the cables was completely severed, and the two others were "compromised," the cooperative said.
Since then, about 70,000 visitors and vacationers have evacuated Hatteras and Ocracoke islands under two mandatory orders issued by Gov. Roy Cooper. Most were able to drive off Hatteras Island, which is served by the only major bridge to the islands, while the rest have slowly made their way off Ocracoke by ferry.
The electric co-op said it was exploring two possible fixes — digging up the cables and splicing them back together or building a new, above-ground transmission line.
"Depending on which solution turns out to be the most practical, the timeline for a complete repair could vary from one to two weeks," it said.
While the mandatory orders didn't apply to the few thousand year-round residents of the islands, who can rely on generators, business and government officials lamented the loss of tens of thousands of vacationers at the height of the summer tourist season.
"We realize people are disappointed. They brought a lot of stuff here. They're packing up and moving out," Dorothy Hester, a spokeswoman for Dare County, told NBC affiliate WITN of Washington. "While disappointed, they're going to make their way home."
Lisa Sturgill, general manager of the Cape Hatteras Motel in Buxton, said, "It's like having a hurricane without the bad weather."
"All of our rooms are empty," Sturgill, who said she'd had to refund all of the motel's reservations, told WRAL. "But it's just another storm. We'll get through it like we always do."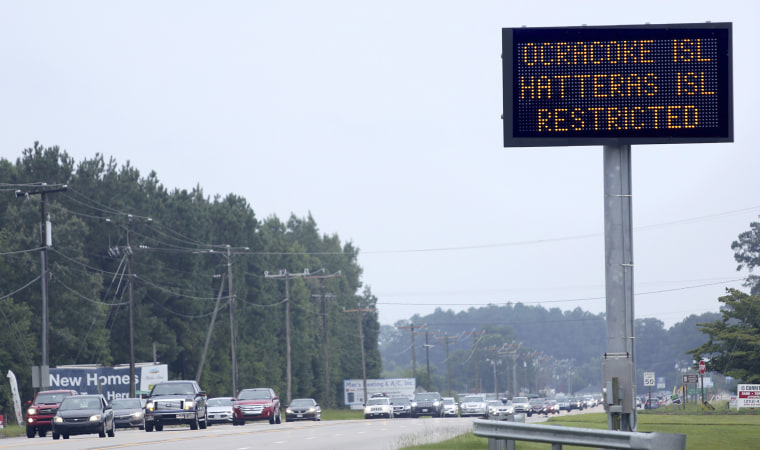 Angela Conner Tawes, manager of Conner's Supermarket in Buxton, said: "Losing time in August is a big deal. This is when we make our money for the year. We're just holding our breath and waiting."
Groups running the weekly summer fish-fry fundraiser for the Hatteras Village Volunteer Fire Department, meanwhile, tried to make the best of things.
The fundraiser went ahead as scheduled Saturday night, because organizers had already ordered the fish and figured they should try to recoup their expenses, said Mary Ellon Ballance, president of the fire department's Ladies' Auxiliary.
So they dropped the normal plate fees and fed everyone who showed up, paying or non-paying, Ballance told WITN.
"It's better for it to be eaten than go to waste," she said. "This is like a dry hurricane for us — the aftermath of a hurricane without the destruction."