AUGUSTA, Georgia — The intelligence industry contractor accused of giving journalists a top-secret report about Russian interference in the U.S. election pleaded not guilty in court Thursday — as federal prosecutors suggested that she may have had plans to leak more classified information.
Reality Leigh Winner, a 25-year-old government contractor who was working with the National Security Agency, pleaded not guilty to one count of "willful retention and transmission of national defense information" during a detention hearing in Augusta, Georgia, Thursday afternoon.
Winner was denied bail Thursday afternoon pending trial. She said nothing as she was led away in shackles and an orange jumpsuit.
Assistant U.S. Attorney Jennifer Solari said in court that Winner admitted she had leaked the top secret document "to a particular news agency she admired" — and said "she was underwhelmed with what WikiLeaks had to offer."
"She couldn't understand why this document hadn't been leaked already," Solari said.
Prosecutors added that Winner allegedly had access to the dark web and had set up burner email accounts.
Agents found two notebooks in Winner's home, according to the prosecution.
In one, prosecutors allege that she wrote, "I want to burn the White House down."
On a page in one of the notebooks, prosecutors said, she listed the names of several Taliban and al Qaeda leaders, including Osama Bin Laden.
In the dramatic hearing, Solari argued that Winner should not be released on bail and that she was not simply an Air Force veteran and yoga instructor caught up in a horrible mistake — but someone who had taken definite steps to disclose classified information.
Solari said Winner had searched online to find out whether or not top secret computers detected when flash drives were inserted in them.
The government alleges that Winner did just that — insert a flash drive into a top secret computer while she worked in the Air Force. The drive, or any information that was downloaded, has not been located.
"She would undoubtedly be a target of recruitment from our adversaries," Solari told Judge Brian Epps.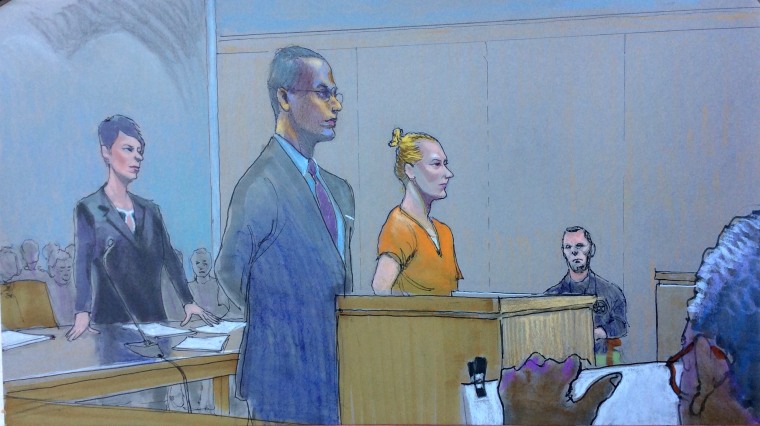 Titus Nichols, Winner's defense attorney, argued that the government was heavy on insinuations but low on facts and were "making a mountain out of a molehill."
"Simply plugging a flash drive into a computer is not downright frightening," Nichols said.
Prosecutors also said that during a recorded phone conversation with her mother, Winner said, "Mom, those documents. I screwed up."
Solari stressed that Winner referred to "documents" in the plural, and that federal agents were looking to see whether she may have stolen other classified information.
Winner's lawyer had told NBC News on Wednesday that she would enter a not guilty plea.
"My client is innocent until proven guilty and we plan to enter a plea of not guilty," defense attorney Nichols told NBC News Wednesday afternoon.
Winner was indicted by a grand jury on one count of willful retention and transmission of national defense information earlier Wednesday, according to court documents.
She was being held in a Lincoln County jail while awaiting her detention hearing.
In court Thursday, Winner's parents testified about her character as a judge determined whether or not she would be released on bail.
Her mother, Billie Winner-Davis, told NBC News on Tuesday that Winner "would not jeopardize anybody's safety" and was "terrified" when she returned to her home in Augusta on Saturday to find federal agents waiting for her.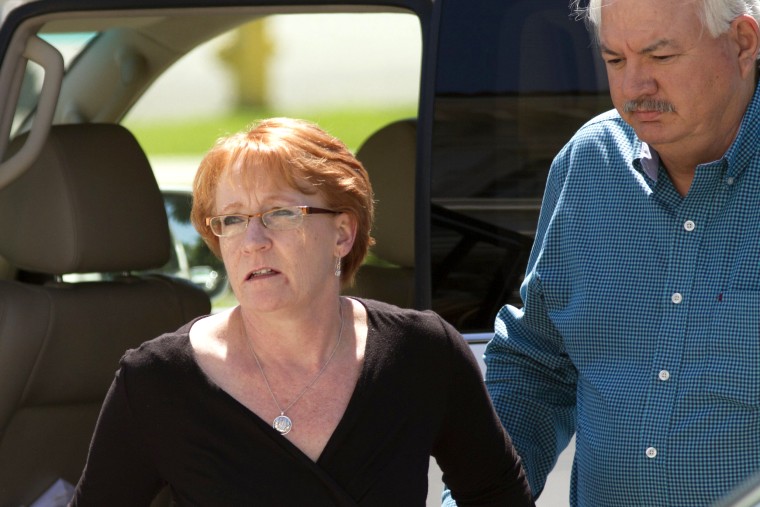 She said that despite the allegations against her daughter, she remains "a proud mom ... I have every reason to be proud of that girl."
Her mother cried continuously after Winner was denied bail.
Winner was arrested Saturday, but the Justice Department announced she had been taken into custody on Sunday, barely an hour after online publication The Intercept published a report containing the highly classified NSA document.
The publication's report described new details about Russian efforts to hack voting systems in the United States a week prior to the 2016 presidential election.
While the document doesn't say the hacking changed any votes, the publication said it "raises the possibility that Russian hacking may have breached at least some elements of the voting system, with disconcertingly uncertain results."
The criminal complaint against Winner did not link the charge against her with the story, but a senior federal official confirmed to NBC News that Winner is the accused leaker of the document published by The Intercept. The NSA has a large facility in Georgia.
Gabe Gutierrez reported from Augusta, Georgia, and Daniella Silva from New York.