/ Source: Associated Press
A dozen Alpha Kappa Alpha pledges at the University of Pittsburgh notified police this week about a possible hazing incident within the chapter, officials said.
The university on Thursday suspended the sorority until further notice.
A mother noticed bruises on her daughter's arm while visiting her at the University of Pittsburgh, which prompted her to call the police. The woman's daughter told her she had been involved in sorority hazing of pledges, Penn Hills Police Chief Howard Burton said.
The mother, her daughter and the other students met with police on Monday, but Burton said he has not determined whether a crime occurred or charges should be filed.
The national chapter did not respond to a request for comment from NBC News.
Burton said the girls were taken to the basement of a private home in Penn Hills, about 10 miles from campus.
"During the course of this, they were maybe hit with a paddle of some sort," Burton said. "We've got a lot of girls who don't want to talk about it. If they don't want to be victims there's not a heck of a lot we can do with that."
He said the investigation, conducted along with university police, may be delayed because many students are leaving campus as part of spring break, which officially starts Sunday.
A university spokesman said hazing and intimidation are contrary to Pitt's core values.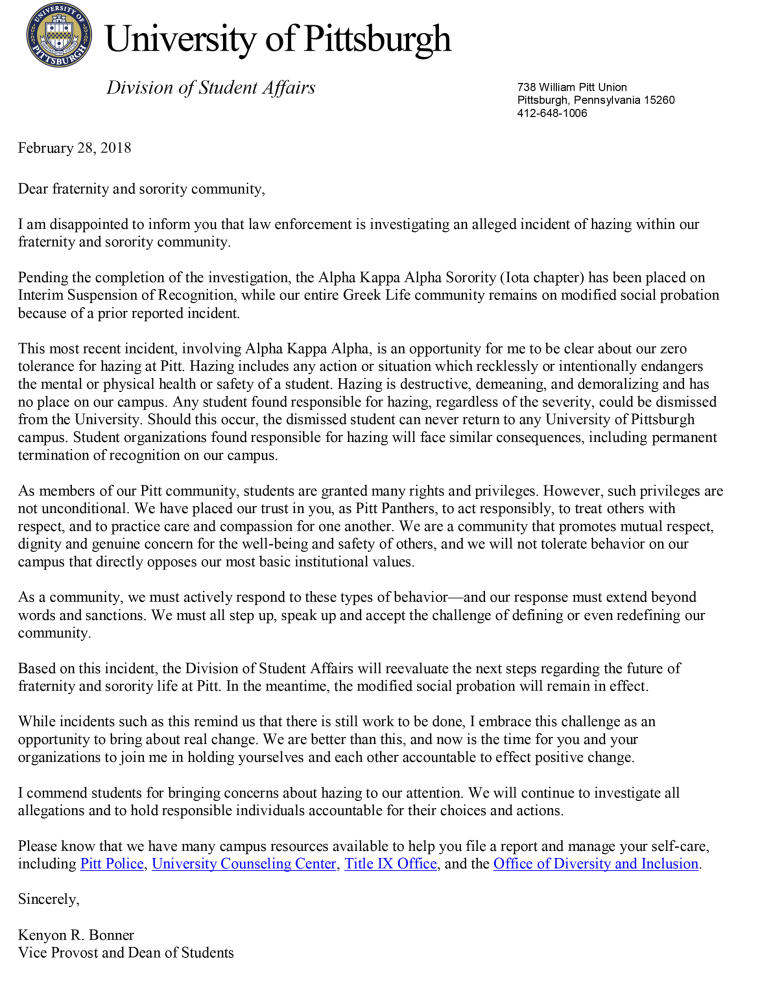 Vice Provost and Dean of Students Kenyon Bonner said in a letter to the student body that the future of the school's fraternity and sorority life was being evaluated as a result of the incident.
Bonner also said he was "disappointed" that an investigation of a possible hazing incident must take place.
"We have placed our trust in you, as Pitt Panthers, to act responsibly, to treat others with respect, and to practice care and compassion for one another," he said in the letter. "We are a community that promotes mutual respect, dignity and genuine concern for the well-being and safety of others, and we will not tolerate behavior on our campus that directly opposes our most basic institutional values.