Louisiana's top prosecutor announced Tuesday that he will not pursue charges against police officers in the death of Alton Sterling — coming nearly two years after the shooting outside of a Baton Rouge convenience store was captured on graphic cellphone video.
After informing Sterling's family about his decision, Attorney General Jeff Landry said at a news conference that there was not enough evidence of criminal wrongdoing and the state's investigation found the officers' actions were "reasonable and justified."
The Sterling family later blasted the announcement, telling reporters that "this wasn't justice."
Police shot Sterling, a 37-year-old black man, six times during the July 2016 incident. The deadly altercation — which came the day before a similar police shooting involving a black man in Minnesota — sparked days of protests and national outcry over excessive use of force and policing in minority communities.
The two Baton Rouge officers involved in the case — Blane Salamoni and Howie Lake II, who are both white — were placed on paid administrative leave. Representatives for them did not immediately comment on the attorney general's decision.
The U.S. Justice Department also decided last May not to bring civil rights charges against Salamoni and Lake, finding that there was "insufficient evidence" for such a high burden of proof.
The state's investigation said Sterling, a father of five, was selling CDs in front of a convenience store when officers arrived at the scene responding to a 911 call about a black male in a red shirt acting threatening with a gun.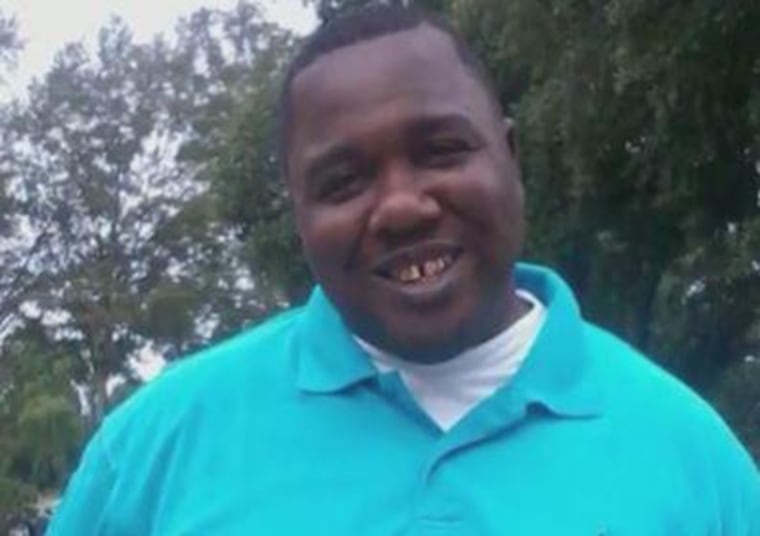 Video shared on social media from a witness showed Sterling on the ground with the two officers trying to pin him down. The officers said Sterling had repeatedly failed to comply with orders and during a physical struggle, was tased twice by Lake to no effect.
Salamoni, who believed Sterling was reaching for a gun in his pocket, fired his weapon at Sterling three times in the chest, investigators found. As Sterling sat up, the officer fired three more times in his back.
Landry at a news conference Tuesday said Sterling had a loaded .38-caliber revolver in his front right pocket. He said the events took place very quickly and involved an armed man who "was continuously resisting."
He added that Sterling was under the influence of "drugs," according to a toxicology report, and that may have contributed to his noncompliance. Landry did not elaborate on what types of substances were in Sterling's bloodstream.
Sterling, a convicted felon, was not permitted to have a gun, but people who knew him have previously said he kept it on him as protection from robbers.
"I'm asking that everyone consider the family in the coming days and spend their time and energy in lifting them up, rather than creating further division," Landry said.
Family attorney L. Chris Stewart slammed the state's findings as "biased" and said they painted Sterling as a criminal instead of a father who was simply selling CDs on the night he was killed.
The family said the state should have taken the case to a grand jury, and demanded that videos from the officers' bodycams and a store surveillance camera be made public for transparency reasons.
"We did not get any justice," Quinyetta McMillan, the mother of Sterling's 16-year-old son, said after the attorney general's announcement. "The system failed us."
His family also filed a lawsuit last year claiming that the shooting was the result of poor training and inadequate police procedures within the Baton Rouge Police Department. They are seeking unspecified damages and have called for the officers to be fired.
The department has declined to comment on ongoing litigation.
Baton Rouge Police Chief Murphy Paul said Tuesday that a disciplinary hearing for the officers must still be held. Any relevant bodycam video and audio can then be made public, he added.