Alton Sterling, the Louisiana man whose death at the hands of police officers was caught on camera and is now being investigated by the Justice Department, was the kind of guy who would give a stranger "the shirt off his back."
Just ask his aunt. She claims she saw him do it.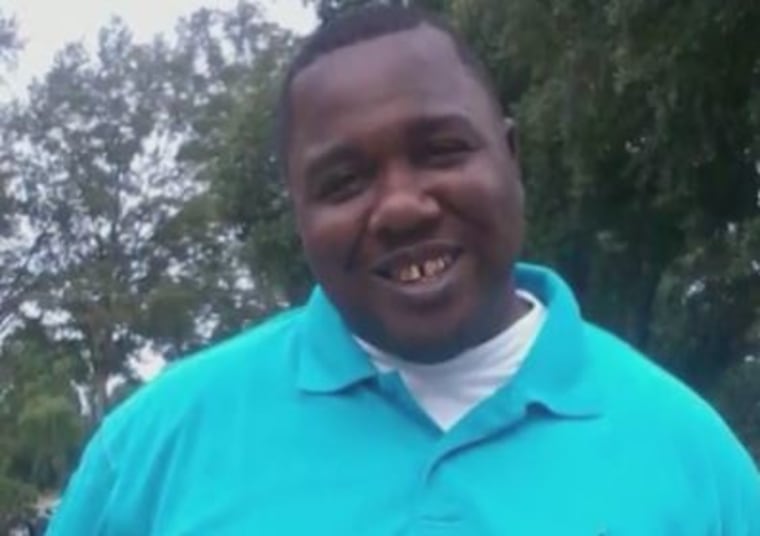 "I was out there one day," Lorna Sterling told NBC News on Wednesday as the fury over yet another cop slaying of a black man continued to build. "The man passed by with no shirt on."
Choking back tears, the grieving aunt said: "Alton told the man, 'You want my T-shirt?'"
"Alton took the T-shirt he just bought, gave the man his T-shirt," she said. "That's the type of man Alton was."
Related: Baton Rouge Store Owner Says His Video Shows Cops 'Murdered' Alton Sterling
But as family and friends remembered the slain 37-year-old Baton Rouge man as a jovial giant who was quick to laugh, a second narrative of Sterling as a petty criminal and registered sex offender also emerged.
That wasn't the man Lorna Sterling remembered.
"Alton was full of joy," she said. "Alton was the joy of our get-togethers."
For years, Sterling sold CDs in the parking lot of the Triple S Food Mart, the same spot where he was killed Tuesday.
Related: Alton Sterling Shooting by Baton Rouge Police Sparks Outrage, DOJ to Investigate
"What's wrong with selling CDs?" the heartbroken aunt asked. "It's an honest living. He wasn't on the corner selling drugs. He wasn't a drug dealer."
He also wasn't cold-hearted.
"I miss not being able to see his face, hear his voice, feel his hug," she said. "Alton kept you laughing."
A female cousin who asked not to be identified said friends and relatives called the hefty Sterling (he packed 310 pounds onto a 5-foot 11-inch frame, according to court docs) "Big Dweeb."
"We grew up together in the same house. That's my brother," she said, recalling how the last time they talked, Sterling told her that he loved her. "I don't know, what am I gonna do, I don't know."
Sterling suffered from asthma and was no threat to the police or anyone else, the cousin added.
"I have no reason why the police feel threatened by Alton but his body size and the color of his skin," she said.
Store owner Abdullah Muflahi said he knew Sterling for six years.
"He was a nice guy, always smiling, always happy, always joking around with people," he said. "Never seen him get into fights with anybody, never seen him get into any, kind of, even arguments out there with people."
But Muflahi also confirmed reports that Sterling recently got a gun for protection after his friend got mugged.
"His friends also sell CDs at different locations," Muflahi said. "They'd been getting robbed lately, so he felt that he need something to protect himself if anything was to happen to him
How a convicted felon like Sterling could have allegedly obtained a gun wasn't immediately clear.
Sterling was convicted in September 2000 of "carnal knowledge of a juvenile" after getting an underage girl pregnant and was sentenced to five years of hard labor, according to court records and the Baton Rouge Advocate.
His sentence was suspended, and he got five years' probation and was ordered him to start paying child support.
Sterling also had a previous confrontation with police.
Records show that he was charged on May 29, 2009 with resisting an officer, although the circumstances weren't immediately clear.
During the same run-in with police, Sterling was charged with assault, battery, disturbing the peace, possession of a firearm, possession of marijuana and possession of stolen property, the records show.