The U.S. Justice Department will lead a civil rights investigation into the death of a black man shot multiple times by police during a confrontation at a Louisiana convenience store.
Graphic cellphone video, recorded by a witness and by the store's owner, appears to show Alton Sterling, 37, being tackled and shot as two cops pin him to the ground before he is killed. Authorities said he was armed.
His death sparked protests against police brutality in Baton Rouge, and family members and the local NAACP branch called for an independent outside review of the police department.
Photos: Protesters Speak Out After Baton Rouge Police Shooting
"I have full confidence that this matter will be investigated thoroughly, impartially and professionally," Louisiana Gov. John Bel Edwards said at a news conference Wednesday.
Edwards, a Democrat, said the investigation into the use of unreasonable or excessive force will be assisted by the U.S. attorney's office and the FBI in the state.
The Justice Department confirmed opening the case, but it declined to comment further.
East Baton Rouge Parish District Attorney Hillar Moore III said he would stand down as the federal investigation looks at whether any laws were broken.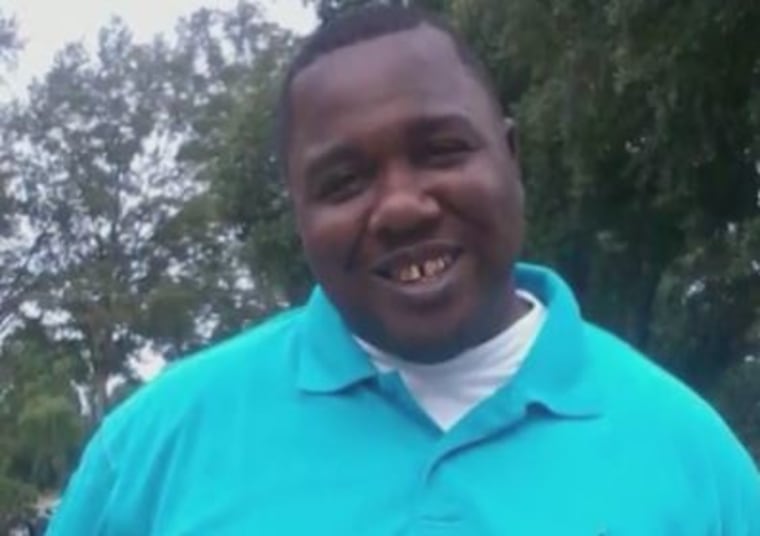 Edwards said he has "very serious" concerns after watching the cellphone video, which he said was "disturbing, to say the least."
Officials identified the officers Wednesday as Blane Salamoni, a four-year department veteran, and Howie Lake II, a three-year veteran, both of them white.
Officials wouldn't detail the "altercation" between the officers and Sterling or whether a Taser was used, but they said police body cameras, dashcam video and any other video from the scene would be part of the investigation.
Baton Rouge police said earlier in a statement that uniformed officers responded to a call after midnight Tuesday involving a black male in a red shirt who was selling CDs outside the Triple S Food Mart. Police said the caller claimed Sterling was acting threatening with a gun.
The officers "made contact" with the 5-foot-11 Sterling in the parking lot, and an altercation ensued, police said.
"Sterling was shot during the altercation and died at the scene," the statement said.
It wasn't clear whether both officers shot Sterling or which one fired the fatal shot. They have been placed on administrative leave, "per standard procedure," police added.
Sterling died from multiple gunshot wounds to the chest and back, East Baton Rouge Parish Coroner William Clark said. He wouldn't immediately confirm reports that Sterling was shot seven times.
The national president of the NAACP, Cornell Brooks, called the video hard to watch — but "far harder" to ignore.
"Get on the ground, get on the ground" is heard before two officers confront a man in a red T-shirt. One officer tackles the man, throwing him on the hood of the car and onto the ground. The second officer climbs on and helps hold him down.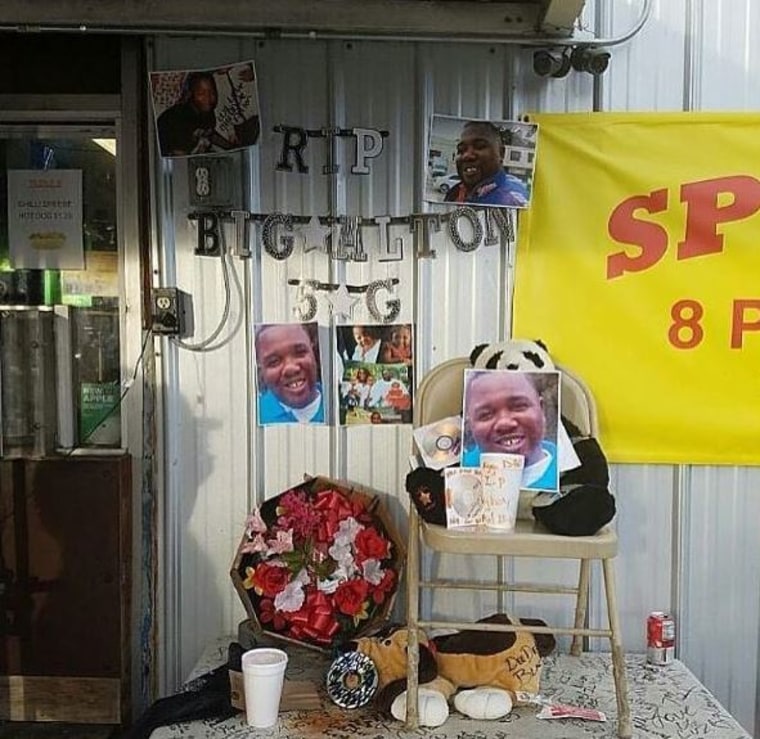 One officer appears to shout a warning: "He's got a gun! Gun!"
As a convicted felon, Sterling wouldn't be permitted to have a gun. But those who knew him said he kept one to protect himself from robbers.
A Sterling family attorney, state Rep. Edmond Jordan, said that whether Sterling had a firearm was irrelevant, because, at the moment he was pinned, the video didn't appear to show him wielding a weapon or pulling one out.
Related: Baton Rouge Store Owner Says His Video Shows Cops 'Murdered' Alton Sterling
Quinyetta McMillon, the mother of Sterling's 15-year-old son, said officers handled the incident "unjustly" and told reporters Wednesday that they killed a man who was "simply trying to earn a living and take care of his children."
"I, for one, will not rest or ... allow him to be swept in the dirt," McMillon said as her son sobbed behind her.
Sterling had recently been living in a transitional living center, according to The Advocate newspaper.
Abdullah Muflahi, owner of the Triple S Food Mart, provided his own video of the incident to NBC News. He called Sterling a friend who was easygoing and generous, and he accused the officers of having "murdered" Sterling.
State Rep. Ted James also called the shooting a "murder," saying in a statement that it "has made me question what it really means to be land of the free and home of the brave."
At Wednesday's news conference, officials said there was body camera video from the officers, but Baton Rouge Police Lt. Jonny Dunnam said it "may not be as good as we hoped for."
During the altercation, the body cameras became dislodged from the officers, but they remained activated, he added.
Mike McClanahan, president of the Baton Rouge chapter of the NAACP, said the officers should be arrested and that both Police Chief Carl Dabadie Jr. and Mayor Kip Holden need to step down.
"This is a new day," McClanahan said. "We will not have anybody who allows this type of action to take place."
Both Holden and Dabadie said they wouldn't resign.
"Like you, I am demanding answers," Dabadie said.
At a vigil for Sterling on Wednesday night, Sterling's aunt, Sandra Sterling, called for peace.
"I'm mad. I'm so mad," she said. "But I'm not angry enough to hurt nobody. I'm not angry enough to go out in the street."
Ministers and other community activists echoed Sterling's plea and handed out voter registration forms.
"I want thank the community for acting accordingly, because this could have been worse," said the Rev. Keon Preston, a chaplain with the nonprofit Stop the Violence, who has seen two of his own relatives shot and killed in the last five years.
But remaining calm doesn't mean people should remain silent, Preston said.
"We will not be silent," he said to cheers and a chorus of "amens." "We will continue to speak up, and our voices will be heard."
Muflahi, the store's owner, also appeared briefly at the vigil.
"We stand for Alton," said Muflahi, who was loudly cheered. "He would be so happy to see all this. Wish he was alive."
Another speaker, LaMont Cole, who represents the neighborhood on the Baton Rouge Metropolitan Council, called the officers "cowards" and declared that "they murdered this young man."
"It's time out for being politically correct," Cole said. But he also urged the community to protest peacefully.
"The investigation is in the hands of the Justice Department," Cole said, and "we will continue to demand that we get results, that we get them expediently."
"But I urge you — I beg you — to remain peaceful," he said.
Martin Luther King Jr.'s youngest daughter, Bernice King, was among those adding her voice.
"May his name and his brutal last breath shake up and transform systems," she wrote on Twitter.
Activists and celebrities also posted about their outrage.