BATON ROUGE, La. — The mourners danced in the muggy night air, beneath the stars and behind a brass band that led a second line parade through a neighborhood accustomed to rituals of grief and celebration.
The band played and mourners quick-stepped — some drenched in sweat, some with their heads cocked and their hands held high. A man heaving a gleaming brass trombone shouted out: "Oh, free my people!" The crowd responded: "Let my people go!"
That call-and-response captured the mood in this deeply segregated capital city, where two white police officers earlier this month shot and killed Alton Sterling, 37, a black father of five. Police say he was armed as he wrestled with the officers outside the convenience store where he sold CDs. The Justice Department is investigating the killing, and the officers have been suspended.
The outpouring of anguish — unusual despite the long-simmering tensions between the police and the black community — has left some observers wondering whether Baton Rouge could be the next Ferguson or Baltimore, cities torn apart by riots and violent clashes after the killings of black men by police.
"We just want to be able to live," said Natasha Haynes, who stood in front of the Triple S Food Mart late Wednesday night. "But so many of those officers, they don't understand us or our community. They don't know our culture. They don't know us. And this is what you get."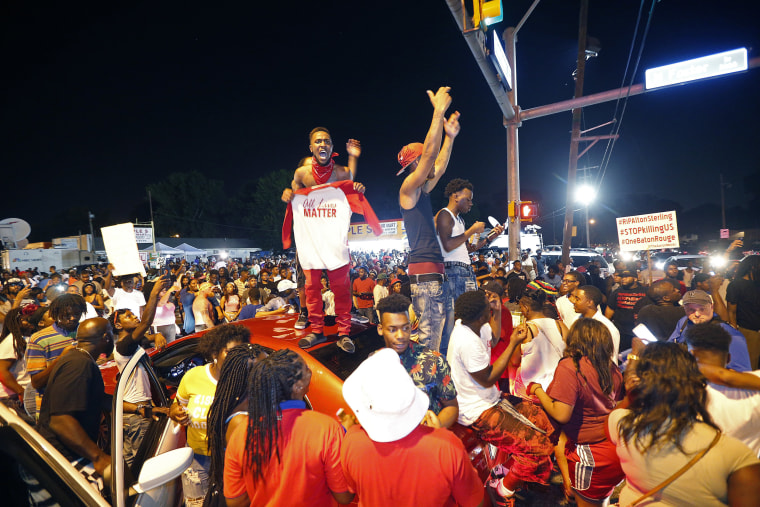 The mounting tensions in Baton Rouge reached another head Sunday morning, when at least three officers were killed and another three were injured in an apparent "ambush" while responding to a call of shots fired near police headquarters on Airline Highway. The suspect wore black fatigues and was armed with a rifle.
If ever there were a community ripe for an explosion, it is Baton Rouge. The city of more than 230,000 has all the hallmarks of a place on the edge. It is split on racial lines, with sprawling swaths of poverty and islands of prosperity. It is majority black, but that group has scant access to quality jobs, education and healthcare.
Louisiana is the third-poorest state in the country, with nearly 20 percent of its population living below the poverty line, according to the most recent U.S. Census. The level of poverty in Baton Rouge is even greater.
The city is persistently ranked as one of the deadliest and most violent in America. Baton Rouge incarcerates blacks at twice the rate of whites — arguably par for the course in a state that not only leads the nation in incarceration rates, but is by some estimates the world's incarceration leader, according to a May 2012 report in the Times-Picayune.
PHOTOS: Baton Rouge Unites in Anguish Over Police Shooting
Many observers say the dynamic between blacks and the police is a recipe for mutual mistrust at best — and possible misuse of force at worst.
Issues in the crosshairs of race and policing aren't just illustrated by what many here say is a police department that has historically mistreated black residents, but by the demographics of the police department itself.
Although the majority of the city is black, the police department is overwhelmingly white. Two-thirds of the department's "sworn personnel" are white, according to a May 2015 report in the Baton Rouge Advocate, while about two-fifths of the city as a whole is white.
The Baton Rouge Police Department been under a federal Consent Decree since 1980. The agreement was meant to resolve claims that the department had used race and gender bias in its hiring practices. The force has made gains since then, but diversity in the department still lags.
History of mistrust, tension
Black residents had complained of abuse by police long before officers Blane Salamoni and Howie Lake II fatally shot Sterling.
In the wake of Hurricane Katrina in 2005, as a wave of officers washed into Louisiana to help an overwhelmed Baton Rouge police force deal with evacuees from New Orleans, many of those visiting officers complained about the police practices they found in the city.
A group of a dozen troopers from New Mexico and Michigan, for instance, expressed concerns that Baton Rouge police were abusing inmates, searching people illegally and engaged in racially motivated stops and arrests, The Advocate first reported. Another out-of-state trooper said a city officer tried to show him gratitude by offering to let him beat up a prisoner.
PHOTOS: Protesters Speak Out After Alton Sterling Shooting
More recently, in 2014, a series of racists text messages from a white 15-year veteran of the force were exposed. In one of the texts, the since-fired officer, Michael Elsbury, told a female friend: "I wish someone would pull a Ferguson on them and take them out. I hate looking at those African monkeys at work … I enjoy arresting those thugs with their saggy pants." In another text, he described blacks as "nothing but a bunch of monkeys."
Back in April, on Earth Day, a white 22-year veteran was captured on video repeatedly punching a teenager in the head while another officer holds the boy down.
All of this history has wound its way to the fractured present. In the long shadow of Eric Garner, Michael Brown and Freddie Gray, there now is Alton Sterling.
"Right here," said Ivan Willis, standing on the spot where Sterling was shot. "It happened right here and the video is clear. We're hurting."
Willis said he's angry, but hopes the collective mourning of the community will help them to mobilize into some sort of force for change.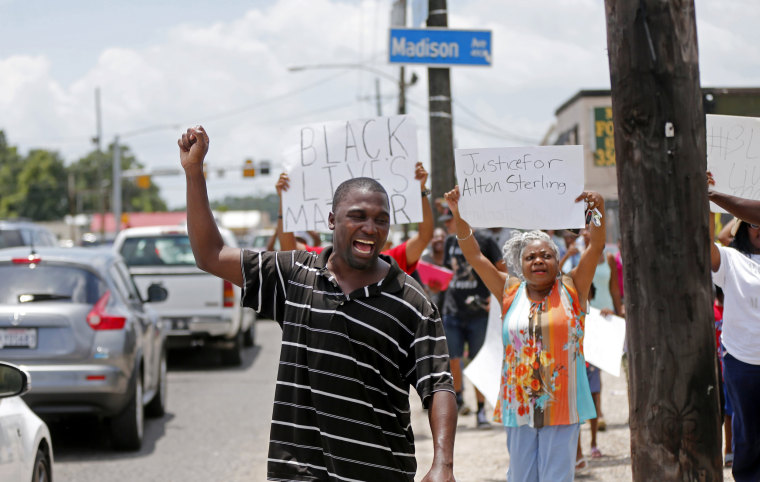 Michael "A.V." Mitchell, part of a group called Stop the Killing that strives to curb gun violence, said there has been very little shooting in the neighborhood since Sterling's death.
"This gave us a reason to fight to live," he said. "It gave us something that we can come together for."
Inside the convenient store, Arthur "Silky Slim" Reed, who started Stop the Killing, stood by a coffee maker and a microwave, fielding an incessant stream of phone calls from media and fellow activists all vying to organize or talk about the organizing.
Will the Sterling killing shift anything? Will it be a moment of community consciousness, of political empowerment, of angry or even violent outbursts?
"There's a system that allows the killing of black people to take place," Reed said.
"They protect who they want to protect. The police know they can do it and get away with it," he said, referring to the rare prosecution and conviction of cops who kill.
Back by a refrigerator filled with sugary energy drinks, Kuala Chambers, a teacher at a nearby middle school for "second-chance" students, said she knew Sterling in passing. She said she saw him selling his CDs along a stretch of gas stations and conveniences stores up and down North Foster Drive. Chambers said she'd seen a few of her students at the protests and hopes they're learning a lesson in seeing the community coming together.
"So many of my students lack the historical foundation to understand what's happening right now," she said of her 13- to 15-year-old charges. "They don't know this same thing was happening in the 1800's, the early 1900's. Some of them have never even heard of Rodney King."
Outside the store, as the brass band and second line finished for the night, Natasha Haynes, a student at Southern University, wondered if all the marching and angry chants should be directed outside of their community — toward communities she said were blind to their black pain and history.
"I'm glad it's peaceful and positive. But if we want change we're going to have to make some people feel uncomfortable on the other side of town," she said. "That doesn't take violence. That just takes our presence. Because right now they don't see it. They're not feeling it."
"This isn't just something on TV," she added, "this is our everyday life."