The Justice Department announced Wednesday that it was not bringing civil rights charges against the white police officers involved in the fatal shooting of a black man outside a convenience store in Louisiana last year.
"After an exhaustive almost year-long investigation, all of the prosecutors and agents involved in this case have come to the conclusion that insufficient evidence exists to charge either officer with a federal crime in connection with this incident," Baton Rouge Acting United States Attorney Corey Amundson said at a press conference on Wednesday afternoon.
The announcement comes a day after two sources familiar with the investigation told NBC News that prosecutors concluded there was not enough evidence to bring civil rights charges against Officers Blane Salamoni and Howie Lake II for the death of Alton Sterling, who was shot multiple times and killed in Baton Rouge on July 5, 2016.
Amundson noted that it was not enough to show that the officers may have acted recklessly or with negligence, federal prosecutors would have had to prove that the cops "willfully" violated Sterling's civil rights.
He added that officials had "expressed their condolences" and shared their findings with Sterling's family. They had also informed the lawyers of both officers of the decision.
Amundson, speaking alongside the U.S. Department of Justice-Civil Rights Division and the FBI New Orleans Field Office, said that they felt announcing their decision publicly was "the right thing to do, in a case that meant so much to so many."
There is also a state investigation into the shooting, which Amundson said they were being "careful not to impede or jeopardize the integrity of" with their announcement.
The decision comes as attention is on Attorney General Jeff Sessions over how the Justice Department will handle cases of alleged police brutality under the Donald Trump presidency.
Louisiana Attorney General Jeff Landry said in a statement Wednesday that the state will now investigate the case for possible state criminal violations.
Sterling's family and their attorneys said they hoped Landry's investigation would lead to "justice."
Sterling's aunt, Sandra, said she was suffering and asked the public for their continued support.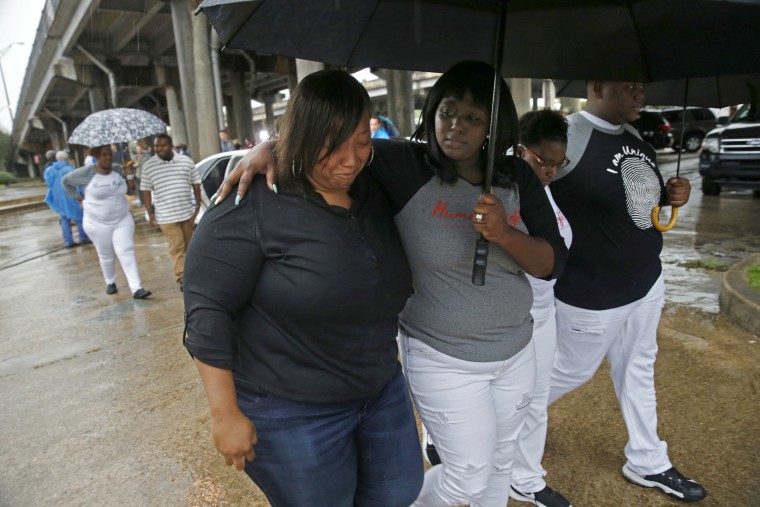 "He's no longer here, but his voice still will be heard through us," she said. "So stay behind us. Because we love Alton and we don't want this to end. Remember his name."
Quinyetta McMillon, the mother of Sterling's oldest son, called on Landry to punish the officers.
"Jeff Landry please, open up your heart, your eyes and give us the justice that we deserve," she said.
Family attorney Chris Stewart said that they did not leave their meeting with the Justice Department "defeated" and that officials explained to them why they made their decision not to pursue charges.
Stewart said that although the Justice Department did not find that the officers' actions met their threshold for federal charges, he said it was "great news" that "they hands down agree that the actions of the police officers that night were outrageous, were inappropriate, were not following procedure."
"In our opinion and in my experience with these cases, Attorney General Jeff Landry has a phenomenal case against these officers," he said.
Sterling's death was captured on video and sparked days of protest in what activists said was yet another instance of excessive use of force by police toward people of color.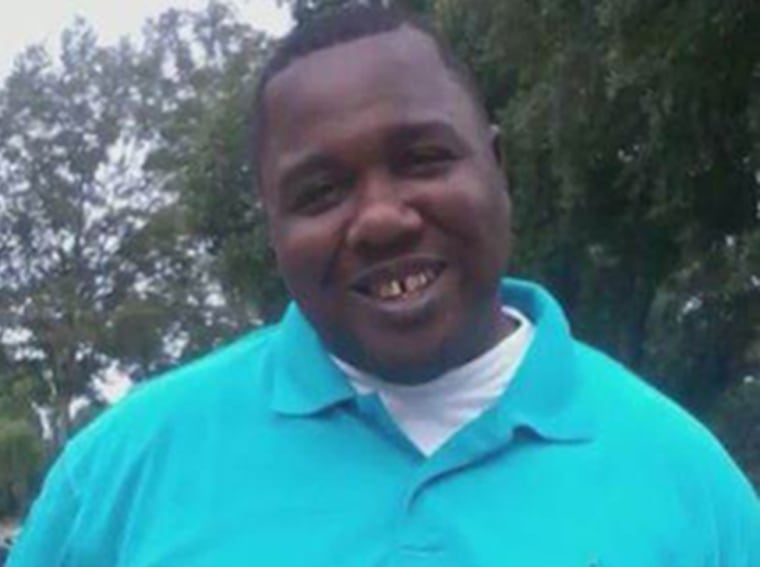 The footage, recorded by a witness and the convenience store's owner, appears to show the father of five being tackled before being pinned down and fatally shot by two white officers.
Sterling wrestled with Salamoni and Lake outside of the Triple S Food Mart where he often sold CDs. Baton Rouge police said at the time of the shooting that the officers were responding to a call of a black male in a red shirt who was acting threatening with a gun outside the convenience store.
Police have said Sterling was armed and that a small handgun was recovered from his pocket after he was shot. The owner of the store, Abdullah Muflahi, told NBC News at the time that Sterling never brandished a gun or threatened the officers in any way.
Salamoni and Lake were put on paid administrative leave.
An lawyer for Salamoni, who according to authorities was the officer who fired three times at Sterling, told NBC News on Wednesday that "there was a thorough, exhaustive and long investigation and it was unanimous."
"Even if there was escalation, that's not criminal," attorney John McLindon said.
McLindon added that he and his client would fully cooperate with state prosecutors in their investigation.
The Justice Department and FBI announced a federal investigation into the shooting shortly after the video footage sparked a massive outcry in Louisiana and around the country.
More than 150 people were arrested during three days of protests this past summer over the shooting.
Baton Rouge Mayor Sharon Weston Broome said Tuesday that she was "appalled" that the family had not been told and that her office had not been notified about the decision.