A man believed to be America's oldest veteran is celebrating his 110th birthday on Wednesday.
Richard Overton, of Austin, Texas, fought in the 1887th Engineer Aviation Battalion in World War II, and served as a corporal in Hawaii, Guam and Iwo Jima.
He was born May 11, 1906, making him the oldest living World War II veteran after an 110-year-old Louisiana vet died last week. But age isn't slowing him down.
"I feel good. A little old, but I'm getting around like everybody else," Overton told NBC News on Wednesday by phone from the same Austin house he's lived in since he returned from the war. He paid $4,000 for it.
"I feel good. A little old, but I'm getting around like everybody else."
His tips for longevity are far from traditional: He chain-smokes cigars, insists on a splash of whiskey in his morning coffee, and enjoys a steady diet of fried catfish and butter pecan ice cream, he told TODAY two years ago.
Overton joined his all-black military unit in 1942, when Franklin Delano Roosevelt was president, and became a skilled sharpshooter. In the years since the war, he's outlived two wives and has been the recipient of numerous honors — including meeting President Obama, who he had breakfast with at the White House when he turned 107.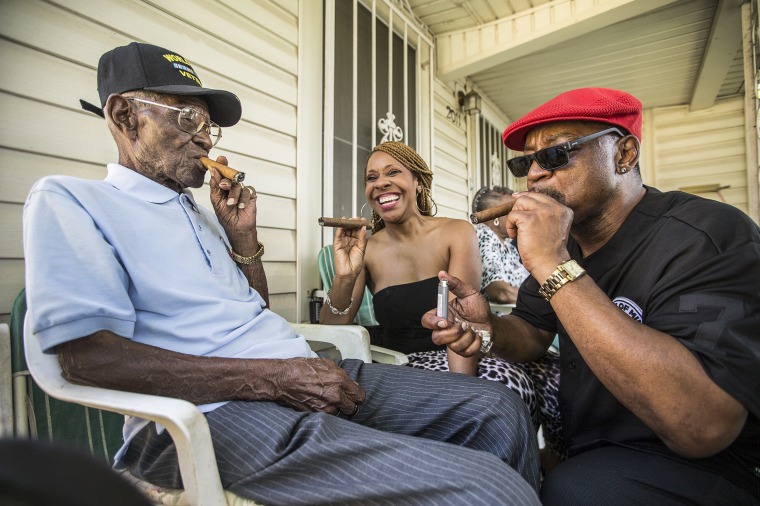 Overton has never been fazed by the attention paid to him. When he met then-Texas Gov. Rick Perry at 106 years old, he told reporters with FOX affiliate KTBC in Austin that he wasn't particularly excited.
"He's human, ain't he?" Overton said of Perry.
When he was a mere 108 years old, Overton told TODAY he planned on living for a long time.
"I don't think about (dying)," he said then. "You can't do anything about that. It's going to come, whether you want it or not. I just think about living."
For Overton, living involves a lot of dairy: Milk every day, he said, plus ice cream every night. Plus, the spiked coffee every morning.
"I mean, you put that whiskey in there, it makes your muscles get warm," he told TODAY.
For his 110th birthday, Overton plans to rest, and let in guests. He's expecting a big crowd.
"I'll let them look at me and shake my hand. I imagine there will be quite a few," he told NBC News.