A year after only white actors were nominated in the top four Academy Awards categories, prompting the #OscarsSoWhite boycott, a film about a young gay black man won best picture, a black man became the first Muslim actor to win an Oscar and Viola Davis brought the audience to tears accepting her own best supporting actress award.
"This goes out to all those black and brown boys and girls and non-gender-conforming who don't see themselves. We are trying to show you, you and us, so thank you, thank you, this is for you," Tarell Alvin McCraney, co-screenwriter of "Moonlight," said emotionally while accepting his share of the award for best adapted screenplay.
PHOTOS: Oscars Best Picture Fiasco Unfolds Onstage at Academy Awards
Four African-American actors were nominated in best acting categories; two won. Four films with diverse casts were up for best picture, and one, "Moonlight," won in a dramatic about-face after a botched announcement initially gave the award to "La La Land."
It was those diverse faces — and united ire from the host, announcers, and winners for President Donald Trump — that sewed the 89th Academy Awards together on Sunday.
"Remember last year when it seemed like the Oscars were racists? That's gone! Thanks to him!" host and comedian Jimmy Kimmel riffed during his opening monologue.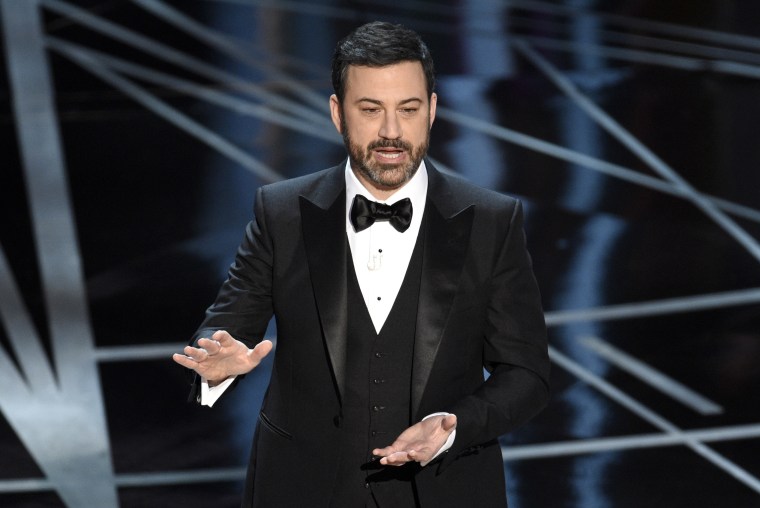 Perhaps no one made a more physical rebuke of Trump's policies than Iranian director Asghar Farhadi, who refused to attend the show — where his movie "The Salesman" won for best foreign-language film — in protest of Trump's executive order restricting travel from seven Muslim-majority nations, including Iran.
"My absence is out of respect to the people of my country and those of other six nations that have been disrespected by the inhumane law that bans entry of immigrants to the U.S.," Farhadi said a statement read on his behalf by a prominent Iranian-American sent in his place, Anousheh Ansari.
"Filmmakers can turn their cameras to capture shared human qualities and break stereotypes of various nationalities and religions," Ansari said for Farhadi. "They create empathy between us and others, and empathy which we need more than ever."
Politics sprouted frequently, no matter the topic or category.
Rich Moore, director of "Zootopia," the winner for best animated feature, celebrated audiences' embrace a "story of tolerance being more powerful than fear of the other," while Mexican actor Gael García Bernal announced an award and said, "As a Mexican, as a Latin-American, as a migrant worker, as a human being, I'm against any form of wall that wants to separate us."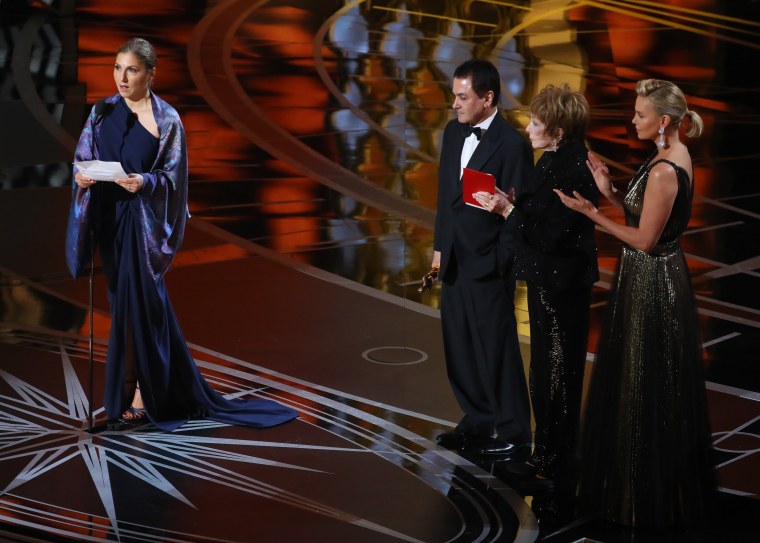 Kimmel opened the ceremony with a simple plea Sunday night: Reach out and have a positive conversation with someone you don't agree with.
"That would make America great again," Kimmel said, adapting Trump's campaign slogan.
It was a startlingly straightforward and earnest request from the comedian and host in the award show that traditionally televises more cutting jokes and furious speeches from award winners than peace-making, aisle-crossing suggestions, and it was a nod to an unusually tense political environment.
Related: Oscars Screwup Give's 'Moonlight's' Best Picture Award to 'La La Land'
Of course, Kimmel followed the plea with punch lines — applauding the attending nominees for the opportunity to "give a speech that the president of the United States will tweet about during his 5 a.m. bowel movement tomorrow morning." And he led the audience in a standing ovation for the "totally overrated" Meryl Streep, a nod to Trump's attacks on the actress who spoke out against the president while accepting a lifetime achievement award during the Golden Globes.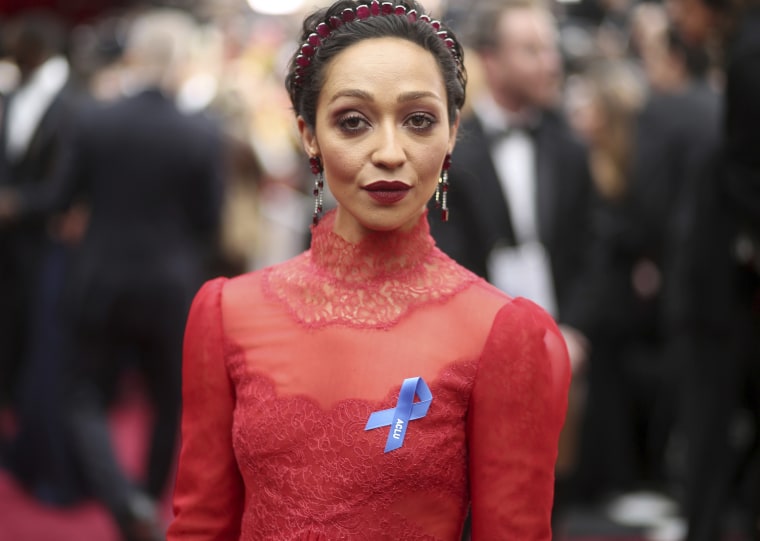 He later worried aloud that the president hadn't yet tweeted about the event — sending a tweet of his own to see whether the president was awake. (The president hadn't yet responded, but former spokeswoman Katrina Pierson did lash out at Kimmel.)
Precedent suggested it could be no other way: With politics making headlines for years past — most recently with Streep's furious speech at the Golden Globes.
Even before the ceremony began, the directors of all five nominees for best foreign-language film category published a letter expressing their fear of the "climate of fanaticism and nationalism we see today in the U.S. and in so many other countries, in parts of the population and, most unfortunately at all, among leading politicians."
Related: Trump Attacks New York Times Oscars Ad Before It Airs
The political messages began early, with the American Civil Liberties Union handing out blue ribbons to attendees on the red carpet. They were later also seen on nominees such as Lin-Manuel Miranda.
Farhadi wasn't the only Iranian skipping the ceremonies: His film's star, Taraneh Alidoosti, announced that she was boycotting the ceremony on social media because "Trump's visa ban for Iranians and others is a racist move and unacceptable."