American cave explorer Mark Dickey has been rescued from a deep cave in Turkey after he became ill during an expedition more than nine days ago and was unable to reach the surface.
The dayslong rescue operation was completed successfully after a stretcher-bound Dickey, 40, was lifted from his position at a camp about 3,400 feet below the surface in multiple phases, the European Cave Rescue Association said.
"It is amazing to be above ground again," Dickey said upon his arrival, adding later: "This is overwhelming."
The Speleological Federation of Turkey said that he exited after midnight local time and that the cave rescue "has ended."
Dickey said he was determined to live, then was resolved to die, as his mind had its own back-and-forth over the possibilities during his time more than a half-mile beneath the Earth's surface.
"I'm not going to die. This is OK," he said he initially told himself.
"Then I start throwing up blood, and blood is coming out in more quantity that you're going to live with if it keeps happening," he continued. "Then my consciousness started to get harder to hold on to, and I reached a point where I said, 'I'm not going to live.'"
He credited his fiancée, the government of Turkey and Hungarian cavers for his survival. His bride-to-be climbed nearly 3,300 feet to retrieve necessary fluids, returning with the help of cavers from Turkey and Hungary, Dickey said.
"It was the rapid response of the Turkish government that got the resources to her," he said. "Saved my life."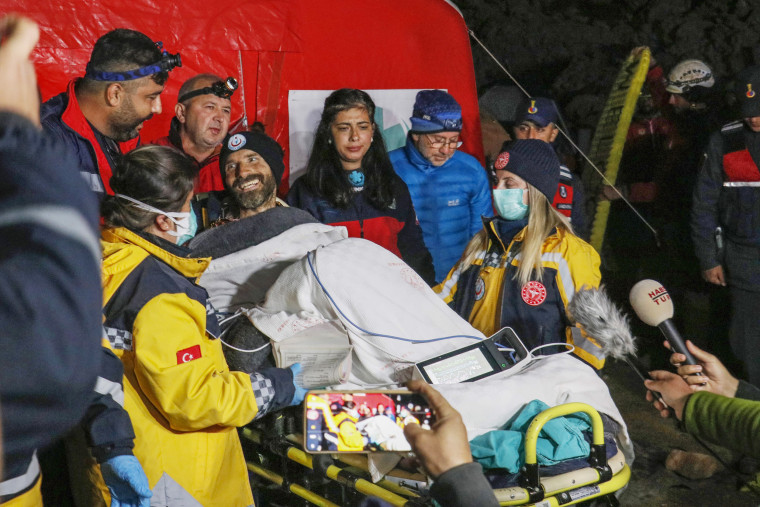 In a later update posted to Facebook, Dickey shared a photo of himself grinning, saying he was receiving treatment in an intensive care unit.
"It has been a scary experience and the closest to death I've been yet," he said. "I truly appreciate all the people involved in both saving my life and helping me escape from so deep inside a Cave."
Dickey's parents, Andy and Debbie, said they were filled with "incredible joy" and thanked everyone for the outpouring of support.
"It is, we know, an event that all involved in the extensive rescue effort worked so significantly hard for," they said. "Mark is strong and we believe in his strength, but fully knew that he was in dire need of tremendous and immediate support. We are so very thankful and grateful that the support he needed was given to him and that the first medical rescue team to arrive reached him when they did."
The association said that as the operation began, Dickey, also known for his work training others how to rescue people from caves, was medically stable.
Recep Şalci, the head of Turkey's Disaster and Emergency Management Authority, said some parts of the cave system were blasted with explosives ahead of the rescue mission to make it easier to move Dickey toward the surface.
"There are some very tight passages," he said in an interview Friday. "It's a very challenging rescue operation."
Dickey's ordeal began Sept. 2 at Morca, which exists beneath the Taurus Mountains and is the third-deepest cave in Turkey. Dickey said he began suffering from gastrointestinal bleeding and was unable to get himself to the surface.
He was initially moved a few hundred feet upward, to the 3,400-foot level, where the Turkish Caving Federation has a camp, the group said.
That's where he remained for about a week, awaiting rescue. In a statement, the federation called it "one of the largest cave rescues in the world."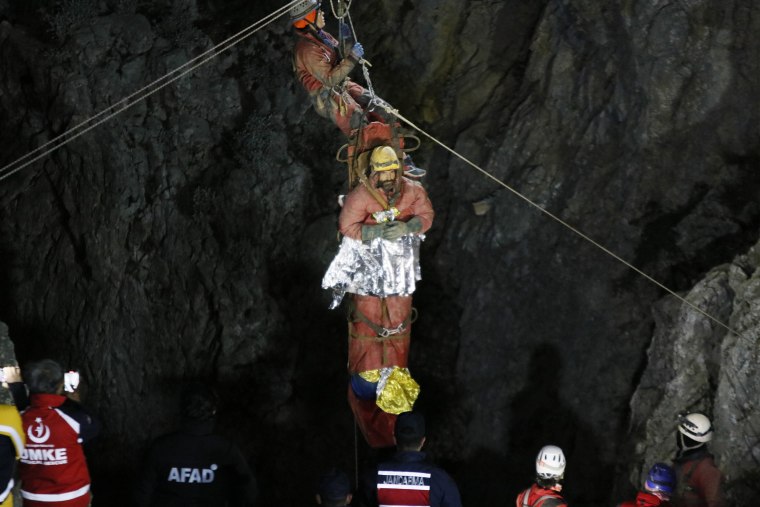 Şalci said Dickey was administered an unspecified treatment via IV as he awaited his return to the surface.
The Hungarian Cave Rescue Service, which aided in the rescue effort, said Dickey appeared to be "in serious, life-threatening condition" when it first encountered him days ago.
In a statement Monday, the rescue service said his health appeared to improve over a few days.
"We hope that Mark will surface later today and that he can continue his treatment in hospital as soon as possible," it said.
Dickey was exploring with his fiancée, who planned to stay at his side until the rescue began, said Carl Heitmeyer, the public information officer for the New Jersey Initial Response Team, for which Dickey is team leader.
New Jersey Gov. Phil Murphy said Saturday on X, formerly Twitter, "We are grateful to the Turkish military and first responders leading the rescue effort."
Dickey was helping lead a late-summer expedition at Morca and hoped to map a new pathway, said Gretchen Baker, the national coordinator of the National Cave Rescue Commission, for which Dickey has been teaching cave rescue courses for 10 years.
Heitmeyer described him as an asset to the world of caving.
"Mark is an elite caver," he said. "There's only a couple thousand people of his caliber in the world."