The American cave explorer who was rescued from a Turkish cave after being trapped for more than a week thought he was "probably not going to get out," he said on NBC's "TODAY" show Thursday.
"At first it was 'I have no idea what's going on, but it's probably not life-threatening,' to 'this is life-threatening; I need help,'" Mark Dickey, 40, told hosts Savannah Guthrie and Hoda Kotb of his mental state while trapped.
At one point, "I was down to single-word communication, in the fetal position, barely moving," he said, speaking alongside his fiancée, Jessica Van Ord, who aided in his rescue.
Dickey, who's from New Jersey, was rescued early Tuesday in a dayslong operation, ascending on a stretcher from his position at a camp about 3,400 feet below the surface, according to the European Cave Rescue Association.
Officials described the operation as one of the largest and most complex cave rescues in the world, involving more than 150 rescuers and explosions of tight passages to facilitate the mission.
His ordeal began Sept. 2 at Morca, Turkey's third-deepest cave, where he was helping lead an expedition and hoped to map a new pathway, according to Gretchen Baker, national coordinator of the National Cave Rescue Commission, where Dickey has spent a decade teaching cave rescue courses.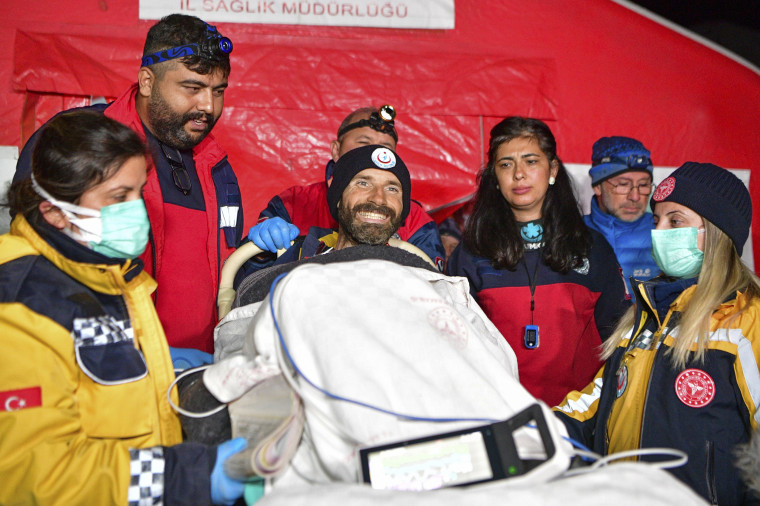 During the expedition, Dickey began suffering from gastrointestinal bleeding and became unable to exit the cave on his own. Van Ord had to leave his side in order to get him help.
Dickey said Thursday that his focus when he was ill was to "communicate information" so that Van Ord could relay it to others if he fell unconscious.
"Any piece of information she had, she'd have a greater ability to render care," he added.
Van Ord — also a caver and a paramedic — climbed nearly 3,300 feet to retrieve necessary fluids, and then returned alongside Turkish and Hungarian cavers, Dickey previously said.
"It's not that I didn't trust someone else to go, it's just that I knew I was definitely fit for that job to get out of there and then get back as soon as possible," Van Ord said.
"I wanted to be involved to make sure things went well," she added.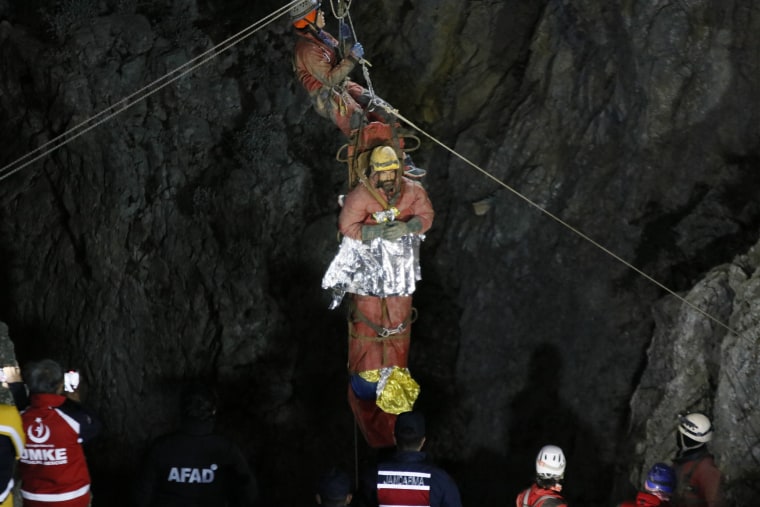 Once the rescuers reached Dickey, he said he "felt confidence" he'd make it out alive given the cavers' skill in reaching him so far below the surface.
"Getting to the surface was almost a foregone conclusion," he added.
Dickey is now recovering at a hospital in Mersin, a Turkish city on the country's southern coast.
He said he's now "feeling very good compared to where I started off on this rescue."