Behind barricades and 24-hour-a-day security, 12 men and women in the small town of Stephenville, Texas, on Wednesday will begin hearing the murder case against the ex-Marine who shot and killed Chris Kyle, the Hollywood-certified hero of the box-office smash "American Sniper."
Eddie Ray Routh, 27, has already admitted that he killed Kyle and a friend, Chad Littlefield, two years and nine days ago at a gun range. But what the jurors will consider is whether he committed capital murder or whether he's not guilty by reason of insanity.
Here's a guide to what will be one of the most closely watched trials of the year, one with ramifications not just for the principals involved but potentially for hundreds of thousands of veterans struggling to make the transition to civilian life:
The Victims
Chris Kyle was reputed to be the deadliest sniper in U.S. military history, having recorded 160 kills by the time he retired from the Navy in 2009 at age 38 — a service record that included four tours of duty in Iraq, where insurgents put a bounty on his head and called him "The Devil of Ramadi."
As is widely known from "American Sniper," the 2012 autobiography-turned-hit movie, Kyle had difficulty re-adapting to civilian life. He started to heal himself by serving other veterans struggling after the war, co-founding the nonprofit FITCO Cares, which gave home fitness equipment to wounded veterans and to families who'd lost a veteran.
"I want awareness for the troops," Kyle told NBC News' Lester Holt in a 2012 interview. "'Thank you' is great, but I'm trying to ask people to take it one step farther [through] random acts of kindness to show your thanks. It'll blow these guys away to know that they're wanted and loved."
Kyle's buddy, Chad Littlefield, hasn't gotten as much attention, even though he also died at the shooting range at Rough Creek Lodge and Resort, 90 miles southwest of Dallas, on Feb. 2, 2013. He was 35, also an Iraq War veteran and the father of a young daughter.
Littlefield, who friends and family say was Kyle's workout partner and one of his closest friends, also worked with FITCO Cares, installing workout equipment in disabled veterans' homes.
"Chad would tell you he was a 'regular guy just taking care of business,' and was happiest spending time with his family and friends," his family wrote in an obituary. But "his family and friends would tell you he was a 'rock,' always there when you needed him, dependable and responsible, ready to grab you in his arms to let you know he loved you and everything would be all right."
The day before he died, Littlefield hugged his mother, Judy, and told her, "Mom, life is so good it's scary," Judy Littlefield told the local paper, the Stephenville Empire-Tribune.
"He would miss not being there to see his daughter grow up — to celebrate her accomplishments," she said.
The Defendant
Eddie Ray Routh, now 27, left the Marines as a corporal after four years, which included duty in Iraq in 2007 and in Haiti in 2010. According to court documents, Routh's family said he'd twice been taken in for mental evaluation after he threatened to harm relatives and himself in the months before he killed Kyle and Littlefield.
Routh's lawyers, J. Warren St. John, Tim Moore and R. Shay Isham, are under a gag order barring them from commenting on the case. But in court filings and earlier hearings, they made it clear that they intend to argue that Routh was emotionally crippled by post-traumatic stress disorder from his military service and is not guilty of murder by reason of insanity.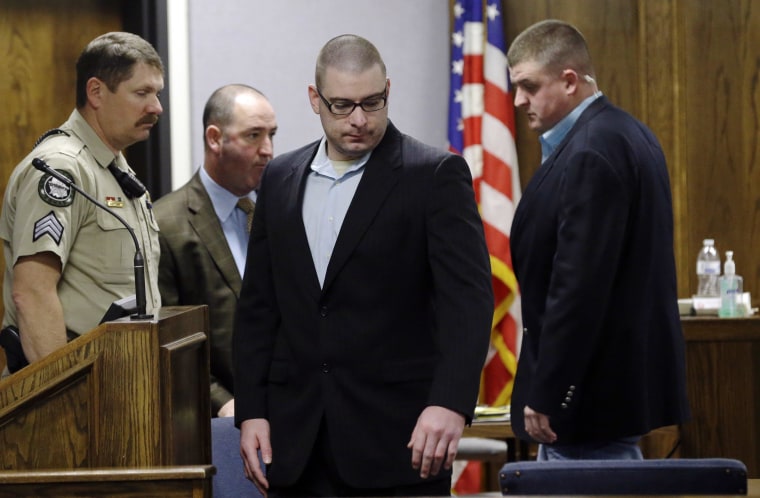 In an interview with a Texas Ranger after he was arrested, Routh talked abandonment issues and "tons of people eating my soul."
Referring apparently to Kyle, who was trying to help him work through his post-service troubles, Routh said, "I knew if I didn't take out his soul, he would take my soul next."
"I just wish the world wasn't just such a soulless place, you know?" he said in the interview, which was videotaped and was played in court at a pretrial hearing last March.
Routh's lawyers said in court documents that just a few days before the shootings, Routh was discharged over the objections of his family from the Veterans Affairs Hospital in Dallas, where he was believed to have been receiving care for mental health issues.
It was Routh's mother, Jodi Routh, who had urged her son to seek help from Kyle. In a statement three weeks after the killings, Jodi Routh and her husband, Raymond Routh, said: "We wish we could thank Chris Kyle for his genuine interest in helping our son overcome his battle with Post Traumatic Stress Disorder. We want others with PTSD to know their struggle is recognized and we hope his tragedy will somehow help in getting greater care for and assistance to those in need."
The Shootings
Investigators and prosecutors have said Kyle organized an outing at Rough Creek Lodge on the afternoon of Saturday, Feb. 2, 2013, after Jodi Routh asked him to help her son. Littlefield joined them at the lodge in Glen Rose, about 25 miles east of Stephenville, where logs show the three checked in at 3 p.m.
Two hours later, a lodge employee discovered Kyle's and Littlefield's bodies covered in blood. Routh was arrested at 8:34 p.m. while driving Kyle's pickup truck in Lancaster, just south of Dallas, almost 70 miles away. Erath County sheriff's investigators said a semi-automatic handgun used in the killings was later found at Routh's home.
An Erath County grand jury indicted Routh on July 24, 2013. Since then, he's been held on $3 million bond on two counts of murder and one count of capital murder.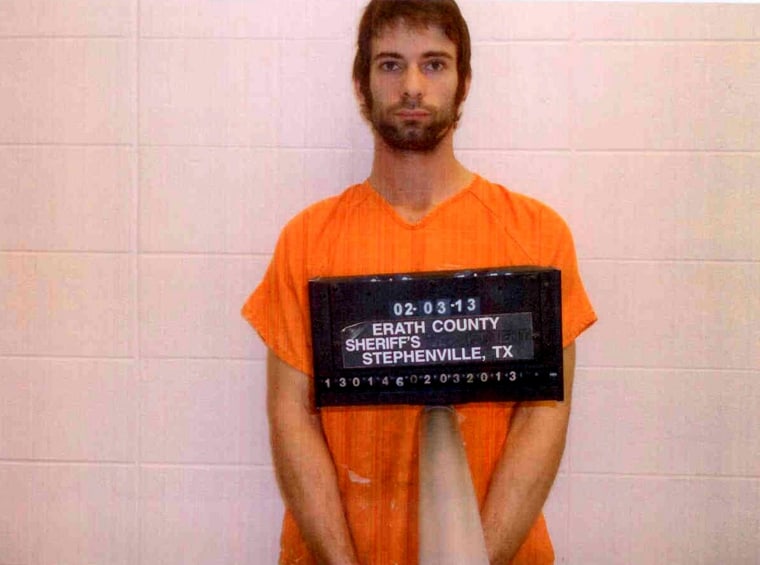 The Stakes
The outcome of the trial, which is expected to take about two weeks, could have implications far beyond what lies ahead for Routh himself.
Because prosecutors have said they don't intend to seek the death penalty, Routh could face life in prison if he's convicted of capital murder. Texas doesn't provide for a "guilty but insane" verdict, so the jury's other options are to convict him of second-degree murder, which carries a 20-year sentence, or to accept his argument that he was legally insane at the time of the shootings and therefore not guilty.
RELATED: Chris Kyle Trial: Vets Fear Insanity Defense Will Grow PTSD Stigma
Jurors bought that defense in the 2006 trial of Andrea Yates, the Houston mom who drowned her five children in a bathtub in June 20, 2001. Under Chapter 46C of the Texas Code of Criminal Procedure, Routh — like Yates — has the burden of proof, not the prosecution. He must show by a preponderance of the evidence that when he shot Kyle and Littlefield, he suffered from a "severe mental disease or defect" that meant he couldn't tell right from wrong.
And like Yates, if Routh were to be found not guilty by reason of insanity, he would almost certainly be remanded to state custody for mental health treatment for as long as necessary — probably for the rest of his life, because while he theoretically could go free some day, public reaction would make that difficult. Fourteen years after she killed her children, for example, Yates remains in a state mental hospital in Kerrville.
The prospect of a successful insanity defense troubles many veterans, who told NBC News this week that such a high-profile link to PTSD will deepen Americans' misconceptions about the disorder — branding veterans with PTSD with the even-heavier burden of a public stigma.
"It's such a big case that it's going to make us look like we're crazy, and we're not," said Andrew O'Brien, 26, a former Army convoy gunner who served in Iraq in 2008 and 2009. attempted suicide in 2010 and was diagnosed with PTSD.
"We don't want the civilian world to be intimidated by us, to be scared or to wait for us to come in and shoot up people. I feel like that's what this is going to do," O'Brien said.
Jacob Rascon and Bill Briggs of NBC News contributed to this report.