Three girls under 18 are back in the United States after they were stopped in Germany over the weekend and sent home to Denver — and several U.S. officials say they believe the trio intended to go to Syria to join up with Islamic militants like ISIS or another group.
German police said the three girls were stopped on Saturday at Frankfurt Airport at the request of their parents and the U.S. consulate. Officials say the three left Friday on a flight from Denver, through Chicago, then Frankfurt, with tickets to fly on to Istanbul in Turkey.
German authorities said the girls were asked to go back home and voluntarily took a flight back to the U.S. on Sunday. A U.S. official said the girls are back with their parents and that no charges have been filed.
A missing persons report filed on the girls in Denver states that the two of the girls are sisters who took $2,000 in cash from their parents after saying they were sick and staying home from school. They then purportedly went to a library. It was when the cash, and the girls' passports, were found missing that their parents called authorities. The report states that the girls wear headscarves as part of their religion.
The two sisters are 17 and 15, and the third is a 16-year-old from another family, Glenn Thompson, bureau chief of the Arapahoe County Sheriff's Department, whose officers took the missing persons reports on Friday, told the Associated Press.
Another official said the eldest girl, who is of Somali origin, came up with the idea and urged the two younger ones to come along. But officials said it's unclear whether the girls had an actual contact in Syria or were simply going to show up and volunteer.
All these officials agreed that charges — at least by federal authorities — are unlikely. Charging juveniles in the federal system is rare and complicated.
"We obviously want to know why they wanted to go to Syria," the official said. The German authorities said no investigation was opened there, because there was no indication of criminal or terrorist activity.
A report by Voice of America over the weekend said that relatives and other sources said that the two sisters of Somali origin, and the third girl is from Sudan. The VOA report said one of the girls reportedly told German authorities that they were going to Turkey to study.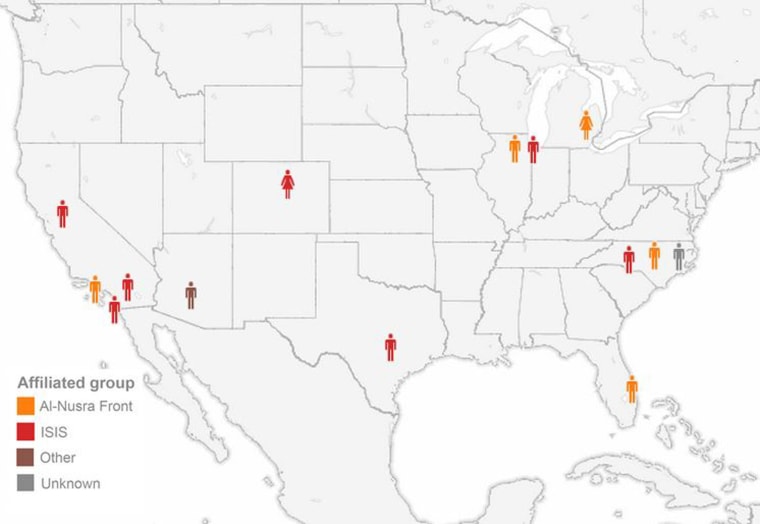 Click here to explore interactive map with details of the cases of the dozen U.S. residents -- 11 of them Americans -- accused of trying to join the fight in Iraq or Syria as well as the three Americans confirmed to have died in the fighting.
IN-DEPTH
— Pete Wiliams, Vicky Collins and Carlo Angerer