Alex Morgan celebrated her 30th birthday Tuesday by scoring a decisive goal and goalkeeper Alyssa Naeher stopped a late penalty kick in the United States' 2-1 victory over England in the Women's World Cup semifinal in Lyon, France.
The American win sends them to Sunday's championship match, also in Lyon, against the winner of Wednesday's other semifinal match between the Netherlands and Sweden.
The United States barely held on, as Naeher made the save of the tournament by stopping England's captain Stephanie Houghton on a spot kick in the 84th minute.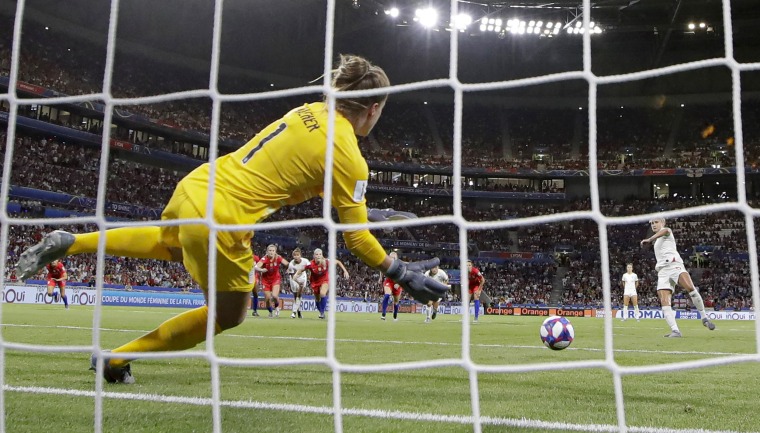 "Alyssa Naeher ... obviously, like, she saved our a--," an exuberant Morgan told Fox viewers moments after the match. "Sorry, excuse that, but she saved our butts today."
U.S. coach Jill Ellis said Tuesday's win included contributions from everyone up and down the American lineup.
"I can't even express how proud I am. It was just such a great effort from everybody," Ellis said.
England will play the loser of Netherlands-Sweden on Saturday in Nice for third place.
"I'm heartbroken, but I'm very proud of the team because we fought so hard in this tournament. It was so close against the best team in the world but we are so disappointed," Houghton said.
"I got told today that I was on the penalties and I was confident because I had been scoring all week, but I didn't connect with it properly and the goalkeeper guessed the right way."
England appeared to tie it in the 67th minute when their star Ellen White got past defender Abby Dahlkemper and fired a shot past Naeher. But video review showed White was offside by inches, wiping out the equalizer.
Instead it was Morgan, a native of Diamond Bar, California, who would be the match's co-hero with Naeher. The captain headed home Lindsay Horan's pass in the 31st minute, breaking a 1-1 tie.
Morgan feigned sipping a spot of afternoon tea to celebrate the goal.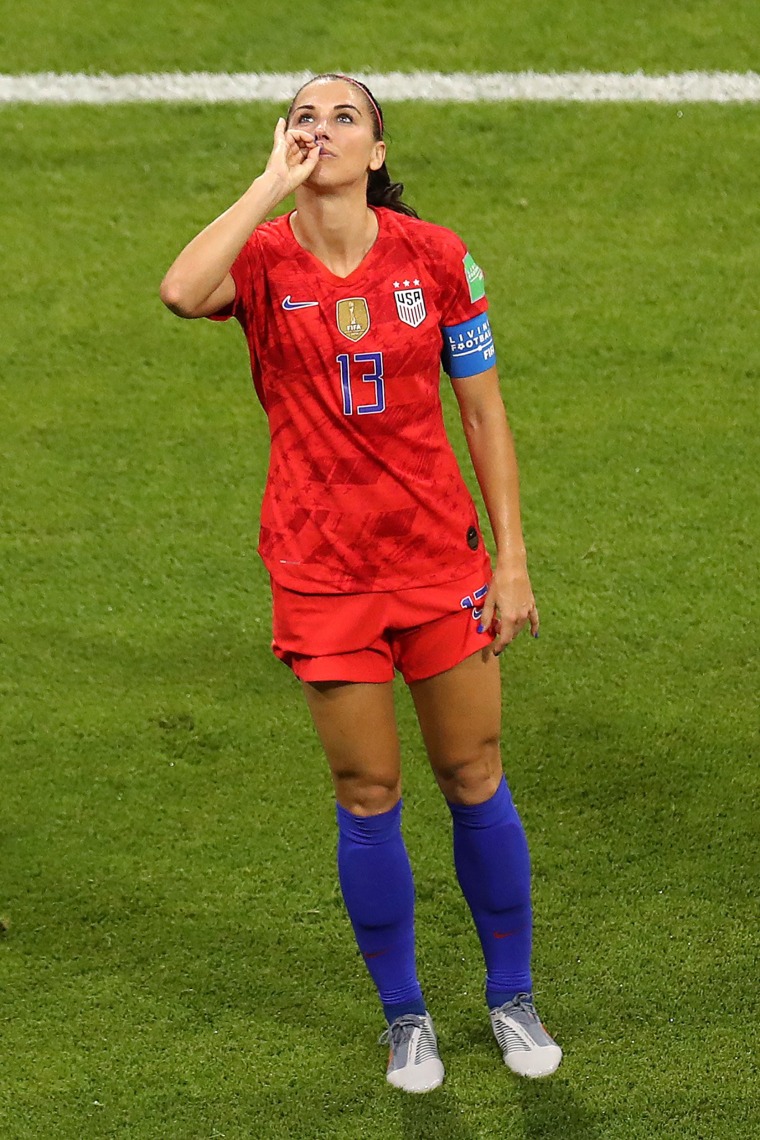 Horan got the ball from Christen Press, who moments earlier skillfully chested down a high pass along the sideline to maintain possession.
Press, who started in place of injured Megan Rapinoe, had given the United States a 1-0 lead in the 10th minute when she headed home a well-struck cross from Kelly O'Hara.
The goal was made possible by Tobin Heath's big run and dummy pass to Rose Lavelle — who let the ball roll by her, taking the attention of two English defenders. That non-touch by Lavelle opened up O'Hara to feed Press, a 30-year-old from Palos Verdes Estates, California.
Press' header barely cleared the fingertips of England's backup goalkeeper, the 5-foot-8 Carly Telford.
England's top keeper, American-born and -raised Karen Bardsley, was injured and unable to play. The 6-foot-tall Bardsley hurt her hamstring in the Lioness' last game against Norway.
England's top gun, White, responded minutes after Press' opening tally when she flicked home a heavy pass from Beth Mead in the 19th minute.
The Lionesses came into Tuesday's match as 2-to-1 betting underdog against the United States, currently the world's top ranked team, but gave the Americans all they could handle. England had a time-of-possession edge, 53 percent to 46 percent.
In the seven previous Women's World Cup tournaments, the United States has won three championships, finished second once and taken home third place three times.
"I think we've put so much into this journey together — and now we have one more game to close it out," Morgan said of Sunday's title match.
Rapinoe, 33, told Fox her hamstring should be healed enough for her to play Sunday. She felt it tightening up at the end of Friday's big win over France.
"Just a little minor strain day-to-day, but I feel like I'll be ready for the final," she said. "It's hard, three days on the bounce on this old body."
The American women have been in top form by ignoring — if not thriving off — a host of off-the-pitch dramas that could have early brought down lesser sides.
Last week, Rapinoe touched off an online storm when she said in a videotaped interview, "I'm not going to the f---ing White House" if the U.S. wins the World Cup.
That prompted President Donald Trump to chastise Rapinoe via Twitter for allegedly disrespecting the country. But teammates and U.S. Rep. Alexandria Ocasio-Cortez, D-N.Y., were quick to defend and embrace the veteran U.S. star.
And before the Americans ever landed on French soil, they made waves by filing a federal lawsuit against their own soccer federation.
They accused the United States Soccer Federation of carrying on "institutionalized gender discrimination" that's reflected in their pay, medical care, travel arrangements and overall workload.
The plaintiffs have agreed to mediation.